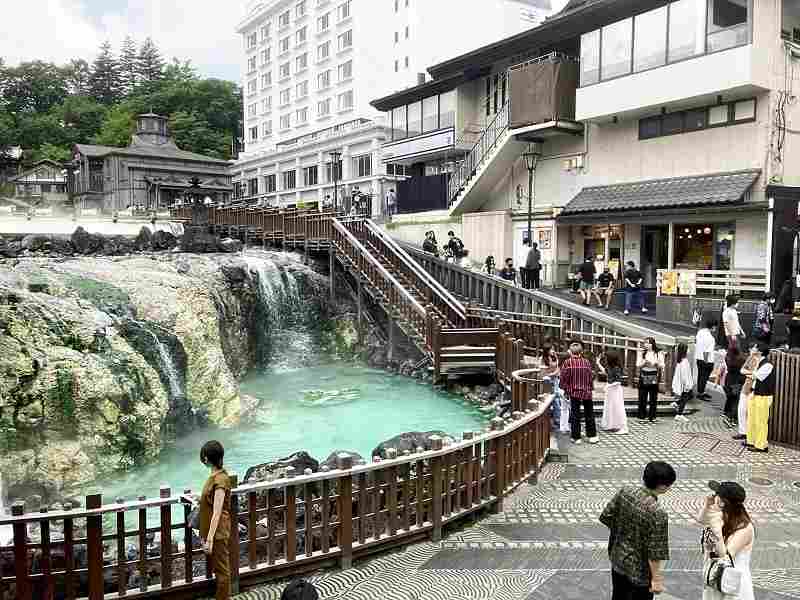 12:13 JST, July 27, 2021
July 22 marked one year since the government launched the Go To Travel domestic travel promotion campaign, but many tourist areas are bracing for a lean summer season.
The campaign has been suspended nationwide, and a recent surge in novel coronavirus cases looks set to blunt traveler numbers and deflate hopes that the vaccine rollout might spur a rebound in tourism demand. A record-high number of accommodation facilities and travel-related firms closed their doors in the first half of 2021, unable to withstand the decline in business.
The Kusatsu hot spring resort in Gunma Prefecture was largely devoid of tourists on July 10, which was the weekend before the latest state of emergency was declared for Tokyo because of a surge in infections. Even Japanese-style ryokan inns near the iconic hot water system called Yubatake in the center of the town displayed signs indicating they had vacant rooms.
"Looks like it'll be a tough summer," said a man working at a nearby souvenir shop.
About 70% of the visitors to Kusatsu come from the Tokyo metropolitan area. In June 2020, the number of tourists staying overnight in Kusatsu plunged to 40% compared to June 2019, as the pandemic struck. But the launch of the Go To Travel campaign in July 2020 pushed that number up to about 80% of the same month the previous year.
"Last year, the Go To Travel campaign's impact led to accommodation facilities being completely booked during the Bon holiday period in mid-August," said Kaoru Ichikawa, head of the Kusatsu Onsen Tourism Association. "But this year, some places still have vacancies."
According to JTB Corp. estimates, the number of people going on trips during the summer break — which runs from July 20 until the end of August — will increase by 5.3% from 2020. However, this remains down 44.8% from the same period in 2019.
88 million users
The Go To Travel campaign was intended to jump-start the Japanese tourism industry from its coronavirus-triggered slump. Tourists who booked domestic trips through designated travel agencies were offered discounts covering up to half of their travel expenses, with a maximum of ¥20,000 per person per night. Of this discount, 70% was taken off travel costs such as accommodation and tour fees charged by travel agencies, while 30% was issued as coupons that could be redeemed at restaurants, souvenir shops and other establishments.
A combined 88 million people used the Go To Travel discounts between its launch in July 2020 and Dec. 28, 2020, when the government pulled the plug. The number of Japanese people staying in accommodation facilities in October — when travel to and from Tokyo was included in the campaign — and November recovered to about 90% compared to the same months the previous year. According to a survey by Recruit Co., 70% of people who went on trips during the campaign period used the discount system. Many small and midsize travel agencies and accommodation facilities reaped the benefits of the campaign.
However, between January and June this year, 112 businesses in the travel industry went bankrupt or suspended their operations, according to Teikoku Databank, Ltd. This was a record-high and double the figure from the same period in 2020. In addition, 140 inns and hotels also went bankrupt or suspended their operations.
There are concerns that even more companies could go belly up.
"More and more companies will not be able to hang on if the Go To campaign doesn't start up again," said a Teikoku Databank representative.
Add TheJapanNews to your Google News feed.