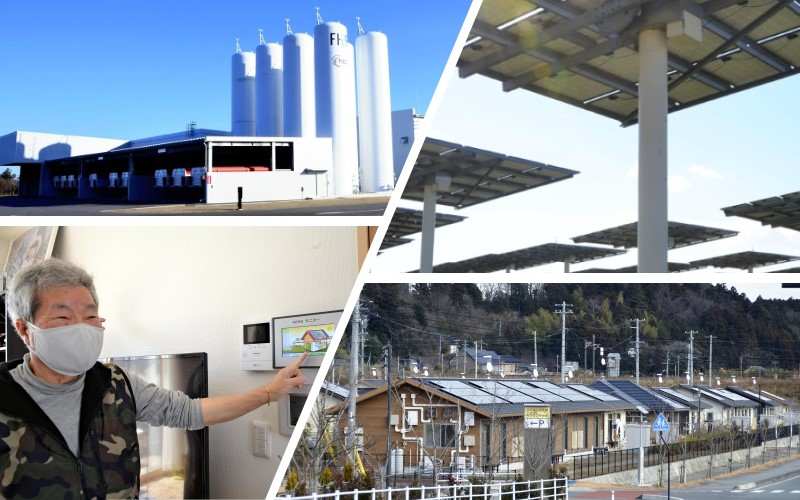 21:13 JST, June 29, 2021
Renewable energy is being introduced at a fast pace in Fukushima Prefecture to create a society that is not dependent on nuclear energy, in the wake of the 2011 nuclear disaster.
Now that 10 years have passed since the nuclear accident at Tokyo Electric Power Co.'s Fukushima No. 1 nuclear power plant, sustainable energy is gaining ground among local residents, despite the challenges that remain ahead.
Less worry about blackouts
"It's sunny today, so a lot of power is being generated," said Ikuo Wachi, 72, pointing at a monitor that displays electricity generation levels. Wachi lives in a house that is part of public housing prepared for disaster victims in Naraha, Fukushima Prefecture.
Solar panels are on the roof and a 4 kWh battery unit is installed under the eaves, so he can use electricity for a while even during a blackout.
The municipality has reinforced its disaster prevention measures and the introduction of sustainable energy sources after people suffered blackouts caused by the nuclear accident. Since fiscal 2019, it rolled out this solar power generation system for 140 public housing units and other households through a subsidy from the government.
The rechargeable batteries cost ¥2 million to ¥3 million each. It is an expensive solution, but power stored in the batteries can be used by the household or sold to electricity companies, which has helped increase the town's income.
Wachi still pays the same amount of money for electricity as before, but he said his peace of mind is significant. When blackouts occurred during the nuclear accident, Wachi slept in a car to ward off the cold.
"I'm grateful that I now have fewer worries about blackouts," he said.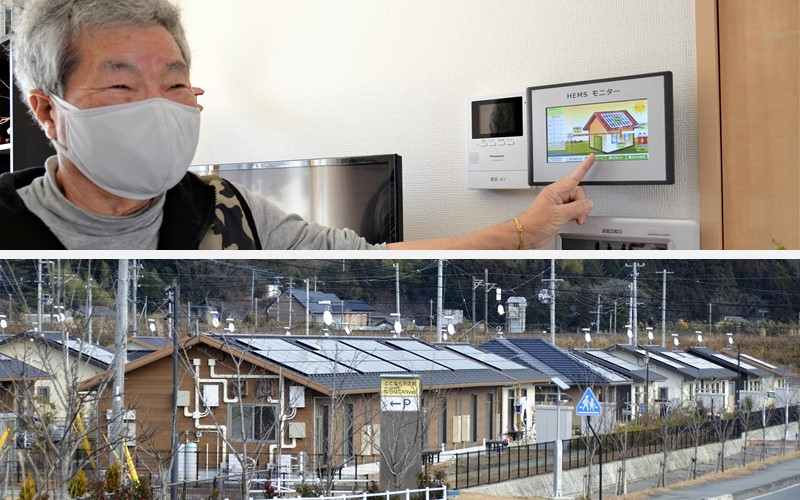 Selling power while farming
The Fukushima prefectural government started promoting the introduction of electricity generated using solar, wind and other sustainable sources, aiming to move away from dependence on nuclear power. The goal set in 2012 is to generate more than 100% of energy demand in the prefecture using these sources by around 2040.
The initiative was buoyed by the feed-in tariff system, launched in 2012, under which power companies purchase electricity at a price set by the government.
The sustainable energy rate of total energy demand in the prefecture reached 34.7% in fiscal 2019. The prefectural government proposed a high goal in February this year: The figure would be raised to 65-70% by fiscal 2030.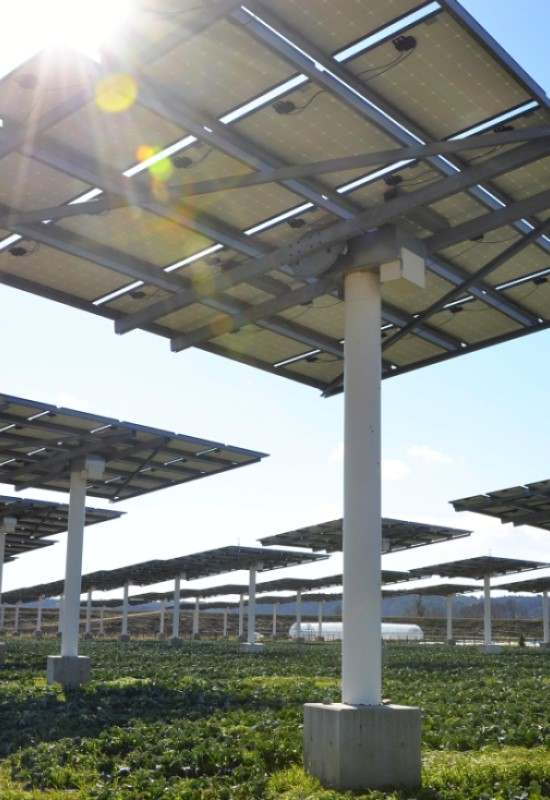 The expansion of sustainable energy in the prefecture is led by solar power generation.
Mega solar power plants, which have maximum power outputs of 1,000 kilowatts or more, were constructed one after another, particularly on farmland that fell into disuse after the nuclear disaster. The maximum output from solar power in the prefecture reached 2.11 million kilowatts in fiscal 2019, a 32-fold increase compared with fiscal 2011. The output from power producers alone as of January this year was 960,000 kilowatts in 120 places, putting Fukushima on top of the table in that regard among all the prefectures in the country.
Tomatoland Iwaki Co., an agricultural corporation in Iwaki, set up 75 solar panels with 5-meter-high support pillars on its farmland in 2014. It grows figs and other produce while also selling electricity, successfully combining power sales and agriculture.
"Thanks to profits from power sales, our main business of selling tomatoes is stable as well," said Hironori Ishibashi, an executive of the company.
Importance of hydrogen
The Fukushima Hydrogen Energy Research Field (FH2R) facility was launched in Namie in March last year by the New Energy and Industry Technology Development Organization (NEDO) and several companies.
Water is electrolyzed using power generated by more than 60,000 solar panels to produce hydrogen — a next-generation energy source. FH2R is one of the largest facilities of this kind in the world.
Hydrogen is used to generate power for parks and michi-no-eki roadside rest areas. It was also used for the torch relay for the Tokyo Olympic and Paralympic Games.
A hydrogen station was set up in Iwaki, and Shin Joban Kotsu Co., a bus company in the city, introduced a hydrogen bus last year.
Hiroko Ishikawa, 62, who is a vocal advocate in the city as someone who had to evacuate her home due to the nuclear accident in 2011, started speaking out about the importance of hydrogen after seeing the bus.
"Shouldn't we introduce new energy types step by step? I would like to get across this message from Fukushima," Ishikawa said.
Her words denote a change in views of the people living in the prefecture, who have suffered from the nuclear disaster.

Problems to be solved
The central government has launched the Fukushima Innovation Coast Framework, which is a national project inviting cutting-edge industries to the coastal area in Fukushima Prefecture, also promoting the introduction of sustainable energy.
Despite these efforts, achieving a stable supply of sustainable energy is difficult because the sources are still too easily affected by weather and other factors. There are also various technological problems that need to be overcome.
Some of these problems surfaced with the floating offshore wind farm trial that took place off Naraha. The project, launched in 2011 as a symbol of the prefecture's reconstruction, faced numerous technical setbacks and it has been difficult to expect a profit. Plans to sell the project in the private sector failed as well, and the central government decided to dismantle the facility.
There are also persistent concerns about the impact on the landscape.
Wind turbines erected in 2020 in the prefectural village of Iitate became a source of consternation when the neighboring town of Kawamata filed a complaint that said, "The wind turbines are visible from our town, which is different from the prior explanation."
The village of Otama announced in 2019 that it wanted no large-scale solar power plant there, and went further by adopting an ordinance that says setting up such a facility in the village requires consent from local residents.
It is also essential to develop power transmission lines to send electricity from renewable energy sources especially to other prefectures. The prefectural government has begun setting up power lines exclusively for sustainable energy in three locations, including the Abukuma area and a coastal area, and is planning to start using all the lines in fiscal 2024.
The central government has declared its target of net zero greenhouse gas emissions by 2050, estimating that 50-60% of the country's power generation amount will be generated from sustainable energy sources in that year.
"The spread of sustainable energy will be led by regional areas, which are richly blessed with nature," said Fukushima University Prof. Michio Sato, who specializes in chemical engineering. "Regarding the introduction of sustainable energy, it will be important not only to provide it to large urban areas but also to work on systems for local production and local consumption."
Role of research institute
What is the role of the Fukushima Renewable Energy Research Institute, which was established in Koriyama in 2014? This institute is working as a new research base of the National Institute of Advanced Industrial Science and Technology in accordance with the national reconstruction policy. The Yomiuri Shimbun spoke with Masaru Nakaiwa, who served as the institute's director until the end of March. The following are his comments:
The Fukushima institute has a goal to become the world's most advanced research hub in six fields, including renewable energy and hydrogen energy. The institute is particularly eager on hydrogen. To be more specific, we focus on research into the storage, transportation and use of hydrogen produced by electricity from sustainable energy sources.
The institute also provides technical support to small and midsize companies affected by the Great East Japan Earthquake. This support is aimed at making the most of the sophisticated skills of companies in industries related to sustainable energy, to foster the creation of new businesses. Through our support, a nuclear power-related company has already switched to wind power.
In the first five years up until fiscal 2018, the institute employed 454 people, many of them students and engineers from universities and companies in the prefecture. Developing human resources is an important mission of the institute.

Add TheJapanNews to your Google News feed.