Japan's shipping industry reenters ammonia transport market, eyes its potential as marine fuel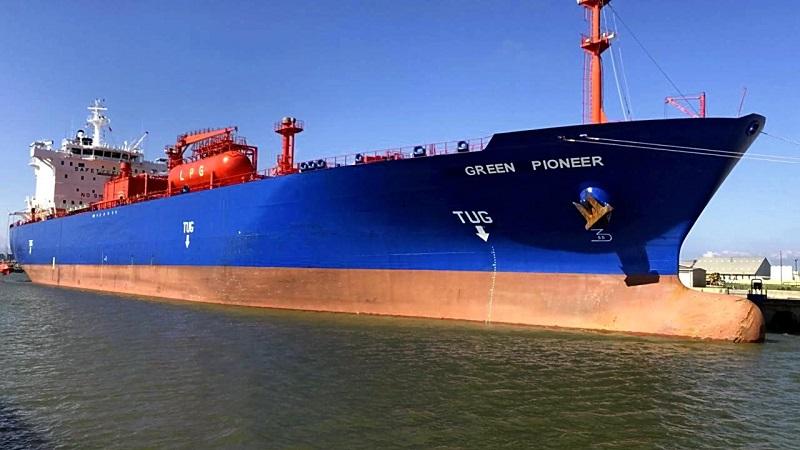 12:10 JST, June 21, 2021
Ammonia is expected to become a next-generation fuel that will be a boon for the global trend of decarbonization, with the shipping industry also pinning its hopes on this commodity.
Emitting no carbon dioxide when burned, ammonia's use as fuel for thermal power plants is expected to expand. The Japanese shipping industry is not only looking to reenter the market of transporting the commodity from ammonia-producing countries overseas, but also aiming to reduce CO2 emissions by expanding the use of ammonia as ship fuel.
Mitsui O.S.K. Lines, Ltd. (MOL) will reenter the ammonia transport business as early as this year. MOL used to transport ammonia for use as fertilizer, but withdrew from the business in 2016 due to deteriorating profitability.
MOL will lease a transport vessel to a U.S. ammonia trading firm and will be responsible for the operation and management of the ammonia carrier.
In the electric power industry, there is a growing trend to replace the fuel used in thermal power plants with ammonia, and MOL expects demand for the clean fuel to grow.
Kawasaki Kisen Kaisha, Ltd. ("K" Line), together with 22 domestic and foreign companies including Itochu Corp. and shipbuilder Nihon Shipyard Co., established a council this month to promote the use of ammonia as marine fuel. They will study the purity and safety of ammonia suitable for marine use, aiming for its early commercialization.
This month, Nippon Yusen Kaisha (NYK Line) invested in a Japanese start-up that is researching and developing an ammonia synthesis system using catalyst technology. NYK Line sees this investment as a stepping-stone toward procuring proprietary marine fuel.
Hydrogen is also seen as a promising next-generation fuel, but hydrogen needs to be liquefied and transported at a temperature below minus 253 C, making it relatively expensive to store and transport.
"Research and development of ammonia is accelerating," said Takaya Soga, senior managing executive officer of NYK Line. The company moved up its target for the introduction of ammonia as marine fuel by five years, to fiscal 2029.
Since last year, the company has also been working with Japan Marine United Corp. and others to develop ammonia-fueled ships.
According to the Economy, Trade and Industry Ministry, the annual global production of ammonia is 200 million tons. Most of it is consumed in producing countries such as China, Russia and the United States, with only 10% of total production exported. There is a concern that expanding global demand will cause prices to soar, so it will be a challenge to ensure a stable, secure supply of ammonia in sufficient quantities.
Add TheJapanNews to your Google News feed.