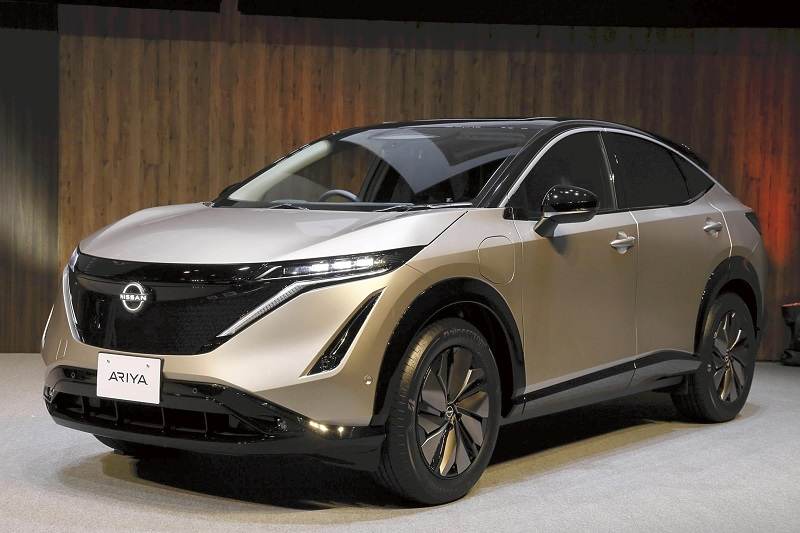 12:20 JST, June 21, 2021
Leading automakers are ramping up efforts to overcome one of the biggest current roadblocks to the full electrification of vehicles — a steady supply of lithium-ion batteries.
As more decarbonization targets are being set around the globe, batteries for electric vehicles (EVs) are expected to run short of supply capacity at present output levels. Thus, automakers' race for market survival is reckoned to be swayed by whether they can procure batteries stably while holding down their production costs.
Toyota Motor Corp. plans within this year to expand the production capacity at its lithium-ion battery plant in Himeji, Hyogo Prefecture, by the amount equivalent to roughly 80,000 EVs a year. The company will also step up annual production of batteries, increasing production capacity by those for 400,000 hybrid vehicles (HVs) a year at its plant in Dalian, China.
Toyota's battery business will be assumed by the new joint venture Prime Planet Energy & Solutions, which the automaker set up with Panasonic Corp. in April 2020.
Toyota aims to increase sales of its electrified vehicles to 8 million units in 2030, roughly four times the current sales level. About 2 million of those units will be purely electric and fuel-cell vehicles.
To achieve these goals, the company estimates that it will need the "production of batteries 30 times the amount of the current output," according to a senior official of Toyota.
According to an estimate by market research firm Fuji Keizai Group, global sales of EVs are expected to reach 19.69 million units in 2035, at least 10 times more than in 2020.
However, the production capacity of batteries for all types of electrified vehicles is estimated to stand at about several million units, with the trend of production trailing behind demand to intensify further down the road.
Regarding automotive lithium-ion batteries, the high production cost, which accounts for one-third of the price of an EV, will also pose a challenge for automakers. For automakers to increase their share in the global market, it is vital for them to boost their battery production capacity, and lower the unit prices for batteries at the same time
Tesla, Inc. of the United States, the world's biggest seller of EVs, plans to halve the production costs of batteries on the way to boosting EV output to 20 million units year. Up to now, Tesla has procured batteries for EVs mainly from Panasonic, but it believes that by producing batteries on its own, it can reduce the unit cost.
For automakers, the issue of which battery manufacturers to partner with will hold sway over their fate in the market.
Nissan Motor Co. is partnering with China's Envision Group on the joint venture Envision AESC Group to make batteries for its EVs. Envision has an 80% stake in the venture, while Nissan holds 20%. They are building a new plant in Ibaraki Prefecture that is expected to start production in fiscal 2024. Nissan also aims to build new plants running in China and the United Kingdom.
Toshihiro Mibe, president of Honda Motor Co., said, "Automakers that started early on building a structure for making a profit from the electrification of vehicles will be the ones who survive."
Add TheJapanNews to your Google News feed.