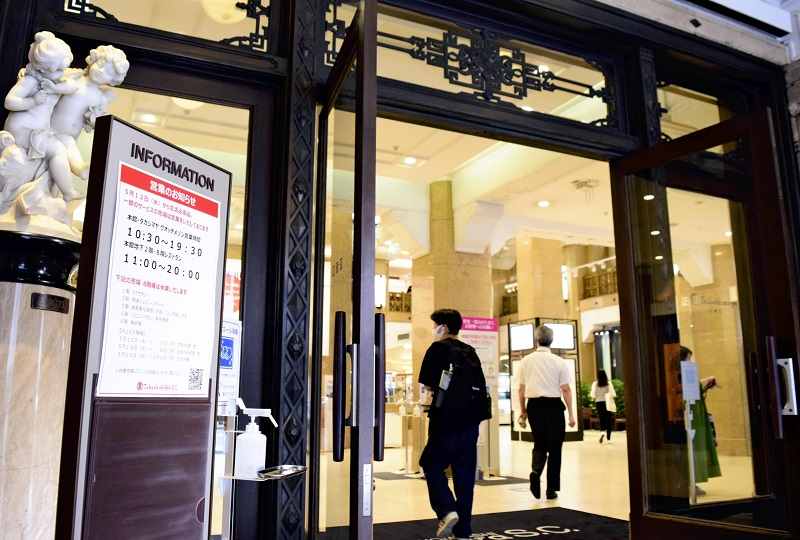 12:38 JST, June 7, 2021
Japan continues to lag behind its global peers when it comes to the economic recovery from the pandemic, mainly due to a vaccination rollout woefully slow compared to those in the United States, Britain and other countries.
The situation is impacting the job market as well, and consumer spending — the main driver of domestic demand — is expected to remain sluggish for the time being.
The Organization for Economic Cooperation and Development, in its latest Economic Outlook released on May 31, noted that the declaration of a third state of emergency in Japan will delay a recovery in wages and stifle growth in consumption.
Forecasting subdued growth in wages and employment along with stagnant consumer spending, the OECD revised downward the growth rate in Japan's gross domestic product for this year from its March estimate of 2.7% to 2.6%.
An OECD official, speaking at an online briefing, said that even as Japan lags behind other OECD countries in the pace of vaccinations that the country started in February, it is possible that restrictions on economic activities could remain in place until summer.
The OECD forecasts economic growth of 6.9% in the United States and 4.3% in the eurozone, where vaccinations are progressing. Both figures were 0.4 percentage points above March estimates. In comparison, Japan's slow recovery is noticeable, as it is seen experiencing negative growth for a second consecutive quarter in April-June due to the state of emergency.
On May 31, the Economy, Trade and Industry Ministry released its preliminary figures for April of the seasonally adjusted industrial production index, an indicator of real industrial output. The numbers exceeded the level in January 2020 prior to the coronavirus outbreak, providing a sign of recovery in some sectors.
However, it has not been enough to cover the fall in consumer spending, which makes up more than half of Japan's GDP.
The Japanese stock market remains stagnant as well.
The Nikkei 225 stock average, which rose above 30,000 in mid-February, plunged to the 27,000 level in May. In contrast, the U.S. Dow Jones Industrial Average of 30 companies reached a new all-time high on three consecutive days in May, and major stock indices in Germany and Britain are on an upward trend.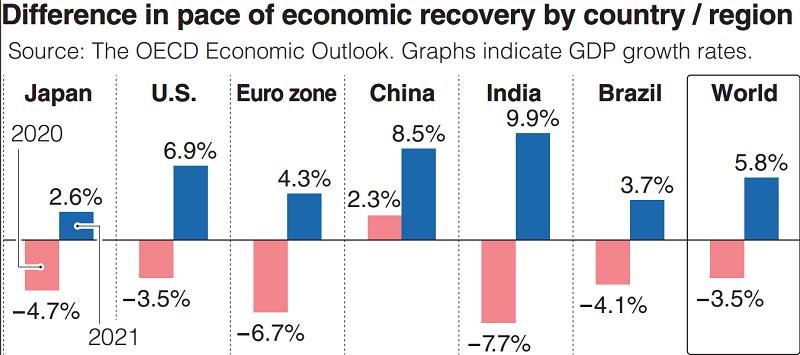 510,000 jobs lost
With the surge in infections and repeated declarations and extensions of a state of emergency, there are no signs of a positive turnaround in the domestic job market, particularly the service sector, which is weighing heavily on an economic recovery.
According to a labor force survey for April conducted by the Internal Affairs and Communications Ministry, the seasonally adjusted number of people employed was 66.58 million, down 510,000 from pre-pandemic April 2019.
The number of part-timers and other non-regular workers declined by 740,000 to 20.76 million over that period. The hotel, restaurant and service sectors, which have been hit hardest by the pandemic, showed the largest decline, falling 660,000 to 3.53 million in real numbers.
The seasonally adjusted total unemployment rate stood at 2.8% in April, lower than the 3.1% marked in October 2020 at the peak of the pandemic. However, there is concern that it will worsen dramatically if the government decides to halt its employment adjustment subsidies and other assistance.
The worsening employment environment has also led to stagnation in consumption.
According to the May consumer confidence survey released by the Cabinet Office on May 31, the seasonally adjusted consumer sentiment index — which measures the outlook of households (two or more people) for the next six months — deteriorated for a second straight month. Compared with the April survey, more people are pessimistic about their jobs and wages in the coming six months.
Falling employment and income hold down consumer spending, becoming a barrier to restoring profitability by companies. Prolonged poor business results could lead to job and wage cuts, which would further depress consumer spending, sending Japan into a negative spiral.
Anxious industries
Even as the government forges ahead with plans to hold the Tokyo Olympics and Paralympics, restrictions on the movement of people look to remain in place for a while. That has only served to cause more worry in the restaurant, travel and other industries that have been severely impacted by the pandemic.
The damage from implementing shorter business hours has taken a major economic toll.
Royal Holdings Co., which operates the Royal Host family restaurant and Tenya tempura bowl chains, halted the serving of alcoholic beverages and shortened business hours to 8 p.m. in adherence with the guidelines.
Sales from currently operating Royal Host restaurants in April declined by about 20% from two years ago. "The prolonged pandemic has created an atmosphere where people no longer feel the need to eat out," a company spokesperson said. "It is hard to foresee sales ever returning to the pre-pandemic levels."
When the third state of emergency was declared on April 25, Isetan Mitsukoshi Holdings closed four department stores in Tokyo with the exception of floors selling daily necessities. Sales for April at its Tokyo metropolitan area stores were down 30% from two years ago.
The company reopened the stores as usual on weekdays starting this month, but a company official lamented, "We don't expect a quick pick up in consumption."
The biggest impact from the extension of the state of emergency was on the transport and tourism sectors. Major travel agency JTB Corp. plans to forego employee bonuses in fiscal 2021 and cut annual salaries by an average of 30%.
"Large-scale demand has disappeared," JTB President Eijiro Yamakita said, as the latest extension of the state of emergency pushes prospects for a recovery further out of sight.
Not everyone is so pessimistic. Shin Kaneko, the president of Central Japan Railway Co., said, "With vaccinations picking up, the situation may get better heading into the latter half of this fiscal year."
There are many small and midsize companies that are hanging on by a thread. Getting more and more people vaccinated is urgent for their survival.
Add TheJapanNews to your Google News feed.