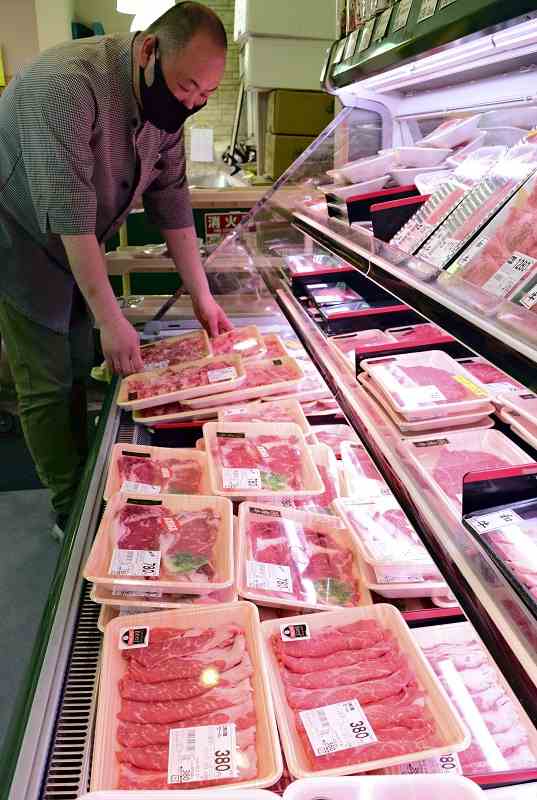 14:56 JST, May 28, 2021
Prices are rising for many common grocery items, such as beef, cooking oil and flour, due to a complex array of factors, including unseasonable weather around the world and an influx of speculative capital into grain markets amid monetary easing.
Consumers are becoming more mindful of spending, as the burden on household budgets is expected to grow.
Drought Down Under
On Tuesday morning at the Akidai Sekimachi Honten supermarket in Nerima Ward, Tokyo, cuts of U.S. beef loin sold for ¥224 per 100 grams.
The price of this everyday ingredient — used in dishes like yakiniku barbecue and beef-on-rice bowls — has risen by about 20% since last autumn, the supermarket said.
"I used to buy it a lot because it was cheaper than domestic [beef]. The price has risen recently, so I'm less likely to choose it," a 72-year-old housewife from the neighborhood said.
According to the Agriculture and Livestock Industries Corporation, an independent administrative agency, the average wholesale price of U.S. beef short ribs (frozen) was ¥1,027 per kilogram in April. This is 70% higher than in April last year, and the highest it has been in six years and four months.
The cause is a slump in Australian beef shipments, which usually account for about half of cattle imports.
A drought that reduced the amount of grass available for feed caused Australian producers to ship their beef cattle early, leaving fewer available at present.
The dependence on U.S. beef imports has increased with procurement orders for the next six months already filled. Competition from Chinese and South Korean buyers is also strong.
"We're battling with other countries for U.S. beef," said a meat wholesaler.
Third hike in a year
Yet rising food prices are not only due to irregular weather.
Nisshin OilliO Group Ltd. will increase prices on cooking oil for household use in August by more than ¥50 per kilogram, the company announced Tuesday.
This follows price hikes in April and June, making the total increase more than ¥100. This is the first time since fiscal 2012 that prices have been raised three times in a single year.
Soybean, which is used to make one of the most popular kinds of cooking oil, is in increasing demand for animal feed in China, where the economy has recovered quickly from the coronavirus crisis.
Many central banks have pursued large-scale monetary easing to support their national economies through the pandemic, and this has been driving speculative investors to buy soybeans in anticipation of movements in China.
On top of all this, shipping costs are also rising. While the number of things being shipped has increased to meet demand while people stay home, concerns over being infected with the novel coronavirus have worsened labor shortages.
Friction between the United States and China has had some other unexpected effects.
China is ramping up domestic production of corn to reduce its dependence on imports from the United States.
This has reduced the production of buckwheat for export. According to sources in the industry, the distribution price for Chinese unpolished buckwheat in Japan has gone up by about 30% from a year ago.
On May 1, soba noodle chain Yudetaro raised the price of its basic soba noodle dishes — morisoba (cold soba with dipping sauce) and kakesoba (soba in hot broth) — to ¥360 from ¥340.
Uncertain future
Will food prices continue to rise?
Nisshin Seifun Group Inc. will raise flour prices by 2% to 4% starting with July deliveries, and prices for pasta and soba noodles by 2% to 9% for September deliveries. The company said it considered factors such as an expected continued increase in distribution costs.
"If rising prices for raw materials cannot be absorbed such as by cutting costs, we may see more of a movement to pass this onto retail prices. Prices will probably continue to rise for some time," said Taro Saito of NLI Research Institute.
Uneven effects from virus crisis
In Japan, the prolonged coronavirus crisis has also affected food prices.
A food price survey released by the Agriculture, Forestry and Fisheries Ministry on Tuesday found that the retail price of potatoes from May 17 to 19 was 40% higher than in an average year, while cabbage was 38% cheaper and lettuce was 24% cheaper.
Potato prices have been relatively high since last summer, because they are widely used and can be stored to some extent if you buy a lot.
"Our purchase cost is about twice as high as normal, and in some cases we are in the red even if a product sells," said Hiromichi Akiba, president of the Akidai supermarket chain. "Onions can be too expensive at times, but we can't afford not to have them in the store because they're an everyday ingredient."
On the other hand, prices of lettuce and other leafy vegetables have trended lower. They are often used in salad bars at restaurants, and the low prices are a result of fewer people dining out.
For restaurant chains as well, the coronavirus crisis has led to price increases in some cases.
In April, Mos Food Services Inc. raised the price of its mainstay MOS Burger hamburger by ¥13 to ¥390.
This is because the cost of the paper bags it provides free with take-out meals has increased since the first state of emergency was declared in April last year.
Udon chain Marugame Seimen also raised the price of its kakeudon noodle bowls by ¥20 to ¥320 in April. The company said this was due to increased labor costs because more workers were needed to give explanations for take-out udon orders.
Consumers have become more budget conscious amid concerns incomes could decline as the virus crisis drags on.
"Food price increases are limited, but for households making less money, this will increase the burden on their budgets," said Masato Koike of the Dai-ichi Life Research Institute. "More and more families are likely to try to be more frugal about managing their daily lives."
Add TheJapanNews to your Google News feed.