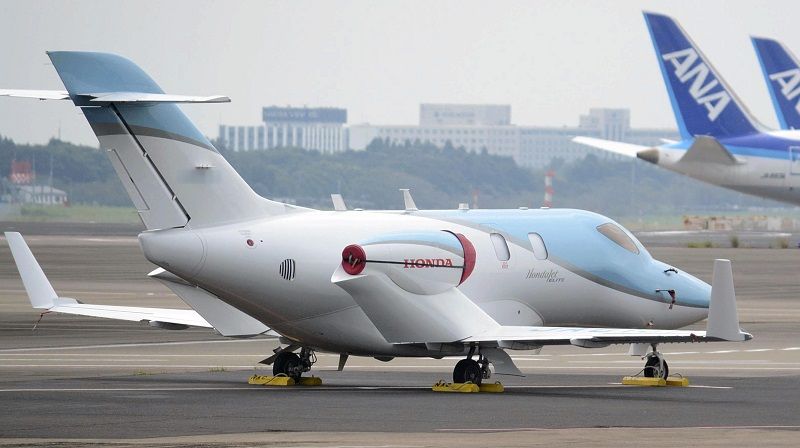 12:39 JST, May 21, 2021
The government plans to relax regulations on the operation of small business jets mainly used by corporate executives in a bid to boost the industry, sources said.
Work to formulate and change flight routes is currently done only by nationally certified flight dispatchers, but the Land, Infrastructure, Transport and Tourism Ministry will allow pilots and those with equivalent skills to conduct the operations.
The ministry hopes to promote the business jet industry in response to growing demand for transportation of small numbers of people due to the coronavirus pandemic.
According to the ministry, in principle, aircraft must not depart or change their flight plan without the approval of flight dispatchers. The ministry plans to amend relevant ministerial ordinances to exclude business jets from the obligation to assign a flight dispatcher.
Instead, the ministry plans to require business jet operators to assign a "flight operations official." Safety will be ensured by limiting the number of personnel for that work to those who can formulate flight routes at the same level as flight dispatchers. The government envisions that pilots who fly business jets will become flight operations officials and work when they are not in the air.
It is believed that pilots have sufficient knowledge and experience to perform the work because they are capable of determining flight routes based on daily weather conditions, among other factors.
A flight dispatcher is a specialist who formulates safe, efficient flight routes and submits flight plans to the ministry, and is also responsible for changing routes in case of sudden weather changes. Every flight must have one flight dispatcher on the ground assigned to it. The position requires at least two years of work experience as a pilot or air traffic controller and passing the national flight dispatcher examination.
Business jet operators mostly hire flight dispatchers trained by major airlines to fulfill the requirement. Deregulation will allow for more flexible management of employees, making it easier to respond to urgent requests for charter flights, which the government hopes will boost the industry.
The spread of the coronavirus prompted a sharp increase in inquiries from corporate executives and wealthy individuals about business jets as an option to travel in small groups and reduce the risk of infection.
The number of takeoffs and landings of international flights using business jets in Japan in 2020 decreased significantly due to the pandemic, but the number of domestic flights remained almost the same as 2019.
According to one business jet operator, there has been a spike in orders from one or two orders per month last June to 10 to 20 per month.
The number of orders for ANA Business Jet Inc., which arranges charter aircraft, jumped fivefold in fiscal 2020 compared to the previous fiscal year. When the pandemic is contained, operators expect an increase in wealthy visitors to Japan to charter private flights on tourist trips.
However, Japan's market is small compared to others. According to the ministry, the United States accounts for more than half of the world's about 36,000 business jets, with 20,978, while Germany has 726 and China 497. There are only 61 business jets in Japan.
The ministry is hoping deregulation will expand the market, such as increasing the number of slots at airports and adding parking lots for the planes.
Add TheJapanNews to your Google News feed.