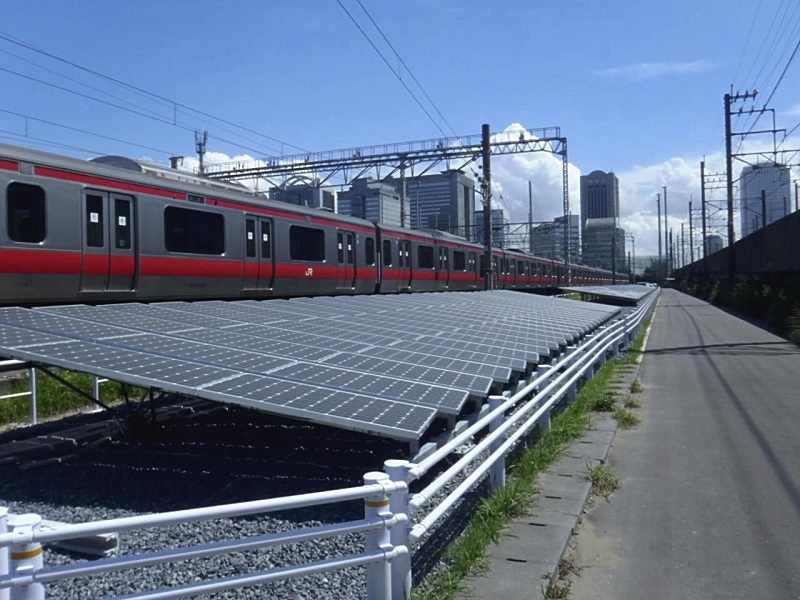 10:11 JST, May 1, 2021
The railway industry has been accelerating its shift toward decarbonization, switching track to solar and other renewable energy sources to generate the electricity for its trains. By going green, rail operators hope to attract more riders, marketing trains as a more environmentally conscious choice with a smaller CO2 footprint than automobiles and other modes of transportation.
In April, Seibu Railway Co. began operating 100% solar-powered trains on its Yamaguchi Line, which runs the 2.8 kilometers between Tamako Station in Higashi-Murayama, Tokyo, and Seibukyujo-mae Station in Tokorozawa, Saitama Prefecture. Using electricity generated at a photovoltaic power station situated on a formerly unused plot of land owned by the Seibu Group, the line's CO2 emissions have been reduced to net zero.
Tokyu Railways Co. has similarly been operating its 5-kilometer-long Setagaya Line with electricity generated at hydroelectric and geothermal power plants since 2019.
According to the Environment Ministry, the transport sector — which includes automobiles, aircraft, and maritime transport — accounted for 20% of all CO2 emissions produced in Japan in fiscal 2019, making it the second-largest carbon polluter, behind the industrial sector at 37%.
Although railways represent less than 1% of the country's total CO2 emissions, operators have still been proactive advocates of decarbonization as one of their corporate social responsibility goals. As Sanshiro Fukao, a senior research fellow at Itochu Research Institute Inc., said, "It is imperative that all industries take steps toward decarbonization."
The development of new carbon-free railway cars is also underway. East Japan Railway Co. (JR East) has been developing a hybrid system powered by electricity from hydrogen fuel cells in partnership with Toyota Motor Corp. and others, with the goal of conducting field trials on operational railway lines by the end of fiscal 2021.
JR East currently procures 40% of the electricity used to operate is trains from its thermal power plant. The company has been eyeing hydropower as another way to continue diversifying its energy sources going forward. By fiscal 2030, it plans to tap renewable energies to supply 20% of the power used in its railway business.
Such moves coincide with a larger trend in the freight industry, which has increasingly been transporting goods via trains instead of trucks in order to lessen its environmental impact.
Japan Freight Railway Co. (JR Freight) expanded in March its fleet of freight trains dedicated to the transport of cargo entrusted by logistics giants Fukuyama Transporting Co. and Seino Transportation Co. Ferrying consumer parcels in its container cars, JR Freight will assume a role conventionally filled by long-haul trucks. The decision of both Fukuyama and Seino to rely more heavily on freight trains was motivated by a growing shortage of truck drivers and the growing impetus for decarbonization.
Rail transport accounts for a mere 5% share of the total domestic shipping pie, as measured by the "ton-kilometer" standard, which looks at both cargo weight and distance traveled.
As JR Freight president Koichi Shingai explained, "[Freight trains] produce one-eleventh the CO2 emissions of trucks" to ship the same piece of cargo across a given distance, a factor he cited as further compelling business operators to embrace rail transport.
The shift has been made all the more enticing by the government subsidies offered to firms that hop on the rail bandwagon.
Add TheJapanNews to your Google News feed.