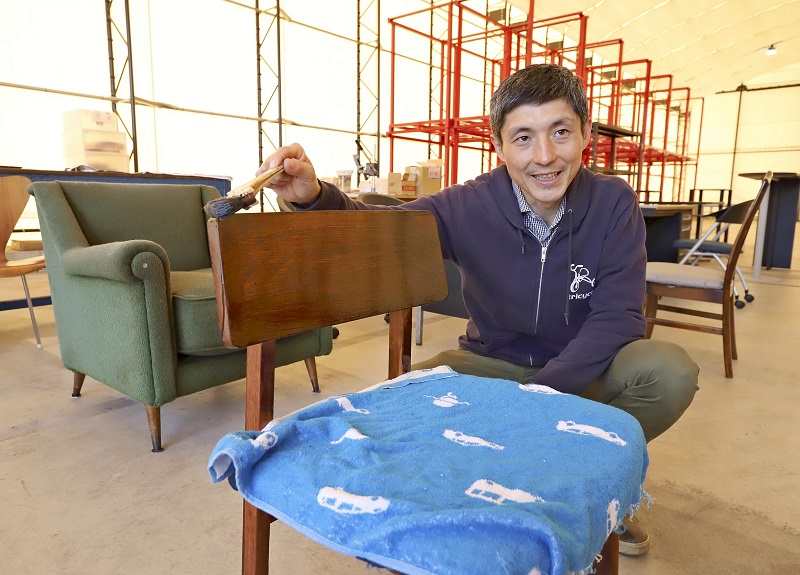 10:56 JST, April 16, 2021
Many companies have been relocating or downsizing their offices as the business environment worsens and telework becomes more common, due to the COVID-19 pandemic. Disused desks and chairs are being collected by companies and sold to teleworkers or exported overseas for reuse.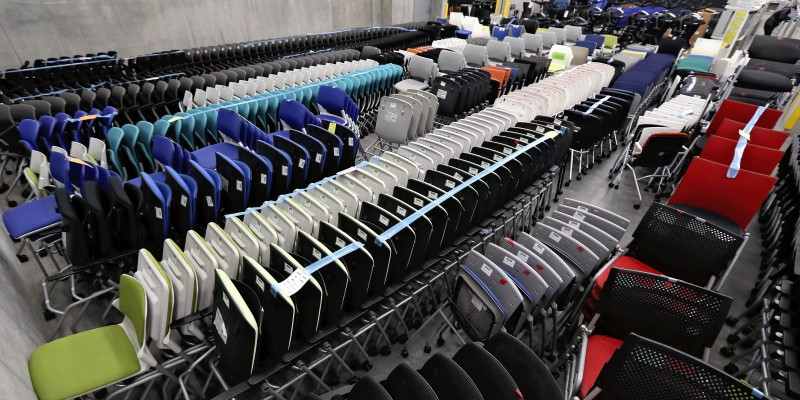 ¥30,000-range hot sellers
The 11,550-square-meter warehouse of used furniture retailer Office Busters in Kashiwa, Chiba Prefecture, is lined with about 20,000 desks, chairs and other items. Last year when the pandemic hit, purchases from companies went up by about 30% from the previous year.
The average vacancy rate in the five central wards of Tokyo (Chiyoda, Chuo, Minato, Shinjuku and Shibuya) in February exceeded the previous month for the 12th consecutive month, reaching 5.24%, according to Miki Shoji Co., a real estate agency specialing in office properties.
Office Busters has purchased many office furnishings from companies that have withdrawn from the city center. The majority of the company's sales used to come from corporations, but after the outbreak of the pandemic, sales from individual customers have been skyrocketing. In February, such sales quadrupled from the same month last year.
Many customers are looking for chairs that feel comfortable even when they sit for a long time while working at home, the company said. Chairs with mesh backrests to minimize uncomfortable moisture from sweat, backrests to prevent back pain, and headrests are popular. The best-selling chairs are in the price range between ¥30,000 and ¥35,000.
"I will be working from home most of the week from April, so I'm looking for a chair that fits my body," said an employee at a construction design company who visited the Office Busters' Kinshicho store in Tokyo on March 30. He tried out many chairs.
An executive officer of Office Busters said, "Working from home is becoming more popular, and demand from individual customers is likely to go up."
New Sales Channels
Some companies are exporting to overseas markets furnishings collected from companies that have relocated their headquarters and restaurants that have closed down.
Tricycle Co. in Shinagawa Ward, Tokyo, collects shelves, lockers, tableware and other items free of charge, mainly in the Tokyo metropolitan area. The items are transported by truck to the company's recycling center in Futtsu, Chiba Prefecture, where they are cleaned, repaired and then sold at auctions for businesses and stores.
From July to December 2019, the company collected an average of 541 pieces per month, but the number jumped to 1,256 pieces in the same period of 2020 after the infection spread. On the other hand, the number of companies and stores buying the reused office furnishings has fallen, prompting the company to begin exporting to Thailand last December.
"Japanese tables and sofas are very appreciated in Thailand," President Takashi Fukuda said. "In the future, we would like to expand our sales channels to other countries in Southeast Asia and the Middle East so that we can contribute to waste reduction."
The Environment Ministry has published a material on its website instructing how to sell and buy used office furnishings and other information on reusing them.
"Sellers can reduce disposal costs, and buyers can pay less than buying new office furnishings," said an official of the ministry's Office for Recycling Promotion. "The economic benefits for companies are great, so we hope they will make the best use of it."
Add TheJapanNews to your Google News feed.