Small, midsize firms search for ways to implement equal pay for equal work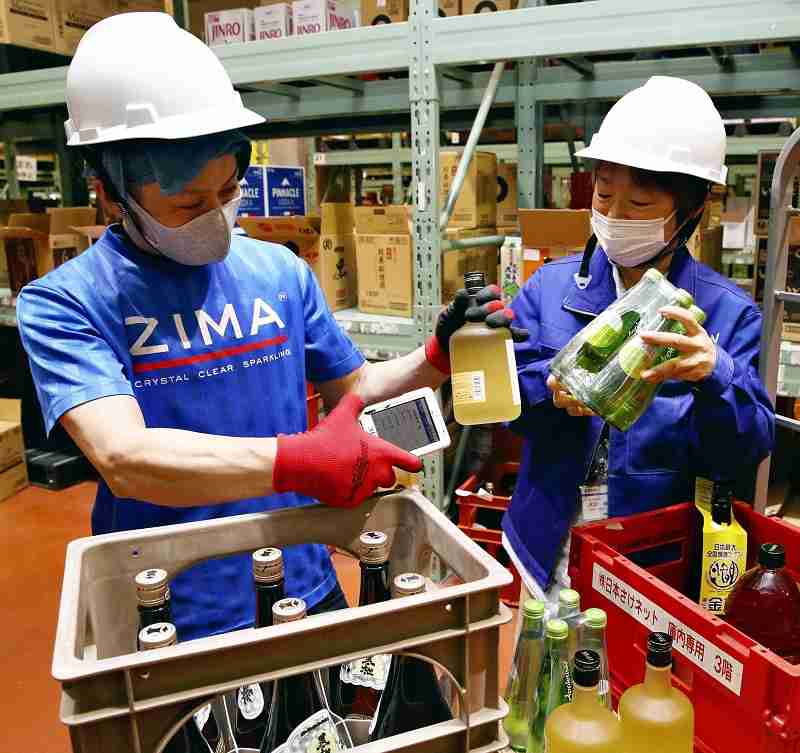 16:03 JST, April 12, 2021
Starting this month, the "equal pay for equal work" system to eliminate the unreasonable gap between regular and non-regular employees is also being applied at small and midsize enterprises.
As many companies have been hit hard by the novel coronavirus pandemic, the increased costs associated with better treatment of non-regular employees could saddle operations. There are many cases in which companies are struggling to devise a new system because they only have a limited number of personnel.
More responsible
"It's very rewarding to have my work evaluated properly," said Ryo Hanai, a 40-year-old who became a contract worker in April at Nihon Sake Net Co. after starting part-time at the liquor wholesaler in Koto Ward, Tokyo.
Ahead of the introduction of the equal pay system to small and midsize companies, Nihon Sake Net revised its labor regulations for part-time workers in fiscal 2018 and has improved their working conditions. Highly skilled part-time workers, for example, are given the title of chief and receive additional pay.
The company also sets conditions for becoming a regular employee, such as obtaining a forklift license, and subsidizes the cost of acquiring the skill.
"Part-time workers have become more responsible and productive" through this system, company President Minoru Sato said.
Hitting a wall
There are many small and midsize companies, however, that cannot get around to such working condition improvements as their priority is to sustain their business and maintain employment amid deteriorating performance during the pandemic.
One company that runs izakaya bars in Tokyo said it has been incurring a monthly loss of ¥5 million.
"I can't raise wages for part-time workers when I can only give a minimum salary to regular employees," the owner said.
Large companies that introduced the equal pay system a year ago have given non-regular workers the same benefits as regular workers.
In April last year, Tokyo-based major electronics retailer BicCamera Inc. raised the maximum reimbursement for commuting expenses for non-regular employees to the same level as regular employees and introduced special allowances and holidays for ceremonial occasions for non-regular employees.
"The reform seems to have helped our workers find their jobs rewarding, but at the same time it had an impact on our costs," said a person in charge.
For small and midsize companies, in addition to increased costs, they often cannot afford to create new systems because a single employee is in charge of several tasks, such as from general affairs and accounting to human resources.
From December last year to January this year, human resources giant en Japan Inc. surveyed personnel officers at small and midsize companies to find that only 28% said they completed necessary reform to eliminate the labor gap.
"A series of revisions to the labor system have placed burdens on small and midsize companies," said a Japan Chamber of Commerce and Industry official who has supported the introduction of the equal pay system. "Many companies are also struggling to cope with the coronavirus crisis."
National support
The central government is offering support to small and midsize companies. If fixed-term workers are promoted to regular employees, companies will receive ¥570,000 per worker under a career development grant. The government will also pay ¥380,000 per company if it offers its non-regular workers medical checkups or offers them a benefits system in line with regular workers.
Work style reform promotion support centers in all 47 prefectures are dispatching experts on social insurance and labor to companies to answer questions and give advice.
"If small and midsize companies are late in responding to these reforms, they won't be able to survive the expected labor shortage after the pandemic," said University of Tokyo Prof. Yuichiro Mizumachi, who specializes in labor law. "They need to make good use of the central government's support to resolve the labor gap."
Add TheJapanNews to your Google News feed.