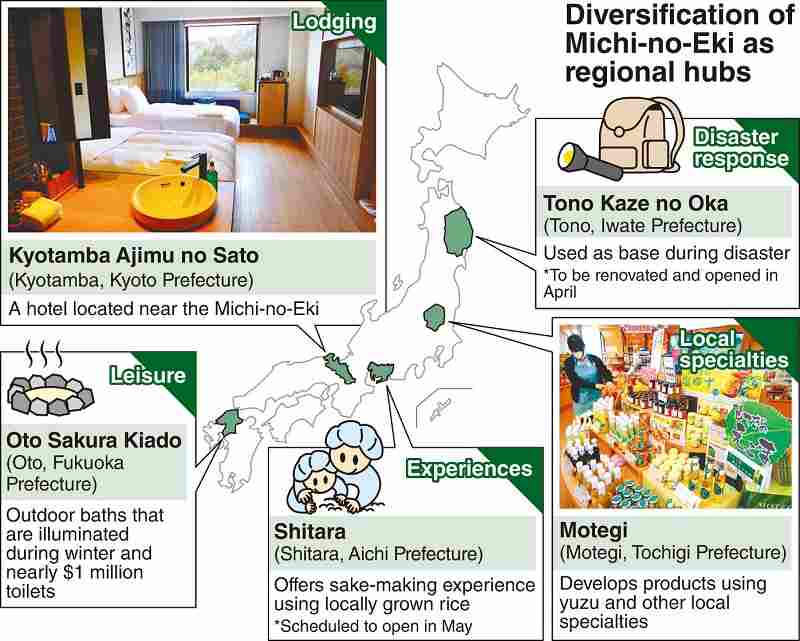 17:29 JST, March 29, 2021
The first Michi-no-Eki, a roadside rest area, opened 30 years ago this October, as an experiment in Yamaguchi Prefecture.
As of July 2020, 1,180 Michi-no-Eki facilities exist. Michi-no-Eki facilities are established by local governments and other entities and are registered by the Land, Infrastructure, Transport and Tourism Ministry, used nationwide to sell local specialties and allow travelers to eat and drink.
They now serve as a base for regional revitalization as they are becoming increasingly multifunctional by offering various services, including aiding in disaster prevention, providing travelers with a place to stay and disseminating tourist information.
Michi-no-Eki Kyotamba Ajimu no Sato is located in the mountainous area of Kyotamba, Kyoto Prefecture. It sells fresh local foods, such as black beans, shimeji mushrooms and kintoki carrots. Adjacent to the Michi-no-Eki, the hotel Fairfield by Marriott Kyoto Kyotamba, which has 75 guest rooms, opened last October.
Sekisui House, Ltd. and Marriott International, a major U.S. hotel company, have been operating such hotels in 11 locations, including Kyotamba, in an effort to encourage people to go sightseeing and shopping in the area.
"I hope people travel off the beaten path and uncover new destination with Michi-no-Eki as hubs," said an official of the Michi-no-Eki project at Sekisui House.
There are plenty of places where the Michi-no-Eki itself has become a tourist attraction. Michi-no-Eki Motegi in Tochigi Prefecture, is crowded on holidays and weekends with families. This facility is close to the Twin Ring Motegi circuit, where visitors can see the Mooka railway's steam locomotive. Also, there is often a line of people waiting to eat yuzu salt ramen, which has won the Michi-1 Grand Prix, a competition for Michi-no-Eki specialties, three times in a row.
The government wants to improve the functionality of Michi-no-Eki facilities to attract more visitors. In 2019, a panel of experts for the transport ministry compiled a proposal stating Michi-no-Eki should gradually develop from simply a rest stop for drivers to a base for disseminating tourist information. The ministry wants to strengthen the facilities' functions for regional revitalization and tourism promotion between 2020 and 2025.
The Michi-no-Eki facilities have also started strengthening their disaster response for local residents.
Tono Kaze no Oka, a Michi-no-Eki in Tono, Iwate Prefecture, served as a base of operations for the Self-Defense Forces when they were conducting rescue operations during the Great East Japan Earthquake in 2011. Learning from that experience, Michi-no-Eki facilities nationwide are now stockpiling emergency rations to prepare for disasters.
More Michi-no-Eki rest areas have started working with companies. Michi-no-Eki Akagi Kogen in Iinan, Shimane Prefecture, has signed a partnership agreement with Ezaki Glico Co. to stockpile liquid milk and retort foods.
The basic disaster prevention plan compiled by the government's Central Disaster Management Council in 2020 positions Michi-no-Eki facilities as regional disaster prevention centers and urges for their functions to be strengthened. Legislative amendments are also being considered to make it easier to install power generation equipment in parking lots that can be used during a disaster. It is likely that Michi-no-Eki roadside rest areas will increasingly become the centers of daily life.
Add TheJapanNews to your Google News feed.