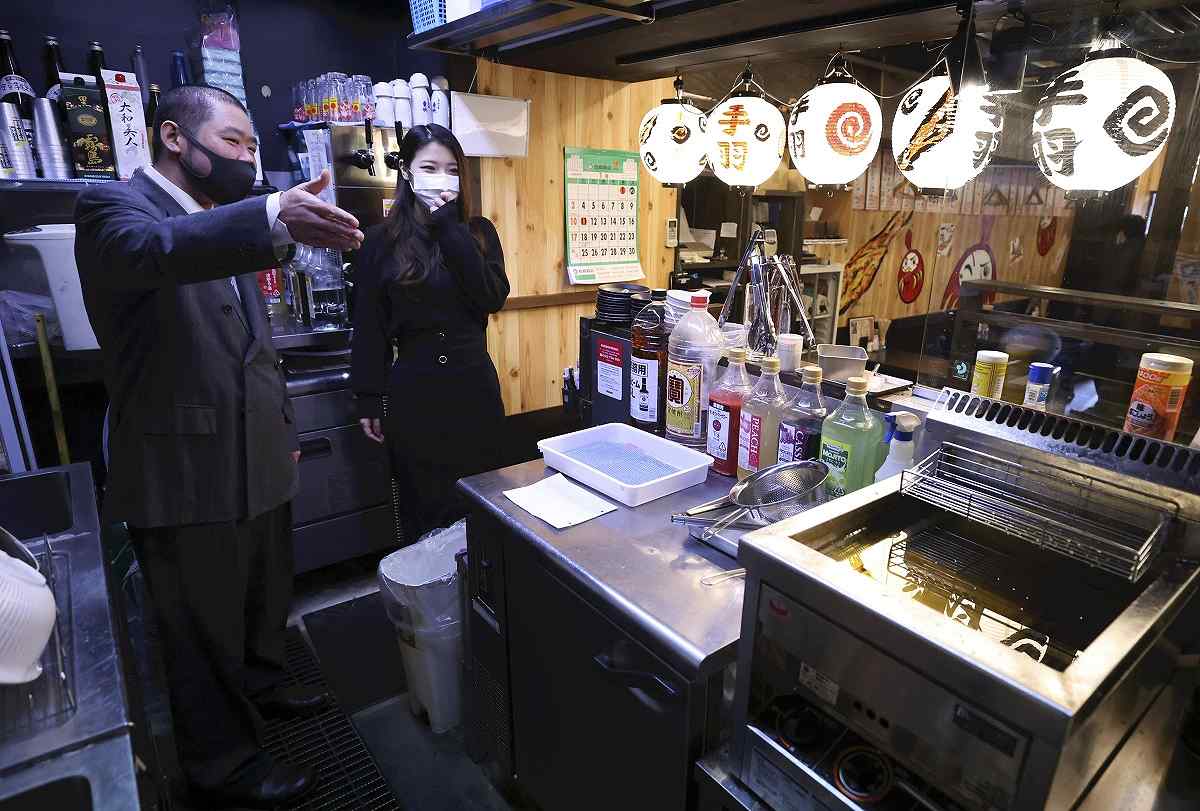 12:58 JST, February 2, 2021
Although many restaurants have closed due to the coronavirus pandemic, vacant properties with the decor and furnishings left intact were in demand during the previous declaration of a state of emergency in April and May. However, since the new declaration, the number of potential tenants appears to have decreased.
In early January, an employee of Tokyo-based real estate agency ActPro Co., which specializes in providing furnished commercial real estate, visited a bar in a multi-tenant building in one of Yokohama's busy shopping districts. He looked impressed by its long wood-grain counter and said, "It's a nice property with a calm atmosphere."
The bar had been in operation for about 20 years, but it was forced to close due to the COVID-19 crisis. With a space of about 66 square meters, it comes with 30 seats, including those at the counter, and the kitchen remains intact.
Prospective tenants, mainly restaurant owners, visited the bar when it went on the market, but none of them decided to rent the space. Although the design is suitable for a bar, it is believed that many of them thought it would be difficult to use the space to run another bar since people tend to shun such establishments to avoid the Three Cs (closed spaces, crowded places and close-contact settings).
"While the number of vacancies has been increasing since around late last year, the number of prospective tenants has been falling. It must be because we don't know when the spread of infections will subside. The whole restaurant industry must be seriously affected by the situation," said Mayu Shimizu, 29, a sales representative for ActPro.
Restaurant owners whose establishments are located within buildings usually have to remove furnishings and equipment and restore the place to its original state when they move out. However, they can leave without the effort and cost if they have the building owners' consent or if there are prospective tenants who are willing to use the items.
ActPro serves as a mediator between those who want to end their tenancy and those who wish to move in. The company provides online members with information on possible vacancies, some of which is also provided by online members in the Tokyo metropolitan area and the Kansai region. Once a contract is signed, ActPro receives a commission from the new tenant. The Hongo Sanchome Ekimae branch of izakaya bar Teba Daruma in Bunkyo Ward, Tokyo, which opened through the agency, is said to have been able to keep initial costs at about ⅓ of that of the chain's other branches in Tokyo.
According to ActPro, there were many potential tenants when the company started the business in 2019, and it handled only about five vacancies a month. However, as the virus outbreak intensified last year, many restaurants closed their doors. There were 54 vacancies in April when the government declared a state of emergency. The number soared to 187 in May.
Initially, restaurant operators looking ahead to when the outbreak would subside decided to capitalize on the vacancies and moved into spots in Shimbashi, Ginza, Roppongi and other areas in central Tokyo. But things had changed by the end of last year. As of Jan. 19, there were 90 vacant properties, but the number of businesses waiting to move into them has decreased. Of the 90, only 18 have been visited by prospective tenants. Business owners used to vie for properties in the city center, but no lease agreements for such properties have been reached recently.
On the other hand, first-floor spaces in buildings that are located along roads, which have been popular for a long time, are attracting even more attention. The move reflects a recent emphasis on takeout services, as easily accessible restaurants allow for more efficiency when working with delivery agents such as UberEats.
According to the Japan Food Service Association in Tokyo, the number of restaurants dropped 3.2% from a year earlier in December last year, while the number of izakaya bars dropped as much as 12.4%.
"Vacancies used to be immediately filled with the same kind of establishments. But now it seems difficult to do so," an association official said.
■ Office vacancies
In many cases, company owners also choose to leave their rented office spaces without first clearing out the furnishings. When asked about their reasons for this during consultations with Tokyo-based realtor Hitokara Media Inc., which has seen the number of consultations increase by 1.5 times since last spring, many of them cite keeping costs down.
Regarding prospective tenants, many tend to look for spaces with several private rooms for online meetings. Spaces located in areas other than near major train stations are also said to have become popular.
Yoshikazu Noda, 36, a member of the company's planning and sales team, said: "Utilizing the internet for business operations is rapidly advancing. We would like to keep a close eye on what effect the market will have if the pandemic continues for a longer period."
Add TheJapanNews to your Google News feed.