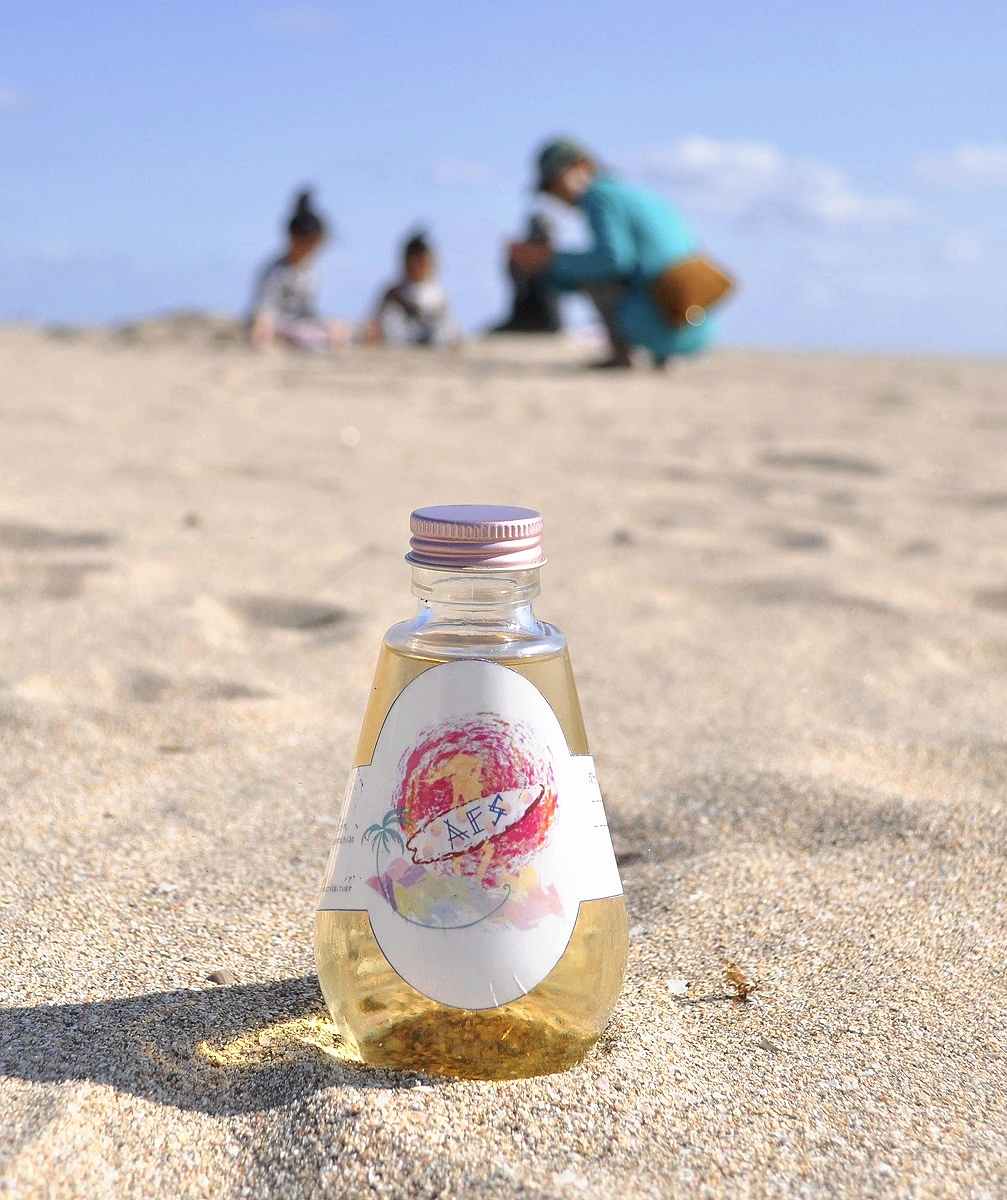 13:40 JST, February 1, 2021
CHIBA — At an office in Onjuku, Chiba Prefecture, five young people gathered looking at the final product designs of a bottle and label that had been newly made. "This is such an Instagrammable design, don't you think?" one asked, while another responded: "I agree. Young women would definitely want to buy this."
The five were employees and student interns of All Nippon Renovation, a general incorporated association based in the town on the east coast of the prefecture.
Kidoizumi Shuzo, a sake brewery based in Isumi, which is in the Sotobo area or the southeastern region of Chiba Prefecture, is the client for which the bottle and label were made. The brewery wanted to get new ideas to have Japanese sake become more popular among the younger generation.
After multiple discussions that took place over the course of a month, the students and staff suggested a round glass bottle that could easily fit into a person's hand. The 200-milliliter sake bottle's label depicted a silhouette of a woman carrying a surfboard with the breeze in her hair and a red sun in the background.
As the area is a popular spot for surfers, Hayato Shoji, the 5th generation owner of the brewery, was pleased with the design.
"I'm confident about the taste of our sake, but this label is sure to be a topic of conversation," Shoji said.
The product is expected to go on sale this spring, and the employees and interns of All Nippon Renovation are developing online sales strategies and thinking of ways to promote the product using social media.
The association was established in 2017 by its representative director Taira Togashi. Togashi was born in Minato Ward, Tokyo, but moved to Onjuku, where his father often took him to swim and fish when he was a child. He set up a shop at a vacant store located in front of JR Onjuku Station, where he offered surfing lessons and rented out bicycles.
As he became more familiar with other business owners in the area, he started revamping websites for local inns and eateries and began undertaking publicity events for new products. While working these jobs, he started accepting student interns in spring 2018.
With the coronavirus affecting many types of businesses, Togashi launched Wakashio Marche shop, an online shopping site that exclusively sells local products such as marine products, from about 20 stores. As the site is primarily meant to support local businesses that have suffered amid the pandemic, it does not charge the business operators a fee to post their goods if they do not sell. However, one seller of dried fish made ¥700,000 in one month.
"A shop cannot expect to see its sales continue if it's located in a rural area, despite how hard it may try," Togashi said. "We want to discover the charms of the Sotobo area from a new point of view and help reinvigorate the region."
Over the years, the association has had about 30 interns, who have either found jobs at local governments, at private companies such as consulting firms or have taken a position at a regional revitalization cooperative, which is a nationwide program implemented by the government.
Kazuma Koriyama, a senior at Tohoku University, lived in Onjuku for two months in 2019 and 2020 to intern at the association.
"Feeling responsible for the future of these business owners, while at the same time having a role in shaping the community, has been an invaluable experience," he said. "It has helped me see what kind of job I want to have in the future."
Mitsuteru Asano, an official at Onjuku Town Society of Commerce and Industry, said: "Those with new ideas are shaking up our town in a good way. I hope this momentum spreads to other parts of our community."
Meanwhile, A Zero Inc., a start-up based in Nishi-Awakura, Okayama Prefecture, accepts student interns for its wild game meat business. For a period of one to six months, interns can gain experience dressing and processing deer meat, as well as making proposals for product development and marketing.
"Students who think differently and with various capabilities have come to our company," said Natsuko Otani, an official of the company. "Such an infusion is beneficial for both them and us, even if the interns end up not working for the company."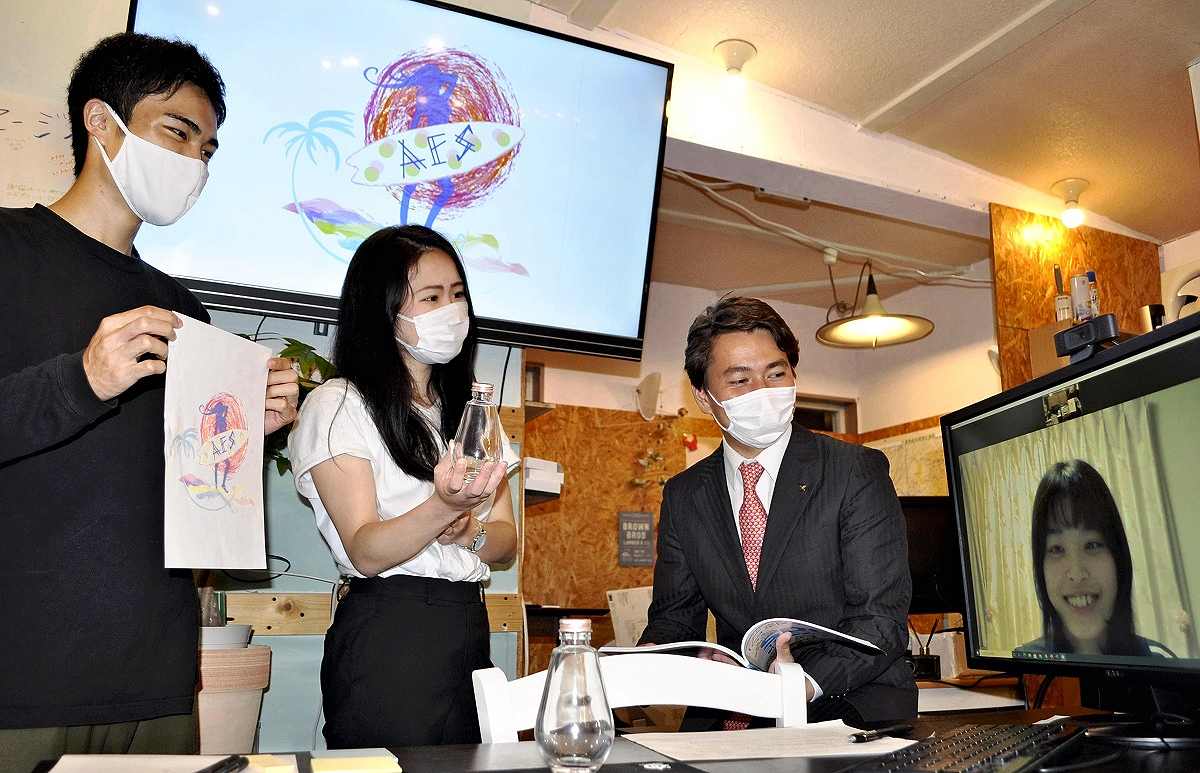 Add TheJapanNews to your Google News feed.