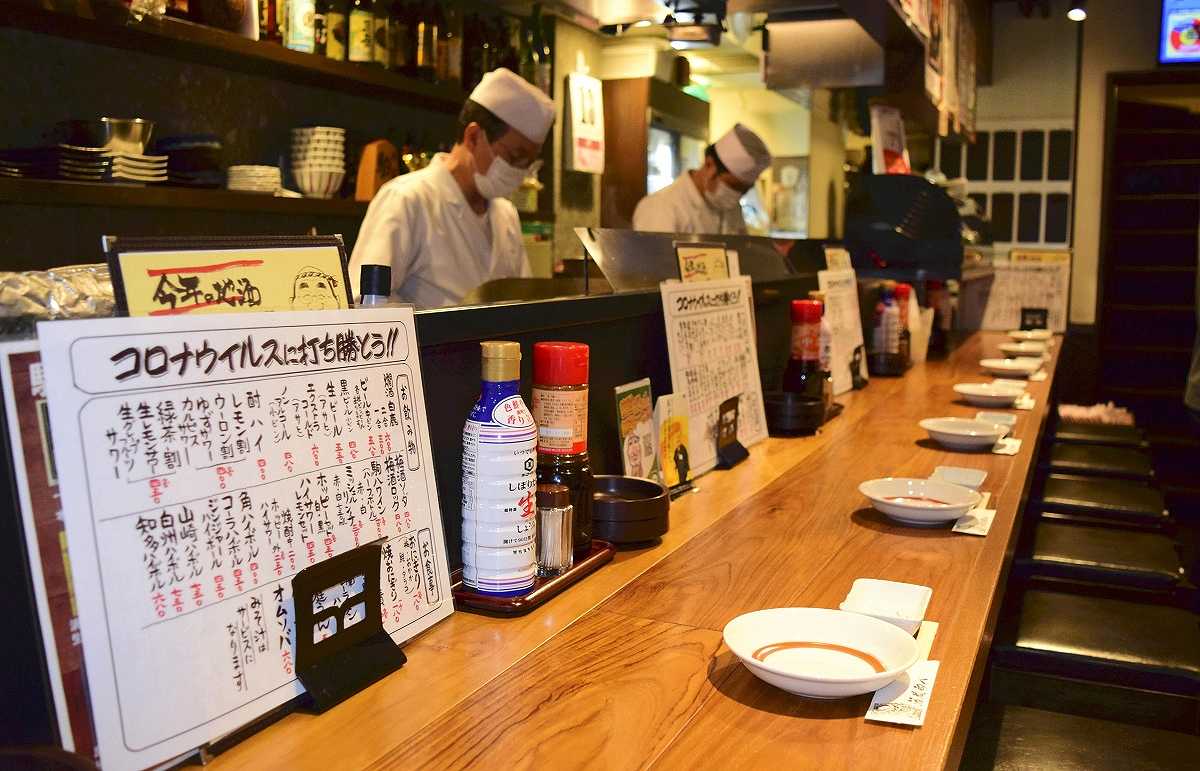 15:03 JST, January 28, 2021
A series of recently released business reports further highlighted the slump in consumption during the spread of the novel coronavirus.
The Japan Foodservice Association announced Monday that restaurant sales for 2020 fell 15.1% from the previous year, the largest drop since 1994, when comparable data became available.
Sales of some sectors, such as home electronics, have been strong thanks to a trend of cocooning, but the overall outlook remains uncertain.
Sales in the food service industry had been expanding steadily, along with an increasing number of fast food locations. When the first state of emergency was declared last April, however, industry-wide sales had dropped 39.6% from April 2019, and experienced a 10th consecutive month of decline after a 15.5% falloff in December.
An industry breakdown shows pubs and izakaya restaurants were hit particularly hard, plunging 49.5% from the previous year. The influx of customers came to a complete halt at restaurants in the vicinity of stations and other areas as a work-from-home lifestyle took root.
Operators are closing failing stores or have resorted to modifying their business models. In the six months from April last year, Colowide Co., which operates izakaya chains including Hokkaido and Amataro, shut down about 200 of its 2,700 locations.
Watami Co. is also reducing its number of izakaya eateries and shifting to yakiniku grilled restaurants that are expected to attract families.
In the retail industry, department stores' annual sales for 2020 fell 26.7% from the previous year across all its stores.
Many of its locations temporarily closed because of the state of emergency, and sales of suits and coats were sluggish. Convenience store sales were also down 4.5% amid a drop-off at stores located in office districts and tourist spots.
Major appliances, such as air conditioners and cooking equipment, are a good example of products that have ridden demand in this stay-at-home era.
The Japan Electrical Manufacturers' Association announced Monday that domestic shipments in 2020 increased 1% over the previous year to about ¥2.54 trillion, reaching its highest level since 1996.
Shipments of air conditioners reached a record high in terms of volume. To work at home, there was a widespread trend among consumers to install air conditioners in rooms that previously had none.
Sales of air purifiers also rose 56.8% to ¥88.8 billion, the highest figure since comparable data became available in 1973. Hot plates and toasters also sold well.
As for dining out, overall sales among fast food businesses decreased by 3.7%, but the average price per customer — which indicates how much a person spends per visit — increased by 9.2%.
McDonald's Co. (Japan) and Kentucky Fried Chicken Japan Ltd. have been successful in efforts to latch onto demand for takeout orders and home deliveries, which families often buy in larger quantities, and have maintained a strong business performance.
With no end in sight to the pandemic, the way companies are able to tap into the cocooning demand is likely to determine future trends in consumption.
Add TheJapanNews to your Google News feed.