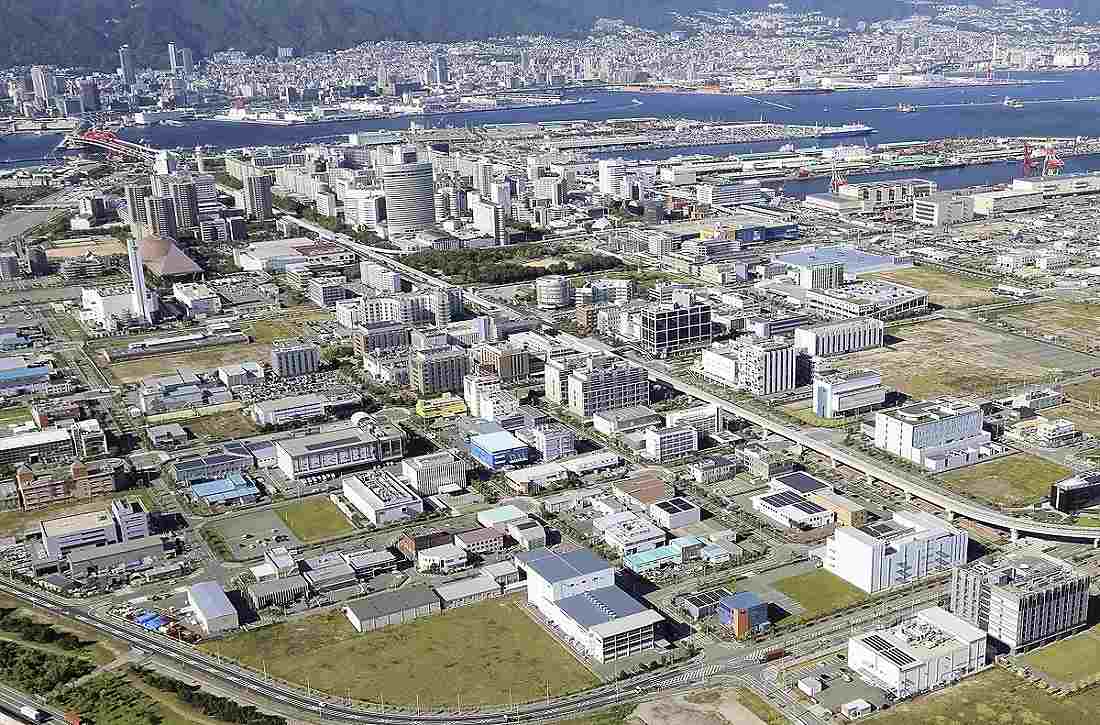 16:56 JST, January 10, 2021
The world's first drug for the treatment of AIDS was developed by Hiroaki Mitsuya, 70, the director general of the Research Institute of the National Center for Global Health and Medicine and a senior research fellow at the National Institutes of Health in the United States.
Mitsuya joined NIH in 1982 when he was an assistant at Kumamoto University Hospital. He said he was surprised by the speed at which research materials were available in the United States. The pace and number of academic papers he wrote increased drastically.
The AIDS virus was discovered in 1983. Mitsuya began his research on the deadly syndrome the following year, and the therapeutic drug he developed was approved in 1987.
"I was allowed to do research that I wanted in a well-funded environment. I regret not going sooner," Mitsuya said.
The Japan Agency for Medical Research and Development (AMED), which is in charge of allocating research and development budgets in the medical field in Japan, has an annual budget of about ¥130 billion.
NIH's annual budget is about ¥4 trillion, but funding isn't the only significant gap.
Hisataka Kobayashi, 59, who developed photoimmunotherapy, is also an NIH senior research fellow. He joined NIH in 2001 when he was an assistant at Kyoto University Hospital's department of radiology.
■ ¥10 trillion fund
Many university labs in Japan can continue to exist regardless of research achievements. But at NIH, senior research fellows, who are equivalent to research professors in Japan, undergo thorough reviews every four years. Poor evaluations can result in labs being scaled down or closed.
"The strictness maintains the metabolism and quality of the research. Talented people from all over the world are assembled there, making it a 'major league' of medical research," Kobayashi said.
According to a league table of research institutes compiled by a British scientific journal last year, the highest-ranked Japanese institution was the University of Tokyo, which dropped out of the top ten, placing 11th.
"Scientific research in Japan is in a critical situation," Mitsuya lamented. "Even among East Asian countries, Japan has published few academic papers about the novel coronavirus. Our ability to react is declining."
The government will establish a fund to assist the research and development activities of universities in an effort to improve the situation. The government plans to secure ¥4.5 trillion initially, increasing the amount to about ¥10 trillion in the future.
"Japanese researchers have outstanding abilities. If competition can be fueled by investing more money in universities, there is hope," Kobayashi said. He received grants from Shimadzu Corp., Olympus Corp. and others when he was developing a photoimmunotherapy treatment.
Unlike in the U.S., where every detail is stipulated in a contract, Kobayashi said he appreciated the flexibility of working in Japan. Another crucial factor in the commercialization of the treatment was funding from Rakuten Inc. CEO Hiroshi Mikitani, who had expressed an interest in investing in cancer research.
Support from Japanese companies and investors will be key to developing capabilities that are unique to Japan.
■ Surgical robot born in Kobe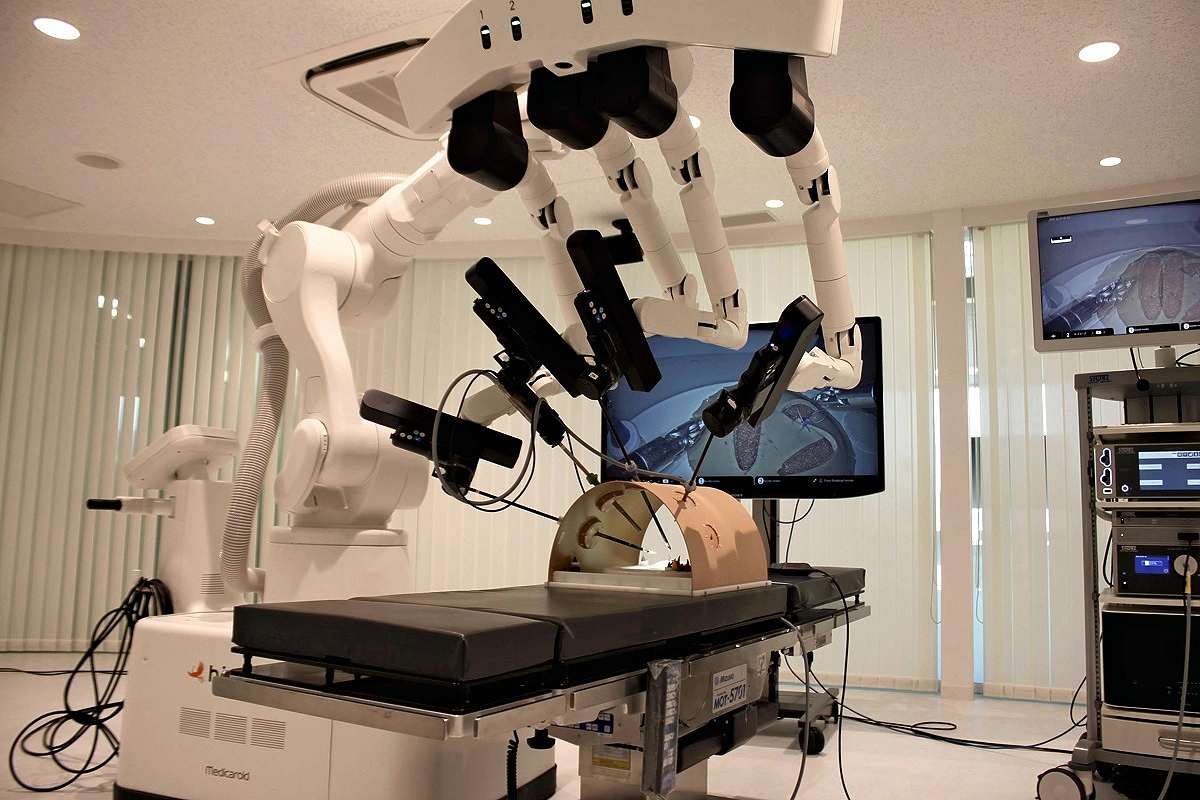 Hinotori, Japan's first domestically developed surgical robot, was used for the first time in an operation on a cancer patient at the International Clinical Cancer Research Center of Kobe University Hospital on Dec. 14. The name is Japanese for phoenix.
Operators can remotely manipulate the robot's four arms, which are each equipped with forceps and endoscopic cameras, giving doctors a three-dimensional view during operations. Kobe-based firm Medicaroid Corp. developed the robot.
"This is just the starting line," said Medicaroid President Kaoru Asano after observing the first operation.
The da Vinci surgical system has dominated the surgical robot market since it was launched in 1999 by a U.S. firm. The system is thought to include a considerable amount of Japanese technology. Although Japanese firms are creating cutting-edge technology, they appear to be reluctant to take risks.
Kawasaki Heavy Industries Ltd. and major medical equipment maker Sysmex Corp. established Medicaroid in 2013. Kawasaki Heavy's expertise in robot technologies was crucial in the development of the Hinotori robot, which has more joints than the da Vinci surgical system and smoother movement.
Medicaroid's head office in the Kobe Biomedical Innovation Cluster is in a location with a high concentration of hospitals, businesses and research institutes where people in industry, government and academia collaborate in medical and biotechnology research.
The area is also home to the world's fastest supercomputer, Fugaku, which has been used to forecast the spread of airborne droplets in research related to the novel coronavirus pandemic.
About 370 companies and organizations have bases there, including antibody developer Evec Inc., which launched operations at its Kobe lab last year. Headquartered in Sapporo, the company decided to establish a base in Kobe because of the collaborative environment with pharmaceutical companies and universities.
The company is developing an antibody treatment for COVID-19 in partnership with hospitals and other entities in Kobe.
The building the company is located in has elevators that can hold large equipment and space where staff can communicate with employees from other companies. Evec Chief Technology Officer Takashi Torashima said, "We have a support system in place for both human resources and technical equipment, which is expected to speed up development."
Development of the innovation cluster began in 1998 as part of reconstruction projects after the Great Hanshin Earthquake. However, Hinotori is the only product that is being produced on a large scale.
Medicaroid Vice President Hirofumi Tanaka said, "Research is flourishing, but manufacturing is still weak." According to Tanaka, people with expertise in product commercialization such as device approval and patent strategy are concentrated in Tokyo.
The development of Hinotori began through the collaboration of industry, government and academia in the innovation cluster. The company is aiming to make advancements in a highly advanced surgical robot, by equipping future models with high-speed telecommunication functions and artificial intelligence.
Add TheJapanNews to your Google News feed.