Car dealerships target the elderly with loans, electric wheelchairs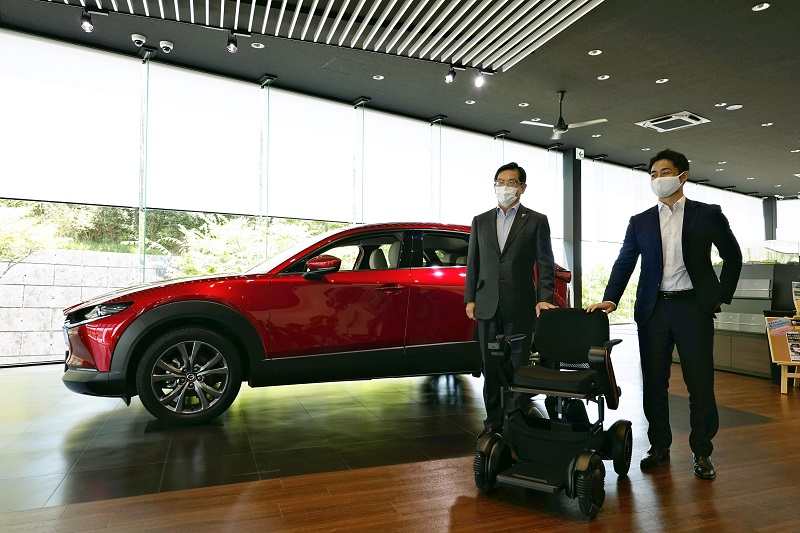 8:40 JST, October 29, 2021
OSAKA — Car dealerships are focusing on the elderly after business has become more difficult due to the declining birthrate and young people are losing interest in cars.
These dealerships are trying to corral customers by offering loans to the elderly for electric wheelchairs or loans that can be canceled before maturity if they surrender their driver's license.
Kobe Mazda Co. formed a partnership with Whill Inc., a Tokyo-based company specializing in electric wheelchairs. Whill sells its Model C2 at ¥473,000, which can travel about 18 kilometers on a five-hour charge at a maximum speed of 6 kph, among other wheelchairs.
Electric wheelchairs do not require a driver's license and are mainly used by the elderly and people with disabilities.
"If we don't transform ourselves, it will be difficult to survive," Kobe Mazda President Satoru Hashimoto said.
Whill is also particular about the appearance of its products, which match the taste of Mazda's customers, he said
The main sales channel for electric wheelchairs has conventionally been welfare goods stores. However, Whill's products are now handled by 31 dealerships of major Japanese carmakers, including Mazda Motor Corp., Toyota Motor Corp., Nissan Motor Co. and Honda Motor Co.
According to the association for the safe use of electric wheelchairs, domestic shipments of electric wheelchairs in fiscal 2020 increased to about 24,000 units, up 20% from five years ago.
With the spread of car sharing and the elderly returning their licenses, it has become increasingly difficult to sell new cars.
Electric wheelchairs are a product whose sales is expected to increase. "We have been approached by more and more dealers to partner with," a Whill official said.
Suzuki Motor Corp., the largest manufacturer of electric wheelchairs in Japan with about 50% of the domestic market share, also focuses on marketing its products at its affiliated dealers.
Honda is currently developing an electric wheelchair with an excellent design and GLM Co., a manufacturer of electric vehicles headquartered in Kyoto, is aiming to enter the market in 2022.
Each company is also focusing on sales of new vehicles in its core business. As traffic accidents caused by the elderly have become a problem, car dealers are offering loans that can be canceled before maturity to encourage customers to switch to cars equipped with automatic brakes and other safety devices.
Toyota started offering such loan in autumn of 2019, limiting the target to those 60 and older.
Customers can return the vehicle to the dealership and cancel the loan if they become unable to drive due to illness or surrender their license during a five-year period of paying about half of the car price in installments.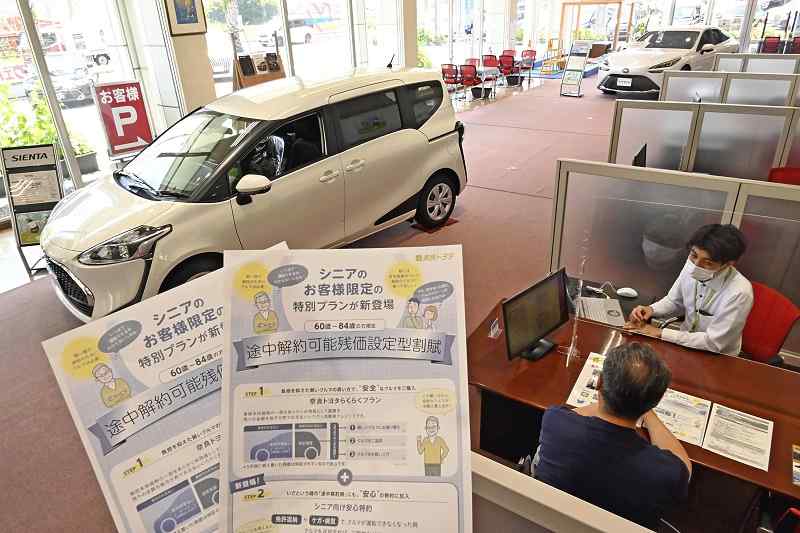 In fiscal 2020, there were about 1,500 loan contracts and in February this year Suzuki also began offering loans that can be canceled before maturity.
"There are many rural areas where cars are the only means of transportation, and many elderly people are still able to drive. We would like to encourage them to switch to the latest models to reduce the number of accidents," said Yoshiteru Nakamura, sales deputy director of Nara Toyota Corp.