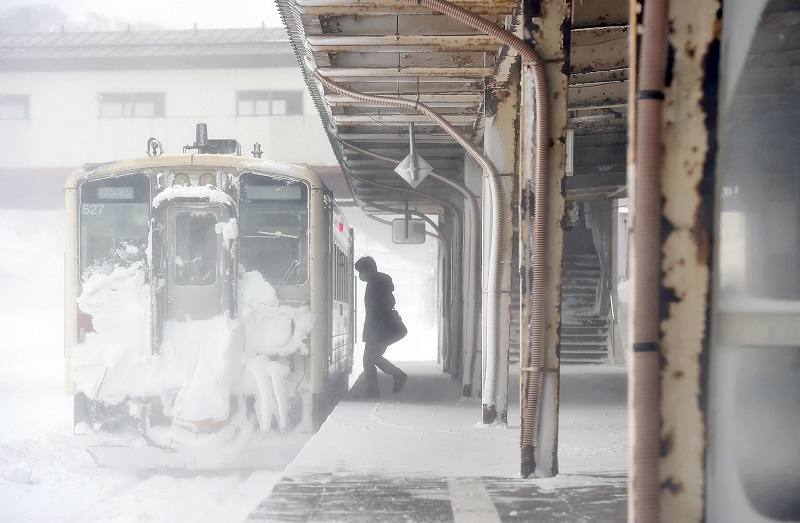 9:11 JST, March 12, 2021
The nation's railways, a crucial lifeline for millions, are stuck in an uphill battle.
Numerous companies are running deficits because of a sharp decline in passengers amid the novel coronavirus pandemic that is pressuring them to review business practices. This article is the first in a series examining the challenges facing the railway industry.
New station for Narita Airport
Plans for a new station at Narita Airport have gone up in smoke.
The Keisei Skyliner train connecting central Tokyo to Narita Airport has been a moneymaker for Keisei Electric Railway Co. as the number of overseas tourists had seen a steady rise in the years before the spread of the coronavirus.
And plans were also underway to build a fourth terminal at Narita Airport.
"The idea to construct a new station at Narita Airport had been on the table," a senior official at the Land, Infrastructure, Transport and Tourism Ministry said.
In addition to its two terminals that mainly handle international flights, the airport opened a third terminal dedicated to low-cost carriers in 2015.
If a fourth terminal was going to be constructed to boost the airport's functionality as the "gateway to the skies," a new station was to be added nearby.
With the government's goal of reaching 60 million foreign visitors per year, the airport needed to expand its capacity to serve more travelers. However, in line with the drop-off in overseas travel, the number of Keisei Skyliner passengers has plunged by 80% to 90% compared to the previous year. With no room for extra spending, the notion of a new station is now a dead issue.
Earlier last trains
At 1 a.m. in mid-December, about 30 laborers began working to replace the rails at Higashi-Jujo Station on the JR Keihin-Tohoku Line in Kita Ward, Tokyo. Even the slightest deviation in the height of the connections could lead to wear on the line, so the workers carefully and repeatedly welded the areas.
By 3:30 a.m., they had completed only a few dozen meters of the track. The station's electronic signboard flashed the time saying the first train of the day, bound for Ofuna, would be leaving the station in an hour.
In recent years trains have been running later and later, increasing the burden on nighttime maintenance workers and inspections, increasing operating costs when added to worker shortages.
In their revised timetables, to take effect on March 13, railway companies in the Tokyo metropolitan area are moving up times of the last trains. This is not only in response to the pandemic-induced drop-off in passengers, but also to give workers more time to complete their tasks.
"We'll be able to get done in one night what used to be broken up into two," Tokyo Metro Co. President Akiyoshi Yamamura said.
Railway operators hope this change will prove to be beneficial.
Lines in crisis
While safety is important, some lines are in danger of disappearing altogether.
Rumoi Station is on the JR Rumoi Line, which runs through northwestern Hokkaido. In February, a one-car train departed the station one day just after 8:00 a.m. — smack dab in the middle of the morning rush — with only six passengers on board.
"We hardly see any of the tourists and railway enthusiasts who used to come around. It might be time to say goodbye to the station," said Teruyoshi Musashi, 70, who has run a soba noodle stall at Rumoi Station for more than 20 years.
The Rumoi Line opened in 1910. Back then, it carried goods to bustling Rumoi Port, where coal and other materials were loaded onto ships. But as the coal mines closed, the population along the line declined and the number of paved roads increased.
The average number of daily passengers dropped from 137 per kilometer in fiscal 2019 to 94 in the first half of fiscal 2020.
Equipment maintenance, labor and other costs are now about 16 times higher than revenue generated from fares.
Even before the pandemic, Hokkaido Railway Co. was saying the line was difficult to maintain on its own, and was planning to close it or transition to buses. Local governments along the route have requested the line stay open in some sections, and negotiations are ongoing.
Equipment industry
The railway business has been described as a huge "equipment industry."
Companies spend a lot of money laying rails and purchasing train cars, which run ¥100 million or more each, and those investments take a long time to recover.
Fixed costs such as maintenance and wages account for about 80 percent of sales. Cutting costs is not easy, even if there is a sharp drop in the number of passengers.
East Japan Railway Co. and 15 major private railway companies each spend a little less than ¥500 billion a year on capital expenditure such as safety measures, with costs growing year by year.
"Even [things such as] escalators need to be designed to be stronger than ones in normal buildings because massive numbers of people hastily trample all over them," a JR East employee said.
Creating barrier-free environments is another urgent issue. A visually impaired person died in November after a fall that occurred before the newly installed platform doors were fully operational at Toyocho Station on the Tokyo Metro Tozai Line in Koto Ward, Tokyo.
One executive at another major private railway company expressed anxiety, saying, "We have a lower rate of installment of platform doors than Tokyo Metro, but we don't have much room for investment."
When an earthquake occurred off the coast of Fukushima Prefecture on Feb. 13, it took about 10 days to fully restore the Tohoku Shinkansen bullet train line because of damage to utility poles that had not undergone earthquake-resistance reconstruction.
A crack was found in a weld connecting rails on Feb. 16 along the Odakyu Odawara Line, which shut down operations for about 3 hours 40 minutes.
Every accident that occurs could lead to enormous damage. Railway companies are expected to achieve both sound business management and safe operations.
The light at the end of the tunnel is uncertain as railways are unable to cut costs because of safety issues and the days with low passenger numbers are expected to continue.
Add TheJapanNews to your Google News feed.