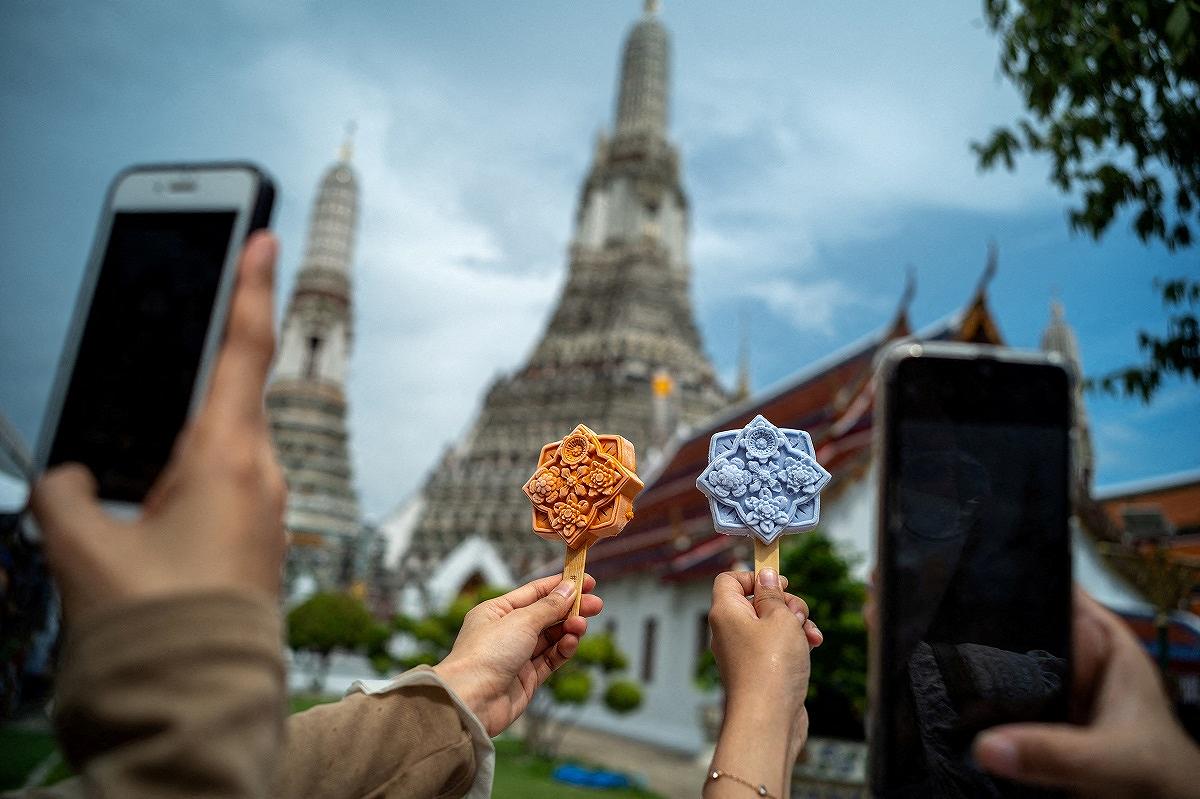 17:10 JST, August 3, 2023
BANGKOK (Reuters) — Under a scorching sun, visitors to Thailand's renowned Temple of Dawn cool down by tasting an elaborately-shaped ice cream depicting intricate patterns inspired by the tiles of the pagoda.
"It's different and pretty," said Thai resident Doungkamon Koedthong, 29, holding up the ice cream against the backdrop of the temple, also known as Wat Arun, for an Instagram-worthy snapshot.
The ice cream, with butterfly pea coconut milk and Thai milk tea favors, was modeled after the blue ceramic plates and flower details of the pagoda, said ice cream maker Pop Icon.
"Thailand is rich in cultural heritage but it's not been presented or seen in a new perspective," said Sirinya Hanpachearnchoak, 34, Pop Icon's owner and designer of the popsicles.
"I think that if we put the temple's identity on the ice cream, people might spend more time examining the details [of the pagoda] than they otherwise would," she said.
The 'Flower of Dawn' ice cream is also popular among foreign visitors seeking some respite from the heat in Bangkok.
"It's really refreshing. I was boiling, so it's really tasty and cools you down really nicely," said Sherin Babu, a 22-year-old medical student from Manchester, England.
Sold at 89 baht ($2.56) each since May, the ice cream is made exclusively for the temple, where the maker said the money would go to its Buddhism education and medical expenses.
Add TheJapanNews to your Google News feed.