U.S., South Korea Conduct First Large-Scale Landing Drills in 5 years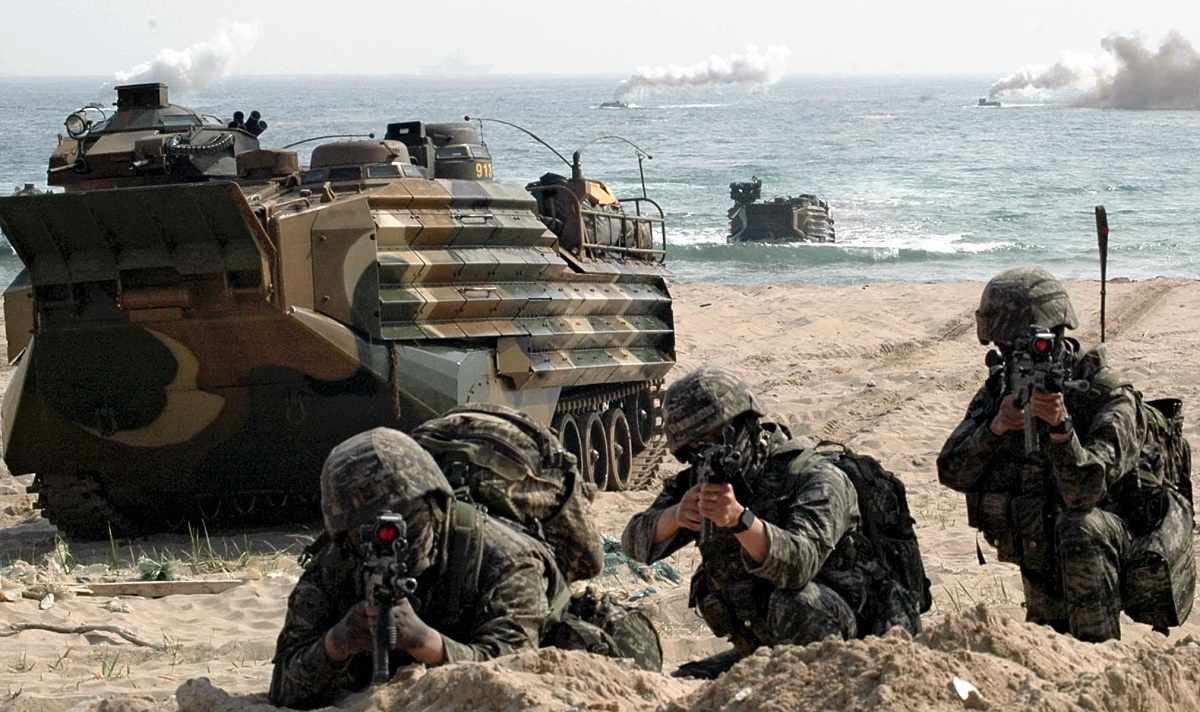 12:54 JST, March 30, 2023
POHANG, South Korea — The United States and South Korea opened to the press on Wednesday their first large-scale landing exercises in five years, called the "Ssangyong exercises," on a beach in Pohang, southeastern South Korea.
The exercises are designed to prepare for a contingency on the Korean Peninsula. The aim is to strongly counter North Korea, which is accelerating its nuclear and missile development program.
Convoy operations and firepower support for landing forces are also part of the drills, which are being conducted mainly by the navy and marines of the United States and South Korea from March 20 through Monday.
Wednesday's exercise included landing amphibious armored vehicles and other vehicles on a beach from offshore. A smoke screen was created, after which soldiers disembarked from the landing vehicles one after another and moved forward with guns at the ready.
According to South Korean government officials, about 12,000 soldiers are participating in this year's exercises, which have been expanded from brigade level to division level in size.
Also being mobilized are about 30 ships, including the assault landing ship USS Makin Island; 70 aircraft, including state-of-the-art F35B stealth fighter jets; and about 50 military vehicles. About 40 Royal Marines from the United Kingdom participated as well.
In contrast to the previous administration of South Korean President Moon Jae-in, which took a conciliatory stance toward North Korea, the administration of Yoon Suk Yeol aims to strengthen deterrence against the North by conducting a series of large-scale drills with U.S. forces. North Korea is fiercely opposed and is likely to take such countermeasures such as launching missiles.
Add TheJapanNews to your Google News feed.