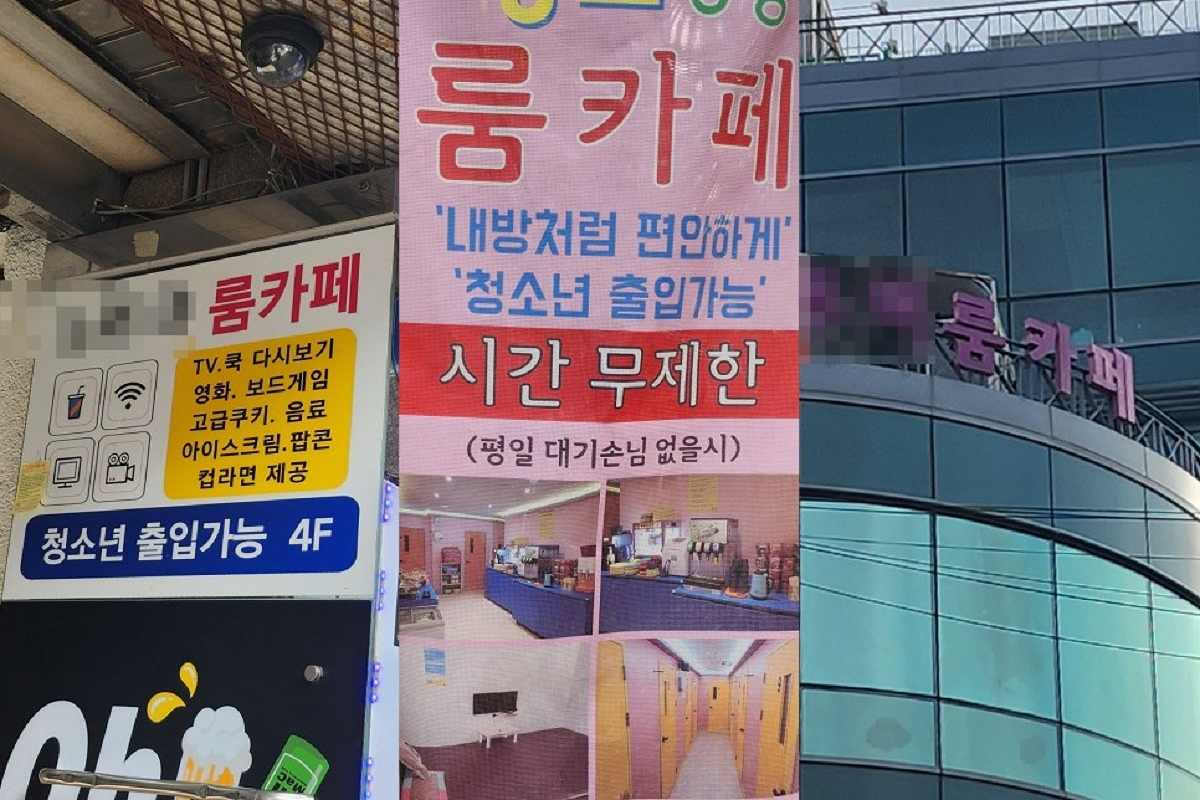 16:00 JST, February 20, 2023
In Sinchon, the student area near Seoul's Yonsei University, "room cafe" signs vie for the attention of passersby.
But these are not just places for coffee or dessert.
Instead they offer a maze of rooms, typically less than 3 square meters. Each has a TV, and often a bathroom with a shower and a bed.
Many of them openly cater to minors, who are banned from using motel rooms with someone of the opposite sex. The rate for staying at a room cafe is around 10,000 won ($8) per hour — affordable for teenagers wanting to hide from watchful eyes and engage in drinking and sex.
Usually registered as restaurants here, room cafes have drawn attention recently, as it is difficult for officials to define and regulate them.
"Once you get in there, you never know what's happening inside," said a 17-year-old student who visited a room cafe twice to watch movies and drink beer. "Some girls say they prefer to visit there if they want to share some intimacy with their boyfriends, freely and unknowingly."
According to a column published in the Chosun Ilbo by a police officer last year, police have noticed mentions of room cafes where teens have sex on online communities.
The officer, named Seo Min-soo, wrote that when he asked a high school student how he perceived room cafes, he was told they were affordable places to go for a date.
The cafes are not just popular among high school students, Seo was told. The high schooler said he has seen many middle school students visiting.
According to a 2020 survey by the Ministry of Gender Equality and Family, 14% of teenagers said they have visited room cafes.
Closing regulatory loopholes
Room cafes are an evolved version of "multi-rooms" that offer a place for some teens to act out their desires free from interruption. They were called multi-room cafes because the rooms inside were equipped with various things to enjoy — gaming consoles, large screens and karaoke machines. In 2012 a law was introduced banning teenagers from entering multi-rooms.
Similar facilities like "DVD rooms" and "video rooms" — which provide screens, sofas and beds in individual rooms — have also long been restricted to teenagers.
Room cafes are just a slightly different version of those businesses, modified to circumvent the regulations. Unlike DVD rooms and multi-rooms, they are usually registered as general restaurants, making it harder to distinguish them.
A gender ministry official stressed that no matter what they are called, facilities with closed spaces, lockable rooms and beds — in other words, places where teenagers might have sex — have been regarded as inappropriate facilities for adolescents since 2011.
"Legal regulations have been in place since 2011, but whenever controversy arises, facilities change their names and use expedient methods. Room cafes were not easy to crack down on because such shops were registered as general restaurants, unlike multi-room and DVD rooms," said Kim Sung-byuk, the head of the youth protection office under the gender ministry. Kim added that similar facilities had once decreased considerably due to intensive crackdowns, but seem to have resurfaced recently.
Amid growing criticism of room cafes, some owners complained that their businesses are not all about teenage hedonism.
"We do have lots of teenage customers, but we strictly prohibit customers from drinking inside, and always keep our facility clean." said a male room cafe owner in his 40s.
He emphasized that his cafe is not instigating deviation, but admitted that he cannot supervise everything that happens behind the doors.
Another room cafe owner surnamed Kim, who runs a business in Hongdae, said that not all room cafes are inviting teenagers to do "inappropriate things."
"There are only very few businesses that have locks or beds. It is unfair to denigrate every room cafe because of those few exceptions," said Kim.
A 17-year-old The Korea Herald spoke to in Hongdae said he was told by his parents not to visit room cafes, but got a different message from his peers at school.
"My parents warned me not to go to such places, but many of my friends go there," he said.
A college freshman who wanted to be identified by the surname Song said she visited room cafes when she was a high school student.
"I don't think it is the problem of facilities like room cafes. A certain percentage of teenagers will always do as they please, no matter how society tries to stop them," she said.
"Some visit [room cafes] with their boyfriends or girlfriends, but some just go to spend private time with friends. It's not always used as a space for inappropriate things," she added.
But she agreed that facilities with locks and beds were inappropriate for minors.
To tighten the reins, the gender ministry sent an official letter to local governments recently, asking for stricter supervision to prevent teenagers from accessing room cafes.
"Rather than stating the category of facility like 'room cafe,' the regulation provides the exact standard, to prevent expedient tricks," said Kim, the head of the youth protection office under the gender ministry.
"Also, such businesses must attach a notice at the door saying that teenagers are not to enter and work there. We will issue corrective orders to the shops through the crackdown," added Kim.
Cracks in sex education system
Experts of adolescent sex education expressed concerns, saying such serious crackdowns must be conducted repeatedly and frequently. Cho Ara, director of the Empathy & Communication Sex Education Institute, said it is the duty of adults to regulate businesses like room cafes.
But considering the fact that similar facilities have continued to appear, Cho advised that the fundamental solution to protect teenagers should be followed, such as providing proper sex education.
"In most cases, sex education in South Korean society is stuck at the point of teaching how to protect oneself from sexual violence, which highlights 'mutual consent' as the key factor of a sexual act. About 90% of the sex education requests from schools are sexual violence prevention education," said Cho.
Cho agreed that such education is necessary, but she pointed out the side effect of unbalanced, outdated education.
"By solely imprinting mutual consent as the key factor of a sexual act, it made many teenagers to think that having mutual consent is the only factor [to consider] in sexual acts, leaving out consideration for safety, consequences, or satisfaction."
Cho stressed that other aspects of sex — possible, realistic consequences and more in-depth contemplation about one's needs — must be included in education programs.
"We should allow teenagers to naturally discuss sex itself, as well as informing them about practical issues such as contraception, pregnancy, child care and abortion. Moreover, we need to provide an environment where teenagers can ponder upon about what they really want."
Bae Jung-won, a professor at Sejong University who is also a well-known columnist of adolescent sex education, also criticized the outdated system of current sex education which encourages teenagers to discuss sex only in shady spots.
"Korean schools do not provide class hours for sex education. Since there is no officially assigned time, teachers have to violate other class hours, ending up providing sex education no more than an hour, once a year," said Bae, adding that sex education had been jammed like this for decades.
Bae pointed out that children are already exposed to sexual content on the Internet, but they are unable to discuss sex in healthy ways as proper sex education has not been conducted.
"Just scolding teenagers, saying, 'Don't go to room cafes,' or 'Don't do it,' without explanation about the consequences of adolescent sex or unprotected sex will just leave our children ignorant and unprotected," said Bae.
Add TheJapanNews to your Google News feed.