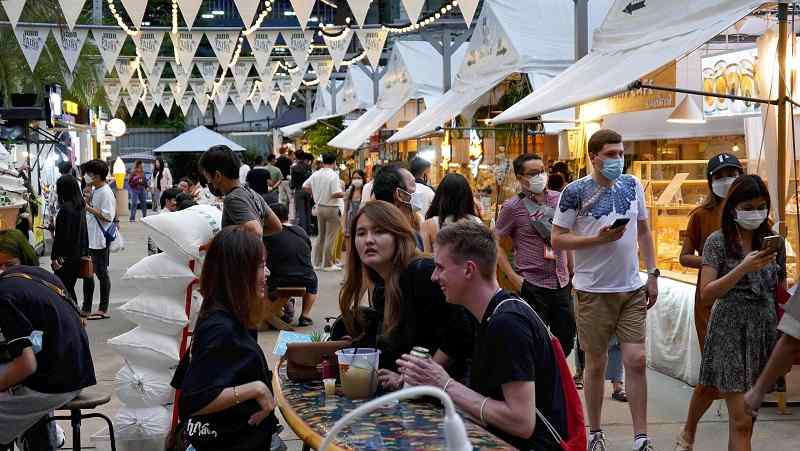 16:40 JST, June 15, 2022
BANGKOK — Southeast Asian countries are jostling for attention as tourism slowly gathers pace again. With more and more nations easing coronavirus-related entry restrictions, hopes are running high that sluggish tourism-dependent economies can be revived by reattracting visitors.
Crowded streets
The Jodd Fairs night market in central Bangkok was so crowded May 31 that people found it difficult to come and go. There were many foreign tourists among the throng. "I'm glad I was able to immediately start sightseeing without having to quarantine," said a smiling 26-year-old Pakistani national.
The market is one of Thailand's most popular tourist draws. Prior to the COVID-19 pandemic, tourism made up about 20 percent of the country's gross domestic product. However, foreign visitors practically disappeared after the Thai government introduced in April 2020 a 14-day quarantine period for new arrivals. As a result, many tourism facilities closed temporarily or, in some cases, permanently. The Jodd Fairs market opened in November and had proved popular with Thai tourists at first. But some store owners said foreign visitor numbers jumped after a pre-entry PCR test requirement was lifted in April.
Most entry regulations have now been lifted and Thailand's tourism authority estimates between 7 million and 10 million tourists will visit the country this year — about 25% of the 2019 pre-pandemic level. "Looking ahead, we're going to have more and more customers," said a cheerful-sounding 25-year-old baked-snacks seller.
'Wait-and-see' attitude
When the novel coronavirus began spreading in the spring of 2020, a number of Southeast Asian countries introduced entry restrictions. Strict measures, such as suspending commercial flights, meant infection numbers in such countries stayed relatively low.
Since mid-2021, the United States, European and other countries have dramatically eased entry curbs, and some Southeast Asian countries, including Singapore, have been quick to welcome foreigners. However, many others have maintained a wait-and-see attitude, monitoring the international situation before taking action.
Since the start of this year, many countries have relaxed their rules due to successful vaccine rollouts. Some observers say these countries are increasingly concerned about missing out on foreign tourists who might be attracted to places with less-strict entry restrictions.
Social unrest
In Myanmar, tourism-derived revenue is an important source of foreign currency for the national military, which seized power in a February 2021 coup.
In April, the country reopened its airports to international commercial flights. "Tourism creates millions of jobs in the country," an advisor to Myanmar's tourism federation told The Yomiuri Shimbun. "We hope the industry will recover as soon as possible." In May, Myanmar started accepting online visa applications from potential visitors. However, social unrest prevails following the coup. At the end of May, a bomb exploded in central Yangon, Myanmar's largest city, killing and injuring 10 people. The Myanmar public remains suppressed and tourist numbers are unlikely to return to pre-coup levels under such circumstances.
Add TheJapanNews to your Google News feed.