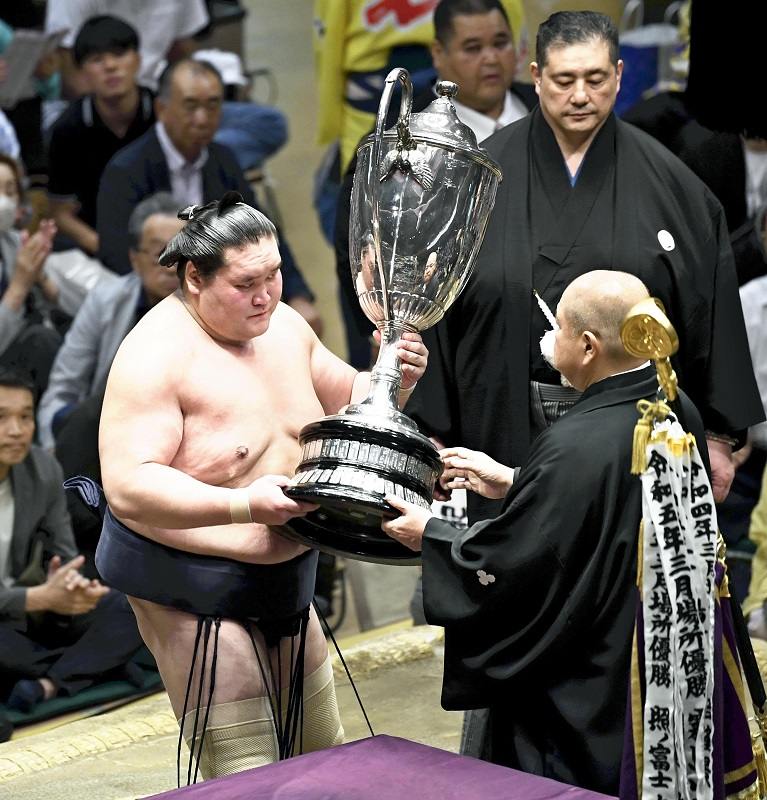 18:54 JST, May 28, 2023
Yokozuna Terunofuji, having clinched the title the previous day, put his fragile knees to work one last time and finished off a remarkable comeback with a victory on the final day of the Summer Grand Sumo Tournament on Sunday at Tokyo's Ryogoku Kokugikan.
Terunofuji, who underwent surgery on both knees in October and had missed the three previous tournaments, pushed out ozeki Takakeisho in the final bout of the tournament. He finished 14-1 and further showed his dominance in capturing his first title in exactly one year — the eighth of his career.
"[I thought], I actually won the title," said Terunofuji when asked how he felt in a ringside interview. "It is really tough to win a championship, and I finally came back after the surgery, so I'm really happy."
The title made Terunofuji just the third yokozuna after Taiho and Hokutoumi in history to win a title immediately after missing three tournaments.
"When I had surgery on both knees in October, I did it with the notion that I would compete again." said the 31-year-old Mongolian. "I wanted to return as soon as possible. I spent every day reminding myself that my job was to have everyone see me battling in the ring."
Meanwhile, ozeki-hopeful Kiribayama was dealt a tough loss in an all-sekiwake clash with fellow Mongolian Hoshoryu that left both wrestlers at 11-4. Still, his combined 34 wins over the past three tourneys should be enough to gain Kiribayama promotion to ozeki.
Also ending on a winning note was No. 14 maegashira and former ozeki Asanoyama, who forced out No. 15 maegashira Tsurugisho to finish at 12-3.
Add TheJapanNews to your Google News feed.