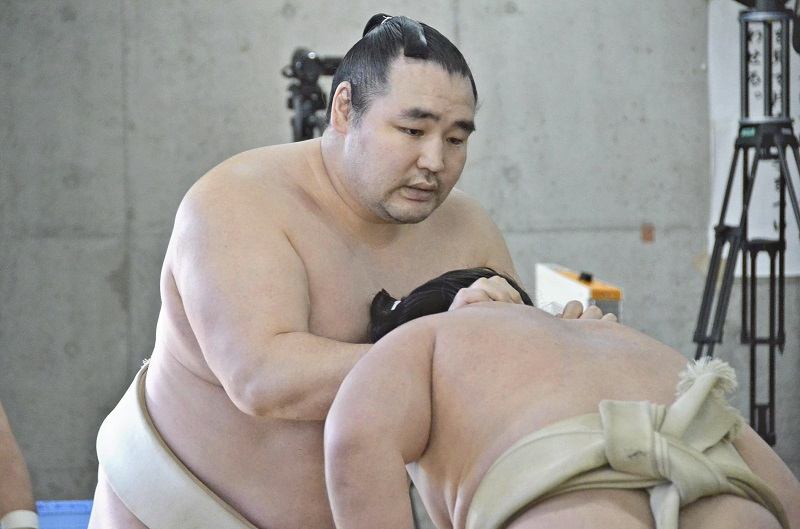 16:12 JST, March 12, 2021
Citing a leg injury that occurred during a practice session Tuesday, Yokozuna Kakuryu's stablemaster Michinoku revealed in a telephone interview that the wrestler will not be competing in the Spring Grand Sumo Tournament beginning Sunday at the Ryogoku Kokugikan.
This will mark his fifth consecutive tournament absence, and while the decision to sit this tournament out might be putting him in a very difficult position, Kakuryu, 35, is determined to continue his career and has expressed his intention to make a comeback in the summer tournament in May.
According to the stablemaster, Kakuryu pulled a thigh muscle in his left leg during a training session in the stable with Makuuchi wrestler Kiribayama. On Thursday morning, Kakuryu was unable to do shiko leg lifts.
After the training, he had a discussion with his stablemaster, who recommended Kakuryu to retire. However, Kakuryu insisted on continuing. The stablemaster said: "He hasn't lost his motivation yet. I heard from him that he wants to win the next tournament."
After the November tournament last year, the Yokozuna Deliberation Council issued Kakuryu a stern "warning." He was also absent from the first tournament this year. It is expected that the council is going to release a more severe opinion, to which the stablemaster said, "I am prepared for that, and after hearing that, I will have to talk with [Kakuryu] about his future."
Add TheJapanNews to your Google News feed.