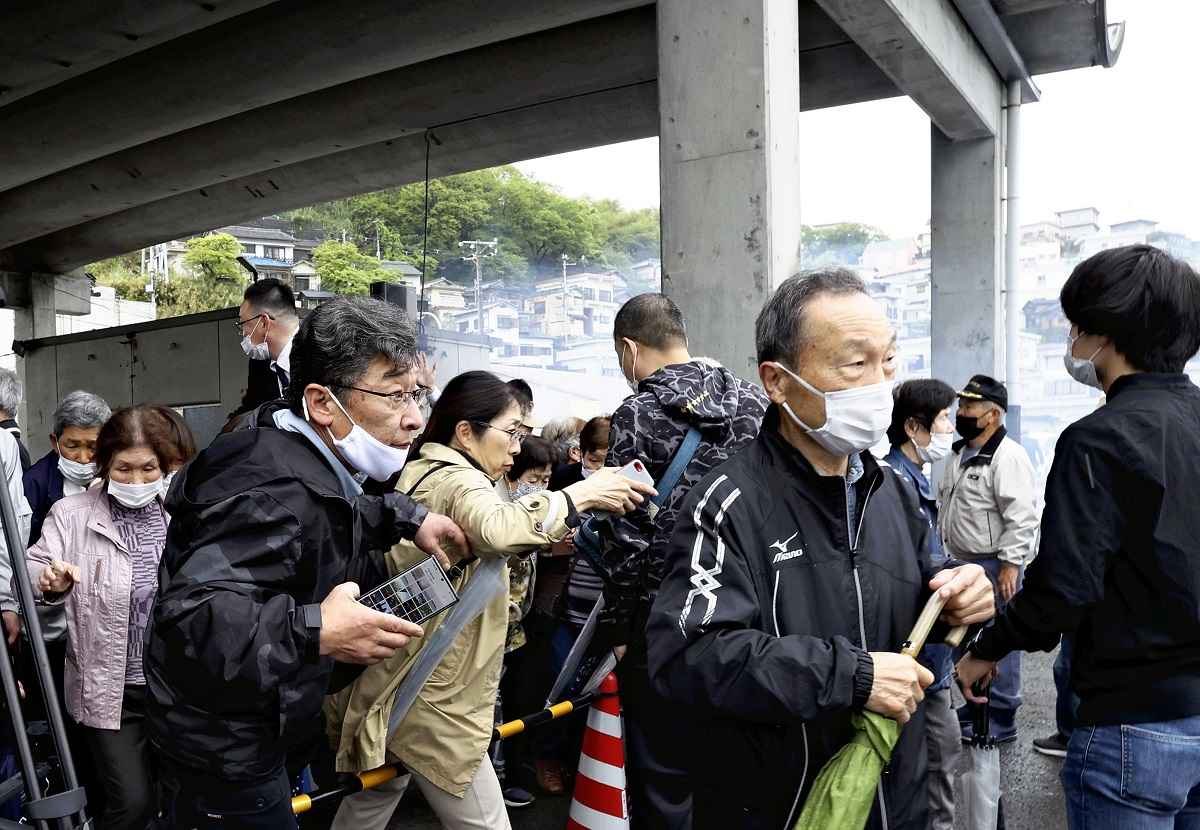 10:00 JST, April 16, 2023
WAKAYAMA — Another politician has been targeted during an election campaign, nine months after former Prime Minister Shinzo Abe was fatally shot while delivering a stump speech.
On Saturday morning, just before Prime Minister Fumio Kishida was to address a crowd at Saikazaki fishing port in Wakayama City, panic erupted when a suspected smoke bomb was thrown. An explosion was heard seconds later, followed by screams as people fled.
Police officers detained the suspect at the scene.
Kishida arrived at the fishing port shortly after 11 am. During the visit, he was surrounded by uniformed police officers and more than 10 men in suits who appeared to be members of his security detail, according to several witnesses.
Kishida smiled as he tried shrimp offered by fishing port officials, before moving to a point where people had gathered in a semicircle to hear him speak.
Just as Kishida was about to start, a man threw a cylindrical object with smoke emitting from it toward the prime minister.
A woman screamed as panic erupted through the crowd, with people at the front rushing back, away from the incendiary device.
A man yelled, "Run!" and seconds later there was a loud bang.
A fisherman in his 50s who was standing near the suspect swiftly restrained him. "First he threw something and then he was trying to get something else out of his backpack. I quickly turned and grabbed him," the man said.
Officials from the ruling and opposition parties voiced their outrage.
Hiroshi Moriyama, the chairperson of the Liberal Democratic Party's Election Strategy Committee, said, "I was absolutely shocked when I heard the news. It's inexcusable that such an atrocity has happened in the middle of an election campaign, which constitutes the foundation of democracy."
Kenta Izumi, the leader of the opposition Constitutional Democratic Party of Japan, said, "Violence targeting political activities is absolutely unacceptable."
Add TheJapanNews to your Google News feed.