Suspect's uncle: Mother's donations to Unification Church left family impoverished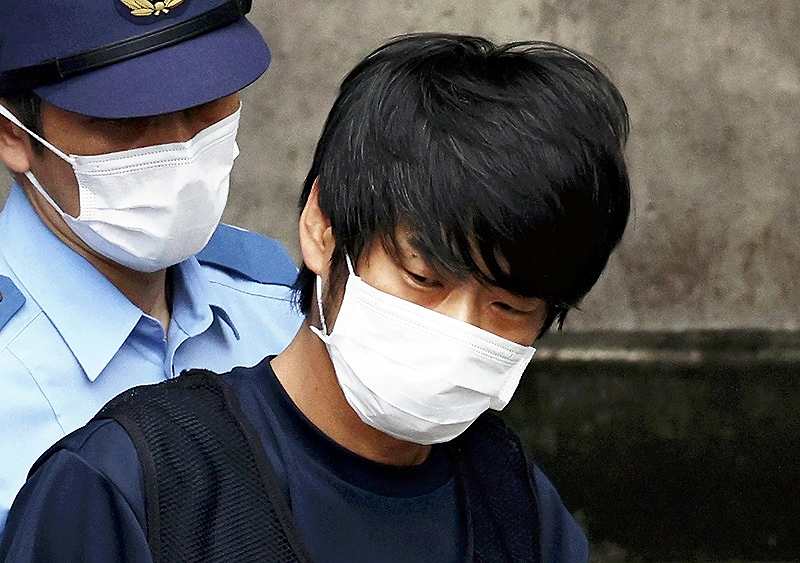 15:43 JST, July 16, 2022
The mother of Tetsuya Yamagami, the suspect in the fatal shooting of former Prime Minister Shinzo Abe, started donating to the religious group widely known as the Unification Church in around 1991 when Yamagami was an elementary school student, according to his uncle.
The donations totaled ¥100 million, the uncle told the media on Friday. He also said that Yamagami had attempted suicide because of the impoverished conditions the family had been living in due to his mother's donations.
"Tetsuya's father committed suicide in 1984 and his older brother had childhood cancer, which left his mother traumatized," the uncle said, regarding why she might have been motivated to start activities with the group, which is officially called the Family Federation for World Peace and Unification.
The mother made donations in units of ¥10 million, totaling ¥60 million over a three-year period until around 1994. It is said the money for the donations came from the life insurance payout after her husband's death.
In 1999, she sold real estate inherited from Yamagami's grandfather and donated an additional ¥40 million.
The uncle said he had been helping the family financially, but stopped around 1994 because Yamagami's mother donated the money he gave her.
Yamagami's brother then began contacting the uncle saying they had nothing to eat, so the uncle sent him living expenses and food such as canned goods.
Yamagami abandoned hopes of going to university for financial reasons and joined the Maritime Self-Defense Force in 2002.
The mother is said to have continued donating money to the group even after she was declared bankrupt in 2002, and she often visited South Korea, where the headquarters of the Unification Church is located.
When Yamagami attempted suicide in January 2005 while serving in the MSDF, his mother was in South Korea. She did not return home when the uncle told her about her son's suicide attempt.
Yamagami later revealed that he wanted to kill himself so his brother and sister, who were living in poverty due to the donations, would get his life insurance payout.
The mother has been staying at the uncle's home since July 8, the day of the fatal attack. He said she appears to be in a state of exhaustion and has not responded to news of the attack.
"We haven't talked about the incident. If she had any thoughts about it, she would've already left the church," he said.
"The Unification Church made it impossible for [the family] to make a living," according to the uncle, who did not give his opinion about the attack.
The group has told The Yomiuri Shimbun that the mother became a follower "around 1998."
A spokesperson said Friday it "does not seek donations from people who have been declared bankrupt," adding that it had returned a total of ¥50 million over a period of 10 years since 2005 to the mother.
Add TheJapanNews to your Google News feed.