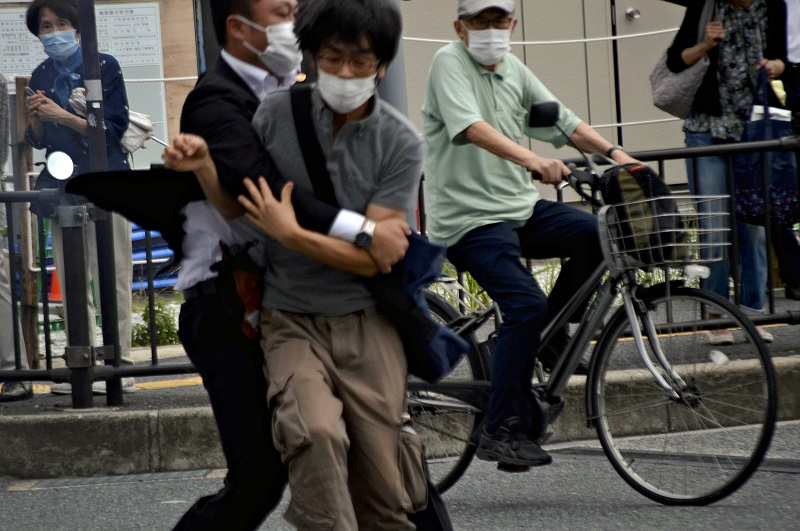 13:35 JST, July 8, 2022
Former Prime Minister Shinzo Abe was injured in an apparent gun attack while taking part in a campaign for the House of Councillors election in Nara City at about 11:30 a.m. on Friday, according to witnesses near Yamatosaidaiji Station. He suffered cardiopulmonary arrest and has been taken to hospital, according to firefighters.
According to police sources, Abe, 67, was shot from behind in the upper back area, with what is thought to be a shotgun. Two shots were reportedly heard, and several other people were injured, according to witnesses.
Tetsuya Yamagami, 41, of Nara City, was arrested at the scene on suspicion of attempted murder. Yamagami is believed to have shot Abe at close range and a gun has been recovered, according to a police officer.
Witnesses said they head a firework-like sound while Abe was giving a speech while surrounded by hundreds of people.
A Yomiuri Shimbun reporter at the scene said the former Liberal Democratic Party president arrived at the stump speech venue in front of the station at about 11:20 a.m. Shortly after taking hold of a microphone to introduce an LDP candidate, a man holding an elongated tube-like object approached the former prime minister from behind, and loud sounds were heard immediately afterward, according to witnesses.
The scene became chaotic as people screamed and called for an ambulance and medical personnel.
An ambulance arrived about 15 minutes later, and Abe was transported to hospital.
---
Click here to watch the video
---
Add TheJapanNews to your Google News feed.