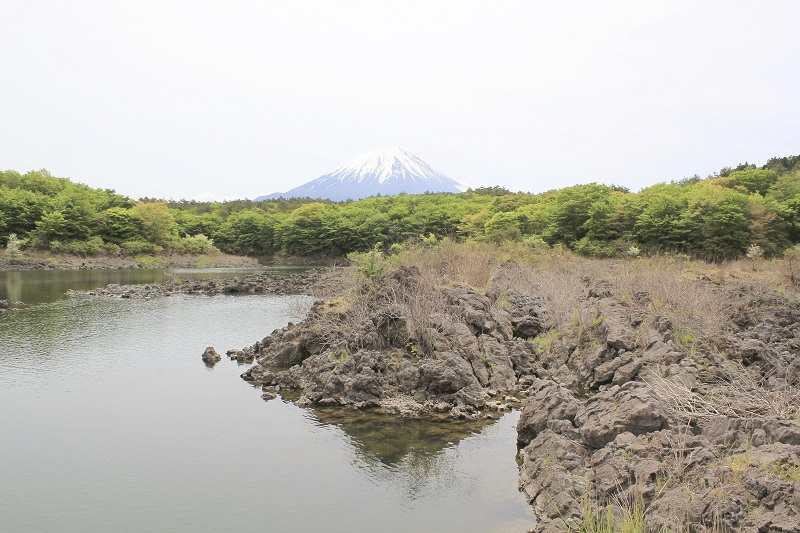 20:51 JST, July 6, 2021
A massive volume of lava could sever "major arteries" in Japan, according to a hazard map for a Mt. Fuji eruption that was revised for the first time in 17 years.
The map has suggested that lava flows from an eruption would swallow up sections of a Shinkansen bullet train line as well as parts of expressways. Mt. Fuji has been dormant for more than 300 years, but the volcano is known for numerous eruptions in the past.
In the event of an eruption, what could happen to the surrounding areas?
A Mt. Fuji disaster response council, which consists of officials such as from the prefectures of Yamanashi, Shizuoka and Kanagawa, released the revised hazard map in March.
The newest estimate indicates the volume of lava expelled during the Jogan eruptive activities from 864 to 866 — one of Mt. Fuji's largest eruptions — was estimated at about 1.3 billion cubic meters.
Based on this assessment and the latest research results, which include a newly found volcanic vent, the hazard map now suggests that lava flows from a Mt. Fuji eruption could reach wider areas than previously estimated.
The number of possibly affected municipalities increased from 15 in Shizuoka and Yamanashi prefectures to 27 across three prefectures, with Kanagawa added to the mix.
Depending on the location of the crater and the scale of the eruption, lava flows could reach the Tomei and Shin-Tomei expressways, which are major arteries connecting eastern and western Japan, as quickly as about two hours after an eruption, while it could take five hours to reach the tracks of the Tokaido Shinkansen Line.
The hazard zone of lava is not determined only by the size of an eruption. The viscosity of lava varies among volcanoes, but the Mt. Fuji lava is smooth, not commonly seen in Japan.
This characteristic contributes to the mountain's beautiful silhouette, but this type of lava flows easily and covers more distance.
On the other hand, thick lava, which is more common among Japan's volcanoes, does not advance quickly and sometimes rises above the crater, which can create a lava dome that could collapse and cause pyroclastic flows.
In 1991, Mt. Fugen in the Unzen mountain range in Nagasaki Prefecture erupted, leaving 43 people dead or missing due to the subsequent pyroclastic flows.
The temperature of lava from a Mt. Fuji eruption is believed to be 1,100 C to 1,200 C. Takayoshi Iwata, a specially appointed professor specializing in disaster prevention at Shizuoka University, calls for people to respond to an eruption calmly.
"On locations other than steep slopes, lava flows slower than people walking quickly. There will be time to evacuate," he said.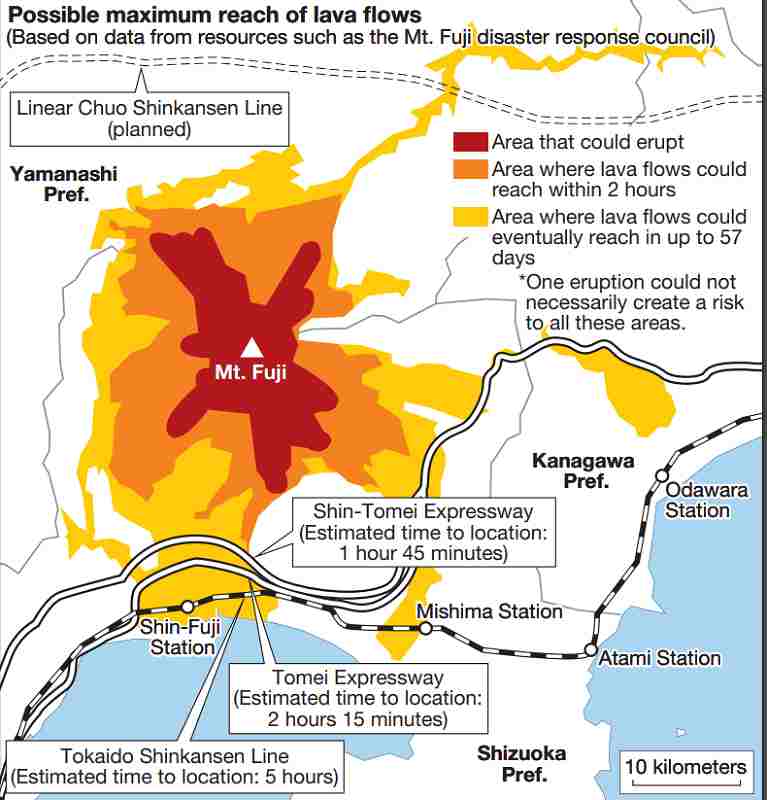 Reconstruction is formidable task
The biggest challenge involving eruptions and lava flows is the subsequent reconstruction. Miyakejima island, which is itself a volcano in the Izu Islands, erupted in 1983 and its lava engulfed about 330 households on the island's largest settlement in just about two hours.
Residents were safe as the settlement was quickly evacuated. However, it would have been too difficult to remove the lava, which had cooled and hardened at a thickness about the height of the third floor of an elementary school building. There was also the risk of collapse because of the air pockets that formed in the lava, forcing the residents to relocate to neighboring areas.
Sakurajima, a volcano in Kagoshima Prefecture, was once an island, but massive lava flows from an eruption in 1914 resulted in maps being redrawn after lava from the volcano connected to nearby peninsula. After such an event, it is extremely difficult to restore the affected areas to their original state.
Regarding measures against eruptions for the Tomei and Shin-Tomei expressways, the Central Nippon Expressway Co., which operates the expressways, said that its business continuity plans in the wake of a major disaster have mainly taken ashfall into consideration and do not specifically address lava flows. Upon the release of the revised hazard map, the company said it is considering whether a review of the measures is needed.
Central Japan Railway Co. (JR Tokai) has placed a focus on devastating earthquakes and a massive tsunami in its measures for disasters on the Tokaido Shinkansen Line. The Linear Chuo Shinkansen Line, the maglev line for which construction has progressed, is planned to pass through the north side of Mt. Fuji. If the construction is completed, the new maglev line would play a complementary role to the Tokaido Shinkansen Line.
"In areas where lava flows could hit, we intend to promptly lead evacuations and move vehicles out of those areas," a company official said. "We want to continue to follow discussions on eruptions and take the appropriate measures."
Said Naofumi Seki, head of the Yamanashi prefectural government's volcanic disaster resilience and response office: "Removing lava flows is difficult, and land covered with lava might be unusable for decades. As a practical matter, there are many difficulties expected for recovery and reconstruction."
Add TheJapanNews to your Google News feed.