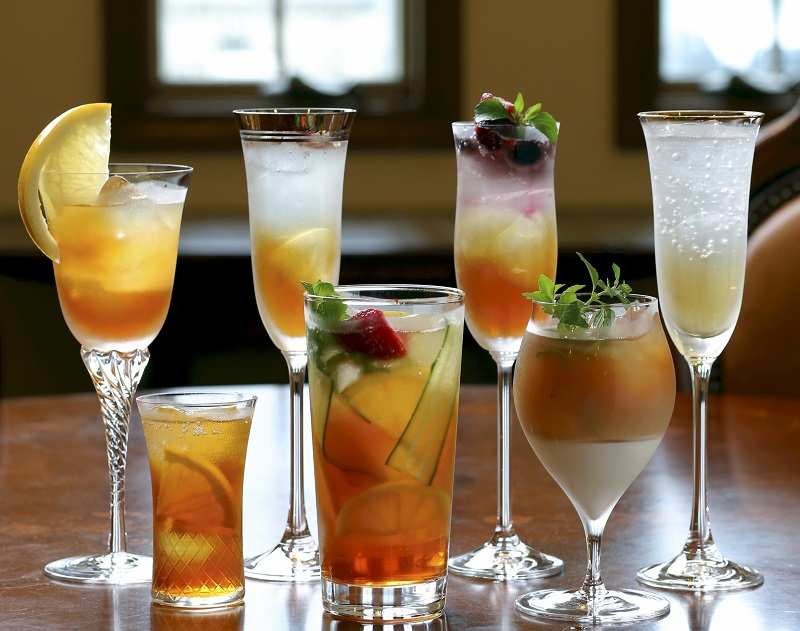 14:24 JST, July 27, 2021
Iced tea makes for a welcome treat on a sweltering day. You can make it an even greater feast for the eyes and the palate by adding various twists, such as exploring fruit and soda pairings. Tea expert Yumika Arita shares some tips for making your tea stand out.
Arita, a senior instructor certified by the Japan Tea Association who offers lessons in Narashino, Chiba Prefecture, prepared a variety of teas for The Yomiuri Shimbun, including one with carbonation and one that looked like a cocktail with thin, long slices of cucumber.
"Iced tea mixed with soda is called champagne tea thanks to the carbonation," Arita said. "I drew inspiration for the cocktail-like tea from England's Pimm's liqueur."
The champagne tea tasted particularly refreshing as the bubbles popped in my mouth, and the muscat-like aroma of the Darjeeling made the drink extraordinary.
You can make fruit-flavored tea by simply adding strawberries, apples or any other favorites into a pitcher before adding the tea, at room temperature. Leave the mixture for around half an hour to let the tea soak up the fruit's flavors. To serve, pour the tea into a glass and add ice cubes.
To make basic iced tea, you can brew tea using boiling water and then let the tea cool, or you can leave tea leaves in cold water.
"When you cool down tea brewed with boiling water, you can enjoy the beverage's distinctive aroma and bitterness," Arita said. "Cold-brewed tea has a milder flavor."
When brewing tea using boiling water, halve the water needed as the beverage is later diluted with ice. Steep for around two minutes, although this brewing length can differ depending on the size of the tea leaves.
Cool down the hot tea as soon as possible. If you take too much time, you may find the tea has an appearance to it called "cream down," during which the tea turns cloudy after the caffeine and tannin have compounded together.
The cream-down effect can be avoided if you brew tea using Nilgiri and other varieties that contain less tannin, Arita said. Even so, the effect won't undermine the flavor of tea itself, so you can enjoy the cloudy beverage by adding milk. In one recipe for iced tea with twists, you can mix milk and condensed milk and then place the mixture at the bottom of a glass before pouring in iced tea.
"It's easier to make iced tea if you use tea bags," Arita said.
"I hope many can enjoy spending time with tea every day."
Colorful layers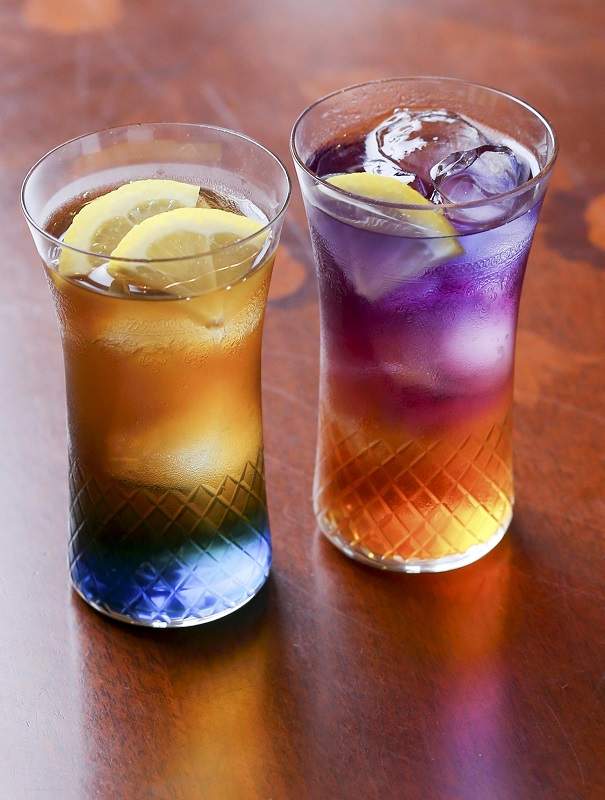 Arita also prepared glasses of iced tea with two distinct layers of colors that sparkled like jewels depending on how the light hit the glass.
To create such beautiful layers, take advantage of the differences in the specific weight of tea and syrups. If you first pour a blue-colored syrup into the glass before adding iced tea, the syrup remains at the bottom as it has a greater weight, thus creating beautiful layers of amber and blue.
"Iced tea with layers looks beautiful if you create it in tall glasses," Arita said, adding you can make layers of various colors by pairing iced tea with jams or juices that are mixed with sweetening syrup.
Add TheJapanNews to your Google News feed.