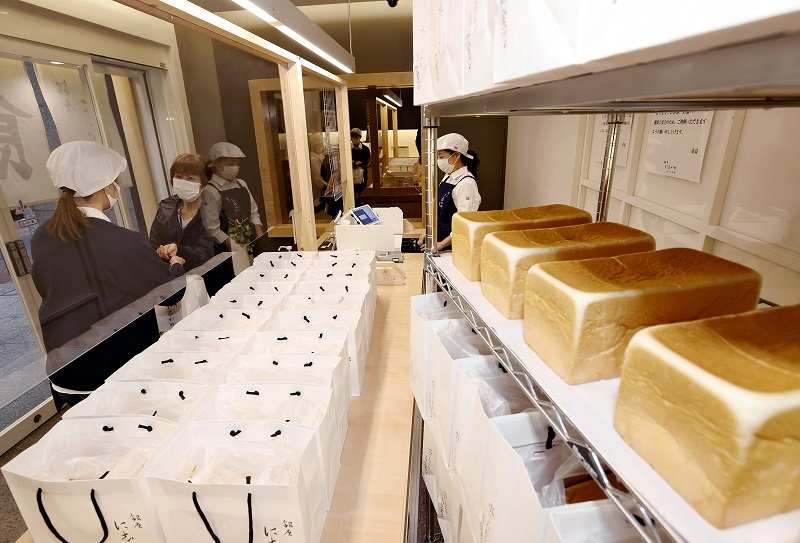 15:58 JST, May 11, 2021
Consumption of milk bread, Japan's billowy soft answer to Wonder bread, has been on the rise, leavened by a gourmet bread boom and heightened demand among families that have been eating more meals at home during the pandemic. In 2020, consumers spent 4% more on milk bread than the previous year. Yet as the nation practiced self-restraint and stayed indoors, consumption of savory rolls and sweet breads, which are often picked up at bakeries and eaten on the go, fell by 4.5%, spelling trouble for some boulangeries.
A little luxury
The main branch of Ginza Nishikawa in Tokyo is an upscale boulangerie that exclusively sells loaves of premium milk bread baked with a fastidious attention to hydration. At ¥864 per loaf, the bread is not cheap. But it has still garnered a loyal following for its distinctive sweetness and uncommonly soft crust.
"It's been a small luxury I've allowed myself amid the pandemic," said one office worker in her 30s.
Nishikawa's sales increased by 12.3% between February 2020 and January 2021, compared to the previous year.
Gourmet bakeries specializing in milk bread have been enjoying something of a renaissance since around 2013. Loaves from these shops typically hover around the ¥1,000 price range, and they are in high demand as gifts.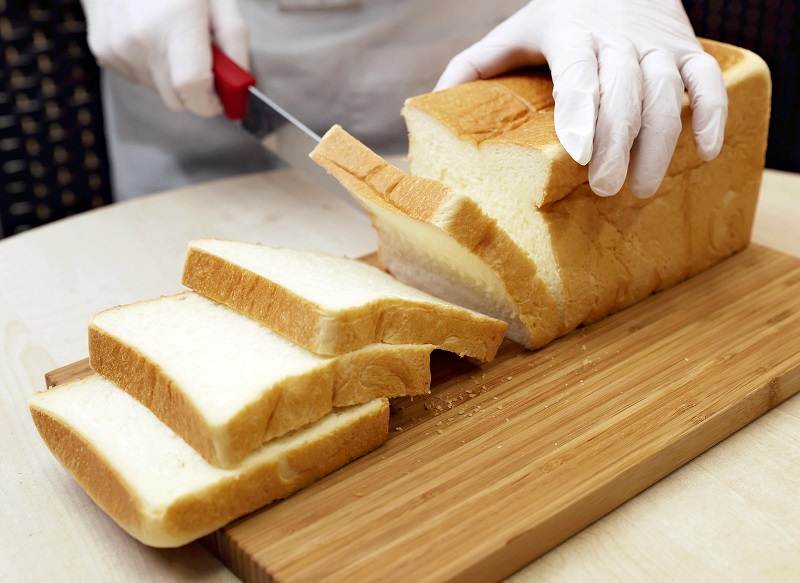 Saving money
Budget-friendly loaves have also been selling well. Aeon Retail Co., a major supermarket chain, saw its sales increase by about 5% in 2020. A breakfast table staple, mass-marketed milk bread is inexpensive and can be frozen to be toasted and eaten later. The data suggests that the more time people spend at home, the more they seem to be reaching for a slice of bread.
According to a survey by the Internal Affairs and Communications Ministry, average consumer spending on milk bread — a category which includes butter rolls, etc. — per household of two or more people was ¥10,327 in 2020, a 4.2% increase from the previous year.
On the other hand, spending on savory rolls and sweet breads fell by 4.5% to ¥26,568 over the same period. Unlike milk bread, savory rolls — a wide category which encompasses everything from buns topped with yakisoba noodles to deep-fried, curry-filled bread — were often eaten for lunch, dinner, and snacks at offices and other places outside the home.
"As more people telework and refrain from going out, they haven't been buying [savory rolls] at convenience stores," said an official at a major bread maker.
According to research firm Intage Inc., the percentage of savory rolls and sweet breads on Japanese tables in 2020 was 6.5% lower than in 2019.
"As people spend more time with their children at home, there are more opportunities to cook hearty meals instead of just grabbing premade snack breads," said food culture analyst Ryo Tamaki.
Tough business
Teikoku Databank, Ltd. reported that 17 bakeries went bankrupt with debts of ¥10 million or more in 2020. The number of bankruptcies decreased by 14 compared to the previous year, when the number was the highest on record, but it appears that many stores are struggling to overcome the decreased demand for savory bread snacks.
According to Economy, Trade and Industry Ministry figures, there were about 12,800 bakeries in Japan in 2016. The number of bakeries has decreased by 30% compared to 20 years ago, as store owners age and retire without a successor to take over their business.
Add TheJapanNews to your Google News feed.