Adventure awaits at Pokemon WONDER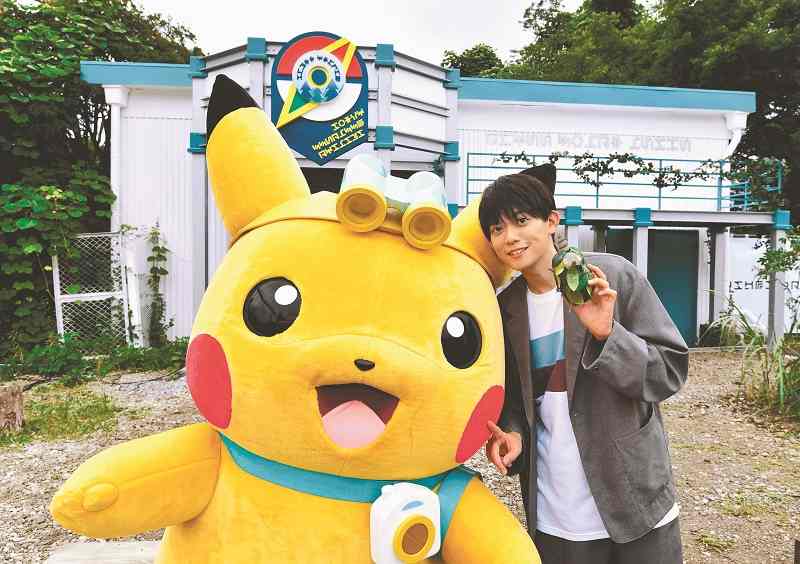 11:00 JST, September 3, 2021
The globally renowned creatures of the Pocket Monsters franchise, better known as Pokemon, are appearing in a new outdoor adventure attraction at Yomiuriland amusement park, which straddles the cities of Inagi in Tokyo and Kawasaki. The attraction, dubbed "Pokemon WONDER" allows visitors to trek through a forest in search of Pokemon that have been hidden in the natural landscape.
More than 50 kinds of Pokemon have been hidden within the forest in various terrains, such as in the shadows of trees and tall grass, underwater and in the soil itself. One of the attraction's masterminds was Ryogo Matsumaru, a 25-year-old riddle creator known for his appearances on a number of TV programs and other media. He also devised the research notebook that offers clues, guiding visitors in their search for the hidden Pokemon.
He began discussions on the project with The Pokemon Company in the autumn of 2019. At that time, the only concepts that were firmly decided were the vague themes of "forest" and "Pokemon."
"So, I just haphazardly took trips into forests," Matsumaru fondly recalled. Matsumaru visited forests in Miyazaki and Nagasaki prefectures, making time on his days off to go to forests of different kinds. The plan gradually solidified after about half a year of discussing his fantasies of what sort of Pokemon would be interesting to find in these different areas.
After much deliberation, Yomiuriland's nature area was chosen as the project's venue because it satisfied two conditions: it's a place where a large number of people can gather easily and it is rich in nature. Even so, Matsumaru was so surprised when he first came to the site's 4,500-square-meter forest that had remained untouched for nearly 20 years that he began to wonder if it would even be possible to have the attraction in such a place.
Ultimately, the attraction was created by taking advantage of such an abundance of nature.
Once the location was decided, the project began to take shape.
While the concept of "searching for Pokemon in the forest" had been settled upon, working out how it would be done was difficult.
"If we simply had the visitors find them, it would just become a game of hide-and-seek in which people would have to rely on luck. That being said, it's not as if the Pokemon themselves would leave clues in [a human] language." He continued thinking.
"[Creating puzzles] without using words was a new experience for me," Matsumaru reflected. What he came up with was "a mystery within the mystery — something that will make the children want to take everything in and solve it by themselves."
In other words, he decided to create "clues" that would give children the impression that a Pokemon was in the area based on traces, such as footprints, upheavals in the ground or any other changes in the environment, and make them want to trek through the grass and trees to explore.
By eliminating the need for language, "We have created something that can even be put into practice overseas," he said proudly.
Matsumaru himself is a huge Pokemon fan. His first foray into the world of Pokemon was through the Ruby version and Sapphire version of the game released in 2002.
Matsumaru, the youngest of four siblings, recalled that time of his life.
"It was so frustrating because my brothers never let me win. So, I studied to become stronger, learning all of the Pokemon's names. I have so many [Pokemon-related] memories," he said.
"[This attraction is] really so interesting. I think it will have such a huge impact on our visitors that it'll change their lives. I'd like everyone to freely explore [the attraction] and just have fun," said Matsumaru in a final message to incoming visitors.
A ticket to Pokemon WONDER includes the admission fee for Yomiuriland. Reservations are required.
■ Hidden areas steeped in nature
Over 50 different types of Pokemon are hidden within the forest, but these are not run-of-the-mill stuffed toys. Using materials such as grass, wood and stones, each Pokemon was carefully crafted and has been specifically made to blend into the surrounding environment, allowing guests to feel the warmth of nature.
Officials tasked with producing four of the attraction's Pokemon provided The Yomiuri Shimbun with all the details about how they were created.
■ Metapod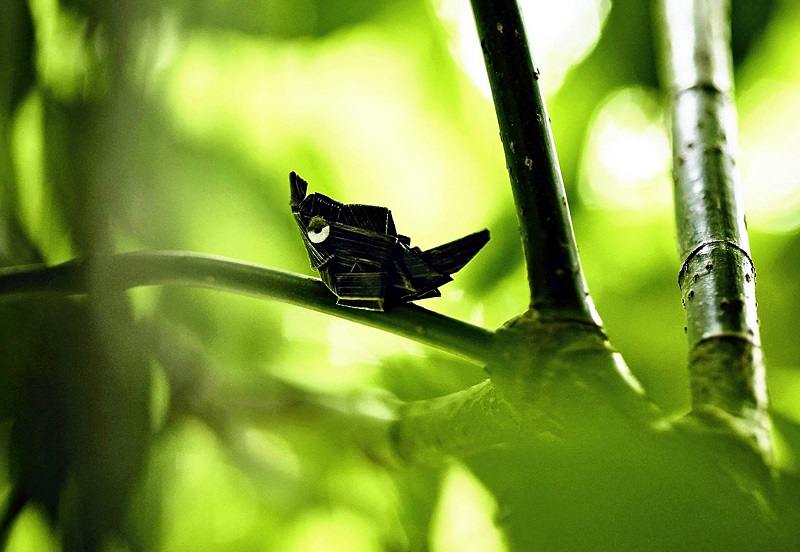 "This bug-type Pokemon was created using palm and gummy leaves. We had originally carved a wooden Metapod, but we were worried that wood didn't really suit this cocoon Pokemon. Then, one of our team members managed to find a craftsman who worked with woven palm leaves, and from there we changed direction. After much trial and error, its current form was completed."
■ Rowlet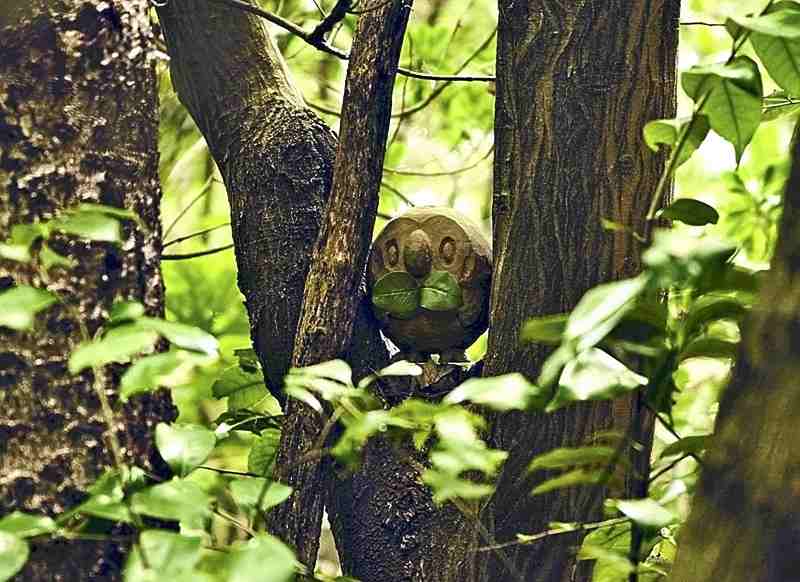 "Wood from the camphor tree, which is hard and fragrant, was ideal for the 30-centimeter-high, 1.5-kilogram grass/flying-type Rowlet.
It was shaped using both a chisel and a carving knife. Although Rowlets are round, their faces are flat like an owl's. So, we carved it simply and clearly so that it is distinctly visible even from a distance. We had to start over many times to make sure that the knots in the wood did not interfere with the facial expression."
■ Omanyte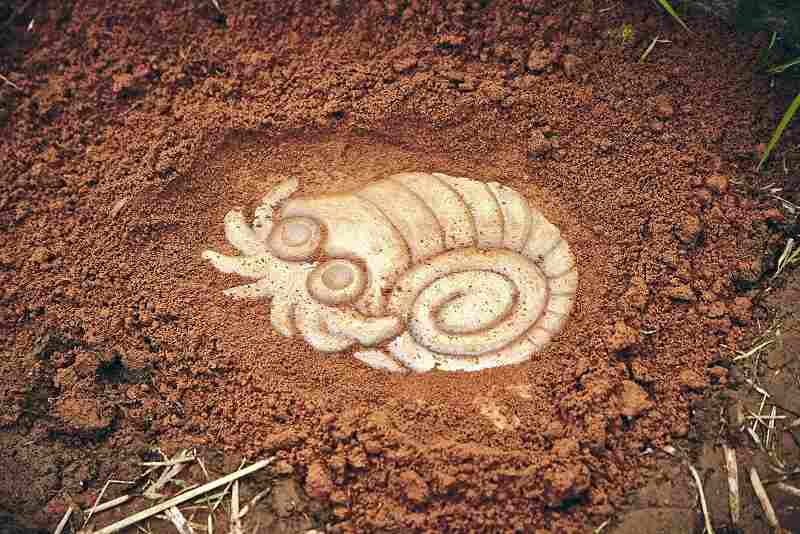 "This combination rock/water-type Pokemon was carved from marble, boasts a base that weighs more than 70 kilograms, and took quite a long time to complete. We used a grinder, chisel, and various other tools in the process. In addition to making the figure look three-dimensional, we went to great lengths to make its limbs look soft despite the hardness of the marble."
■ Seedot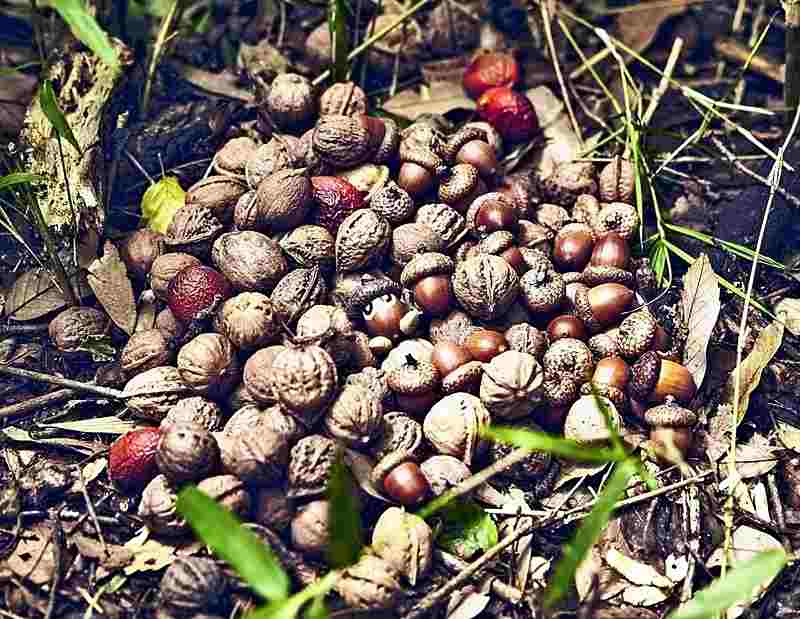 "This acorn-like grass Pokemon was, quite fittingly, made from Hokkaido acorns — red oak acorns originally from North America characterized by their large, reddish-brown grains. We ordered several acorns from various places to be sure to get Seedot's round and stocky shape just right and finally hit upon the Hokkaido acorn. Its eyes were shaved and colored, and its legs are made of wood and glued together. Since it is very small, we used a fine carving knife and a file for the finishing touches."