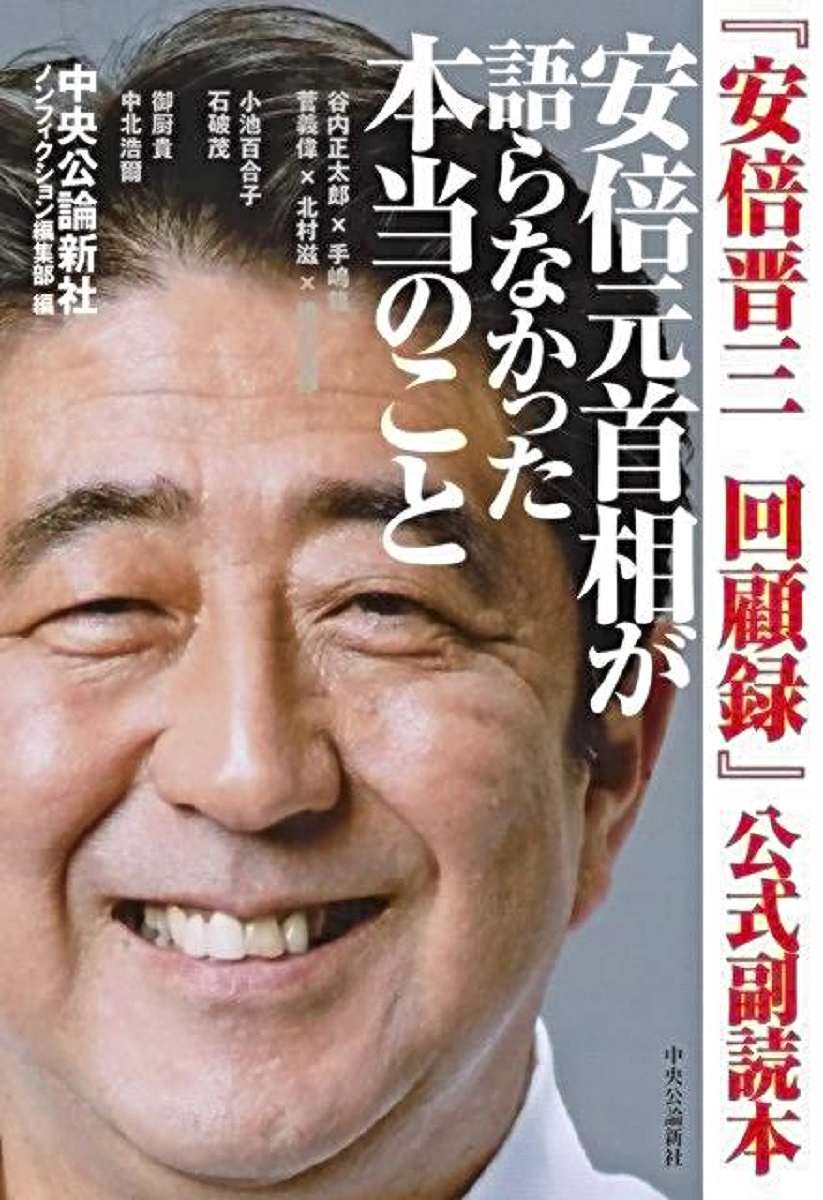 1:00 JST, August 6, 2023
An official follow-up tome to former Prime Minister Shinzo Abe's memoir is set to hit the shelves Wednesday.
The book acts as a supplement to Abe's February-released memoir — "Abe Shinzo: Kaikoroku" — and features "the former prime minister's true, untold story" through numerous accounts of his aides and others regarding his record-breaking seven years and nine months in power.
Abe was fatally shot in July last year while giving a stump speech in Nara.
The 277-page supplementary book, published by Chuokoron-Shinsha, Inc., dissects the Abe administration through the eyes of his aides, including Yoshihide Suga, who served as Abe's chief cabinet secretary before succeeding him as prime minister.
The new book also includes an interview with Shotaro Yachi, the former secretary general of the National Security Secretariat. In the interview, Yachi recalls the period when Abe returned to power in December 2012, recalling how he suggested to Abe that he clarify his priorities with regard to pending issues in the diplomatic and security fields.
The book quotes Yachi as proposing three types of goals for the Abe administration: high-priority, medium-priority and low-priority. Yachi suggested that constitutional revision and the establishment of a reciprocal and equal Japan-U.S. alliance should be set as high-priority goals, while medium-priority goals should include the reinterpretation of the Constitution regarding limited exercise of the right of collective self-defense. Low-priority goals included historical issues and North Korea-related matters, over which Yachi urged the administration to achieve tangible results.
Abe is believed to have formulated his national strategy based on Yachi's recommendations. The new book also quotes Suga as saying Abe crafted a "long-term road map."
During Abe's tenure, his Cabinet approved the government's reinterpretation of the Constitution to allow limited exercise of the right of collective self-defense; a package of security-related laws also was enacted. He also released a statement to mark the 70th anniversary of the end of World War II, in which he took care to avoid reflecting his conservative stance.
The new book also includes interviews with Tokyo Gov. Yuriko Koike, whom Abe described as a "joker" in his memoir, and Shigeru Ishiba, former Liberal Democratic Party secretary general, who vied with Abe for presidency of the party.
Additionally, the book contains input from people who held differing views from Abe, including an anonymous Finance Ministry official who objected to Abe's account of his distrust in the ministry that he expressed in his memoir.
The follow-up book is priced at ¥1,700 (tax not included).
Add TheJapanNews to your Google News feed.