Yoshitake shines light on small joys helping people get through difficult times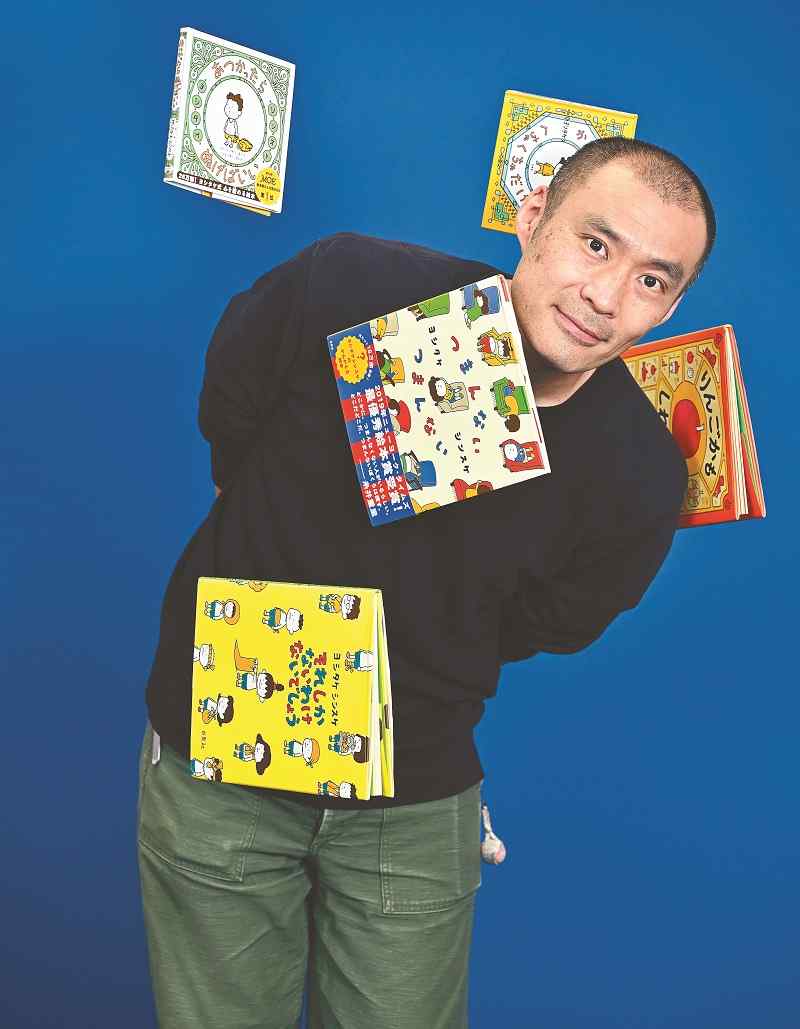 12:15 JST, June 3, 2022
Shinsuke Yoshitake is the most active author of illustrated books working today. One of his recent books, "Annani annani" (But look now), won the 14th MOE Picture Book Sellers' Award 2021, which is given to the most recommended work of the year and is voted on by 3,000 illustrated booksellers nationwide. Yoshitake has won the award seven times since his debut in 2013.
"The Boring Book," the English tranlation of his book "Tsumannai tsumannai," won The New York Times Best Illustrated Children's Books award in 2019.
I recently had a chance to sit down with him to find out where this award-winning author gets his inspiration.
"Annani annani" opens with a common parenting situation.
It starts with illustrations of a child begging his mother to buy him a toy but is then followed by a drawing of various toys he has become bored of. These pictures are accompanied by the text, "You wanted it so badly," and "but look now …"
Unlike Yoshitake's other works, the new book takes place over a longer period of time.
"So far, my books have generally depicted what happens in a room over a 15-minute period," Yoshitake said. "But this is my first book that takes place over about 30 years."
Another scene shows the child growing. As his mother remembers when he was still very small, the text reads, "Adult-sized clothes were so loose on you."
Some illustrations depicting the child growing up and becoming an adult are expressed without words.
While turning the pages, readers will find themselves on the verge of tears as they relate to the parents and child.
Depicting a parenting fantasy
Yoshitake, a native of Kanagawa Prefecture, was born in 1973 and has two children.
He wrote his new book while thinking about his sons, who are high school and upper-level elementary school students.
However, Yoshitake said his family did not like the story.
Yoshitake said: "At home, I'm not an author but a father. When they read the book, they felt it was pointing out faults with their past behavior as they think the characters are based on them. There are some things I can convey because I'm their father. However, at the same time, there are some things I can't because I'm their father."
Yoshitake has written many books to evoke the childhood memories of his readers with such concepts as, "Why do I get bedhead?" "I can't take off my clothes" and "I ended up peeing my pants a little."
"People tell me, 'You're an author of picture books, so you must be a very good father,'" he said. "But I'm definitely not. I always yell at them for not doing something. So, this book is a kind of atonement and shows what I actually want to do [for them]. I'm describing my own parenting fantasy."
Saved by strawberries
Yoshitake began writing picture books when he was about 40. Before that, he was working at a video game company and later became an illustrator.
In his latest book, "Kami wa konnani kucha kucha dakedo" (Even though my hair is so messy), various characters express their dreams or something positive on one page, while confessing something they are self-conscious about or something negative on the other.
On one page, a young girl says, "I want to be a singer one day," followed by, "Even though my hair is so messy."
Throughout the book, goals or small wins are depicted on the left, while disappointments and setbacks are depicted on the right.
One man in the book says, "The shell of the boiled egg peeled away so smoothly," followed by, "Even though today's meeting put us back to square one."
©Shinsuke Yoshitake / Hakusensha Inc.


Two pages of "Kami wa konnani kucha kucha dakedo." The left page reads, "The shell of the boiled egg peeled away so smoothly," the right reads, "Even though today's meeting put us back to square one."
Another page depicts an old photo with the sentence, "I have a memory that no one else can match," followed by, "Even though the person [in the photo] with me is no longer around." Reading this line really affected me.
"I'm the type of person who easily gets depressed by the world, but I've managed to make it this far because the things I like and enjoy have been barely keeping me afloat," Yoshitake said. "For a long time, I've wanted to write about people who are saved by the small joys in life when things go wrong."
One of the situations in the book is based on Yoshitake's real-life experience.
One day, when Yoshitake was deeply depressed while riding a train, he happened to see beautiful strawberries in an elderly woman's bag.
"That's all it was, but it lifted my mood and made me feel better," he said. "I was surprised that I was saved by the beauty of fruit I just happened to see. So, you never know what can save someone."
In the book, the strawberry is replaced by a mikan orange.
The last couple of pages are arranged in the opposite way — with the disappointment on the left and the happy moment on the right. The switch is meant to help readers transition from a negative mindset to a more positive one and end the book on a high note.
Yoshitake said: "I hope readers will think, 'Oh, we can read it backward.' With a picture book, you don't have to read the pages in order. How we perceive reality sometimes depends on the order in which we read something. I wanted to put these ideas in a physical form."
Add TheJapanNews to your Google News feed.