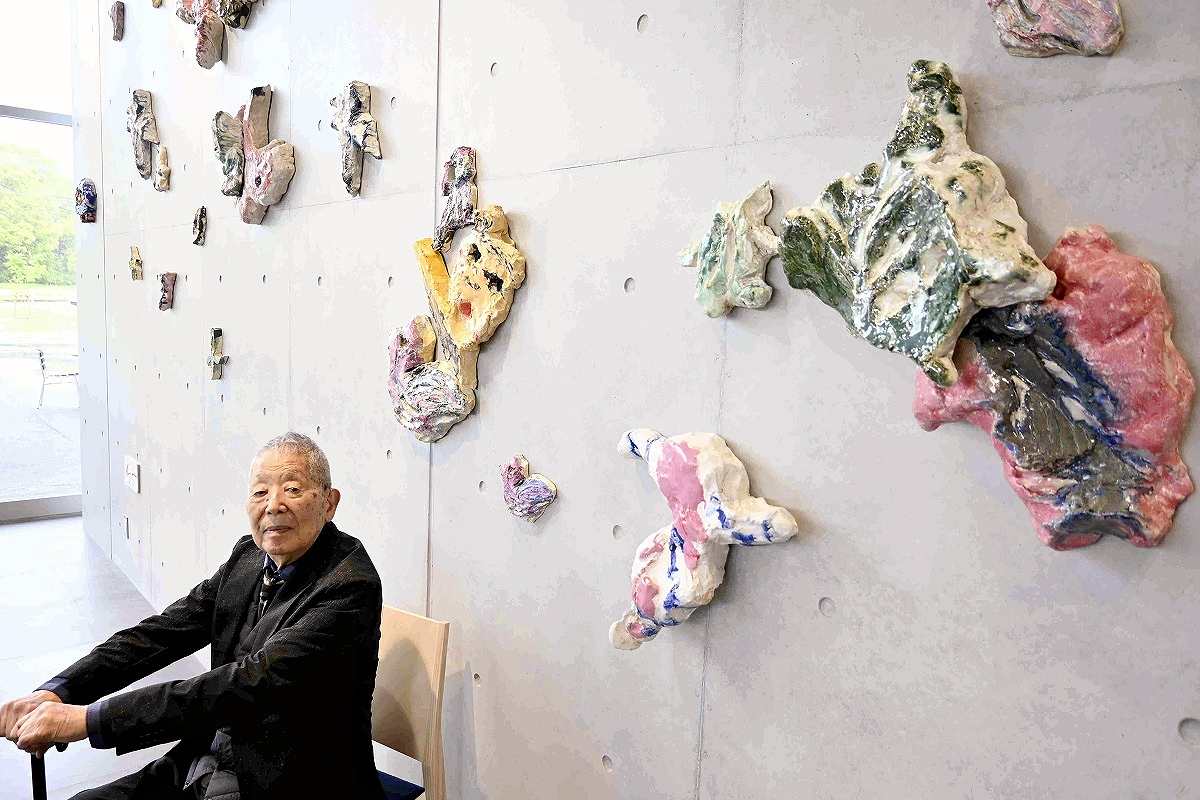 14:30 JST, July 16, 2023
FUKUOKA — People in Iizuka, Fukuoka Prefecture, mourned the passing of painter Gyoji Nomiyama, who was from the city and continued to work energetically until his later years, often depicting black coal fields — a familiar scene for him in his youth — in his paintings.
The Order of Culture recipient died of heart failure on June 22. He was 102.
In April, Nomiyama attended the inauguration of a municipal gymnasium in Namazuta in the city. He looked happy in front of 43 ceramic reliefs displayed in the gymnasium's entrance hall; he had created them based on the drawings of about 1,100 local elementary schoolchildren.
"I was able to express children's dreams," Nomiyama said.
While working on the reliefs, Nomiyama said he wanted to create the works of art by faithfully interpreting the ideas that the children had put into them. "I want to create works that will make children think that they all contributed to the building of the gymnasium," he said.
Nomiyama also worked as a special lecturer at a junior high school affiliated with his alma mater, Fukuoka Prefectural Kaho High School in the city. "You shouldn't explain something with a painting. You should draw your yearning or fear as it is," he told about 80 students during a class in September 2021.
"He shared with us many precious stories that we cannot learn at school. I'm very grateful to him for the love and affection he offered those younger than him until his final years," said Vice Principal Yasue Sato.
In August last year, the first permanent gallery bearing the name Gyoji Nomiyama opened in Iizuka. About 50 of his works are on display at the gallery in the city. Akio Mizoe, chairman of the Mizoe Group, which comprises an Iizuka-originated construction company and other firms, established the gallery by refurbishing his former house.
Coal mine waste dumps are said to have been a familiar scene for Nomiyama, and he often depicted such landscapes in his paintings. Mizoe said: "All of his works are the pride of Iizuka. I want to thank him for his long and hard work."
Considerate person
"I have nothing but gratitude for Nomiyama, who was involved in the efforts of our small art supply store," said Yasuyuki Yamamoto, chairman of Yamamoto Bumpodo Co. in Chuo Ward, Fukuoka. For about 30 years from 1989, Nomiyama served as a judge reviewing submissions from the public for an art contest sponsored by the company. He is said to have exchanged candid opinions with applicants while reviewing their works.
"Nomiyama was considerate to both those who were selected and those who were not. Applicants always looked forward to talking with him," Yamamoto said.
Nomiyama's studio was located in Itoshima, Fukuoka Prefecture. On June 26, Yuji Tsukigata, mayor of the city, said at a regular press conference that the artist had recently transferred his residence registration to the city. "I think he chose the city as his final home because he was fond of it. I'm sure he is now talking about Itoshima up there with his beloved family members," Tsukigata said.
Nomiyama donated many of his works to the Fukuoka Prefectural Museum of Art in Fukuoka, which held an exhibition of his works from December to February to commemorate the contribution. "Nomiyama left us with works that are very valuable to our prefecture, including those with motifs of his hometown of Chikuho, a former coal-producing area in the prefecture, in addition to seascapes of Itoshima," Fukuoka Gov. Seitaro Hattori said in a statement.
Add TheJapanNews to your Google News feed.