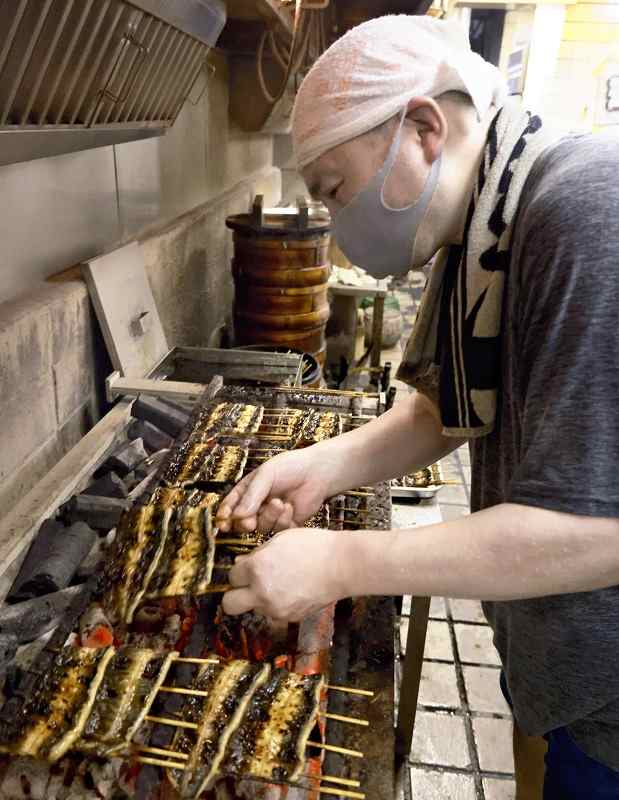 1:15 JST, July 20, 2022
The battle to sell broiled eels has shifted into high gear ahead of the Midsummer Day of the Ox. This year, the Day of the Ox falls on July 23, a Saturday, when per-customer spending tends to rise, pushing up expectations among retailers and stores specializing in broiled eels.
But, due to a poor catch of fry, coupled with the soaring cost of fuel and raw materials, a conspicuous number of retailers and stores specializing in eel dishes have raised prices for their products.
Advance orders brisk
Aeon Retail Co. has made its "(large-size) domestically grown eels, broiled with sauce"— one of its classics — a size larger. Meanwhile, it has also stocked five times more eel broiled without sauce, which proved quite popular last year. Advance orders, as of July 10, were moving briskly, up 10% over the same period last year.
"The Midsummer Day of the Ox falls on a Saturday this year, giving us a real opportunity," said Kinzo Matsumoto, head of the fisheries products department at Aeon Retail.
Lawson, Inc., a leading convenience store chain operator, has introduced what it calls its "toku-toku jo" (top of the finest grade) broiled eel box, with two broiled eels placed over rice inside a square box. It retails for ¥4,514, including tax.
As sales of eel-related products last year increased by 10% from the previous year, the company is pinning high hopes on sales of broiled eels this year, too.
FamilyMart Co., another leading convenience store chain operator, has begun selling "unagi meshi" (broiled eel over rice), made by broiling Kagoshima Prefecture-grown eel basted in sauce and cutting it into bite-size pieces. The dish sells for ¥1,580.
Seven-Eleven Japan Co. has made available a variety of eel-related dishes, ranging from broiled eel served over rice, which is sold for over ¥4,000 a box, to a bento box priced at ¥1,598 that combines pieces of beef cooked in soy sauce with cut pieces of broiled eel.
Worries
But prices are somewhat high this year.
Lawson has raised prices for its broiled eel rice boxes by ¥200 to ¥300, depending on the size. FamilyMart has uniformly raised prices for its broiled eel rice boxes by ¥100 from last year's prices. And Seven-Eleven has raised the price of broiled eel rice boxes served with a garnish of Japanese littleneck clams simmered in soy sauce to ¥2,354, up ¥174 over last year.
The price hike comes on the heels of a poor catch of Anguilla japonica glass eels, or fry. According to the Fisheries Agency, the domestic catch of glass eels totaled 10.3 tons during the last season (from November 2021 to May 2022), 1.0 tons lower than the previous season, when there was a relatively rich haul.
The average price of eels placed on the Tokyo Metropolitan Central Wholesale Market rose from ¥3,848 per kilogram in January to ¥5,040 in May. The May price neared the record high of ¥5,179 per kilogram reached in 2019, when there was a particularly poor catch of eels.
Kappo Kabayaki Wakana, a long-established Japanese-style restaurant serving eel dishes in Naka Ward, Yokohama, this month raised the price of its broiled eel rice bowls from ¥3,500, including tax, to ¥3,900. The cost price of eel has risen by as much as 20% from last year, while the restaurant has also been hit by price increases for cooking oil and other necessary expenses, it said.
Takashi Hashimoto, the 50-year-old president of the restaurant, said, "If the price of goods increases further, we may also have to consider further price hikes. We are worried about driving customers away."
A representative of a supermarket said, "Sticker prices for broiled eels on the Midsummer Day of the Ox are expected to go up by 10% to 15% over last year." He said that the price increase has been due to higher expenses for operating boilers, which are used for managing the water temperature in eel-culturing tanks, and higher prices for eel feed amid the Ukraine crisis and the yen's decline on the exchange market.
There has also been a move toward alternative goods in a bid to meet the wants of people trying to economize.
Ichimasa Kamaboko Co., a Niigata-based company that produces fish-paste products, has this year overhauled one of its products called "Unaru Oishisa Unajiro" (Unajiro, an eel-style fish cake with an outstanding taste), which is made from ground Alaska pollock. (Its suggested retail price is ¥397, excluding tax.) The product has been made to give a more luxurious mouthfeel that is closer to that of an eel, the company said.
Aeon has also made available products such as broiled eel-style smelt and squid.
Add TheJapanNews to your Google News feed.