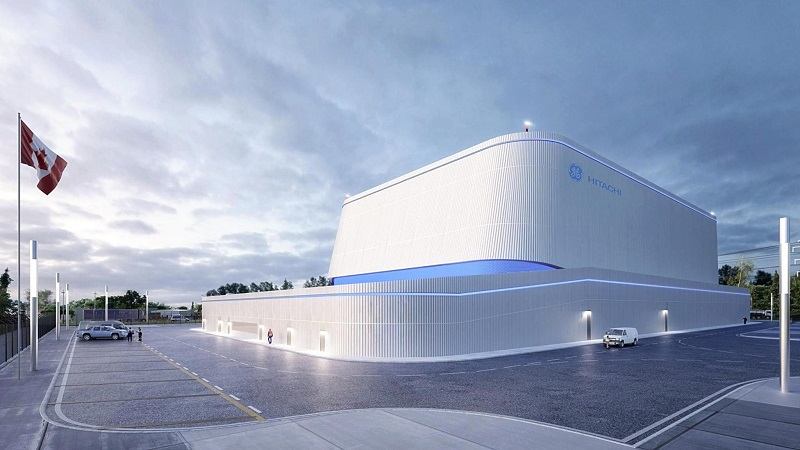 11:03 JST, March 15, 2022
Next-generation nuclear plants with enhanced safety features are scheduled to be built one after another in North America, Europe and Asia. These projects have been prompted by a reevaluation of nuclear plants, which do not emit greenhouse gases, amid the global trend of decarbonization.
1st time in two decades
French President Emmanuel Macron announced on Feb. 10 that France will build six new next-generation reactors, new models of the so-called European pressurized water reactor (EPR).
They will represent that nation's first construction of new nuclear plants in about 20 years, and the aim is for operations to begin in 2035.
France also plans to increase its exports of next-generation nuclear reactors. Electricite de France SA (EDF) has concluded agreements with related companies in the Czech Republic, Poland, India and elsewhere with a view to exporting to those countries.
In Canada's Ontario Province, construction is underway of small modular reactors (SMRs), also seen as a type of next-generation nuclear reactor, with operations scheduled to start in 2028. GE Hitachi Nuclear Energy (GEH), a joint venture firm established by Hitachi, Ltd., and General Electric Co. of the United States, is in charge of the design and manufacturing of the reactors and will build up to four of them.
GEH President Jay Wileman said last December that the project will make possible the global export of its SMR technology.
GEH's small modular reactor is said to be designed so that the output is kept down to the 300MW level, or one-third of the output generated by conventional nuclear reactors. The reactor cores can be cooled down more easily in a time of emergency, thus enhancing safety.
Negotiations are also underway with the Polish government for GEH to deploy 10 or more SMRs in Poland in the 2030s.
Start-ups joining in
A number of projects in which start-ups will build next-generation reactors are also underway.
U.S. start-up NuScale Power, LLC. has developed an SMR that is a pressurized water reactor separate from GEH's SMR. The company aims to put its SMR into commercial operation in Idaho in 2029.
TerraPower, LLC., a U.S. start-up established by Microsoft Corp. founder Bill Gates, plans to start operating a next-generation reactor that will be cooled with sodium instead of water in Wyoming by 2028.
Rosatom, a leading state-run nuclear power company in Russia, has put into commercial use an SMR that floats in the sea. The Chinese government has also been accelerating its development of an SMR and a new type of reactor called a high-temperature gas reactor.
According to research firm Global Information, Inc., the global market for SMRs was about $9.7 billion in 2021 but is expected to grow to about $11.3 billion in 2026.
Renewed attention
Behind the numerous construction plans for next-generation reactors lies the fact that countries have been forced to review their energy policies in response to the global trend toward decarbonization.
Nuclear power generation emits no CO2. Countries in Europe have been trying to increase their use of renewable energy, such as solar power and wind power, but this has drawn opposition from members of the public who say it has led to higher electricity rates.
The European Commission, the executive branch of the European Union, on Feb. 2 recognized nuclear power as an energy source that can help curb global warming under certain conditions, according to the "EU taxonomy rules" that classify economic activities in terms of environmental sustainability. Some member countries have opposed this, but the commission aims to put it into effect in 2023.
Japan's position was expressed by Prime Minister Fumio Kishida: "In realizing decarbonization, it is necessary to make use of every option available, including nuclear power." But, there have so far been no moves to build new or additional nuclear plants in Japan.
Due partly to the increasingly tense situation surrounding Ukraine, concerns over a stable supply of natural gas and rising oil prices have put a burden on the global economy.
Next-generation nuclear reactors are likely to draw more attention in the days ahead.
Tatsujiro Suzuki, a professor at Nagasaki University and a scholar of nuclear policy, said: "The merit of a small-sized reactor is that it can be mass-produced at a factory. But to enhance its economic efficiency, it is necessary to increase production orders. How to secure its safety and cut costs will be the key to its popularity."