Economic turnaround / Japanese delivery industry grappling with huge surge in package numbers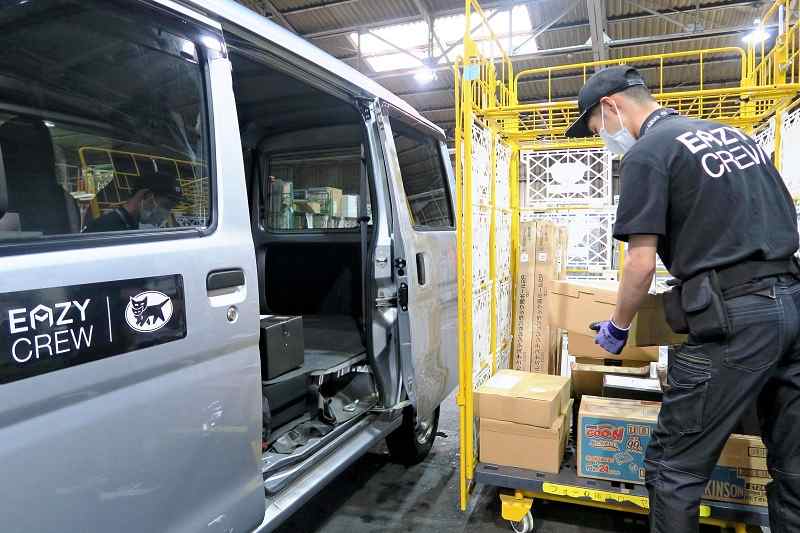 12:26 JST, August 11, 2021
This series of articles focuses on situations surrounding the logistics industry, which has evolved from an obscure function to a core concern for today's businesses. This is the second installment of the series.
Nesting demand
One morning in mid-July, employees skillfully loaded packages, sorted by delivery area, onto vans at the Shibuya Post Office in Shibuya Ward, Tokyo,
"Let's work hard to prevent wrong deliveries," said a post office official at a morning meeting at 8 a.m. After the meeting, the vans set off for their destinations.
July is the second busiest season for the delivery industry after the year-end period, because summer gift deliveries peak that month. The Shibuya Post Office usually handles about 4,000 packages a day, but the number swells to 5,000 to 6,000 a day in July.
"We hire temporary workers to sort packages and ask our cooperating companies to increase the number of drivers," an official in charge of package delivery at the post office said.
How is the delivery industry dealing with a surge in packages from online shopping?
In late May, delivery staff gathered at a Yamato Transport Co. delivery center in Nerima Ward, Tokyo, wearing black polo shirts instead of the company's familiar green ones. They were members of a special unit called Eazy Crew, dedicated to online shopping and other e-commerce deliveries.
E-commerce refers to trade in products and services online, as well as internet auctions and other online transactions. Many of the products handled are clothes and miscellaneous daily items, with Amazon.com, Rakuten and Zozo Town among the best-known e-commerce websites.
Yamato officially introduce the unit dedicated to e-commerce delivery in March last year, when the coronavirus started to spread in Japan. It has about 16,000 members, mainly in the Tokyo metropolitan area. Yamato outsources the operations to middle and small-sized delivery companies, paying several hundred yen per package.
So-called nesting demand has expanded during the coronavirus pandemic, and Yamato handled a record high of about 2.097 billion packages in fiscal 2020, up a dramatic 16.5% from the previous year.
"The new Eazy Crew network is bearing fruit," said Yasuhiro Saito, general manager of the company's EC Business Division, which has kept Yamato's delivery network functioning.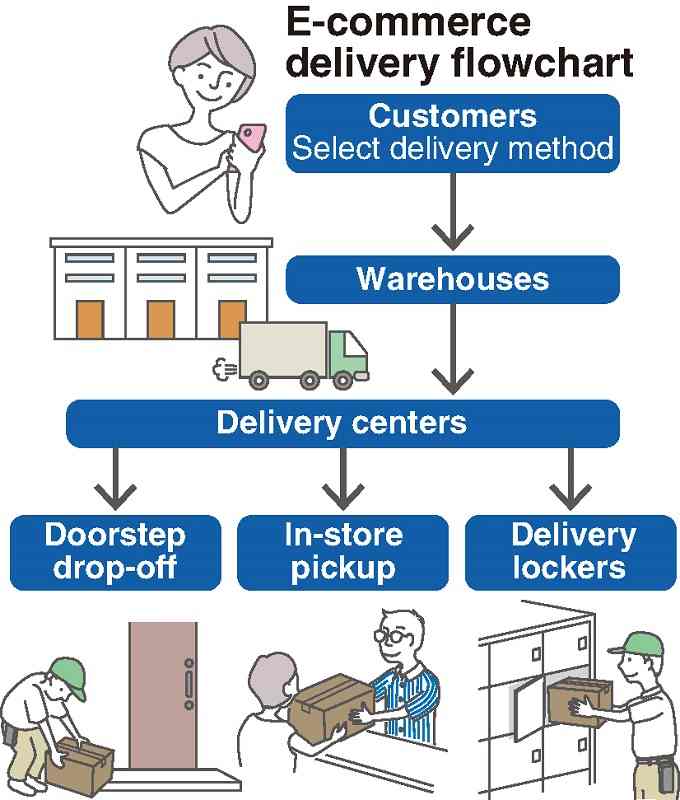 Breakdown of operations
The delivery industry came close to faltering around 2017, struggling to deal with a surge in the number of packages resulting from the expansion of e-commerce. Redeliveries increased because recipients were often absent, leading to a dramatic increase in the burden of package collection and delivery, and the breakdown of on-site operations.
Several measures were introduced amid the turmoil, including changing the times at which packages could be delivered, increasing delivery fees, and even regulating overall volume.
Yamato's delivery network has basically been developed on the assumption that packages are sent and received between individual customers. However, "the conventional business model no longer worked," according to Yamato Holdings President Yutaka Nagao.
The company squarely faced the situation and decided to create a new delivery network specializing in e-commerce.
According to the Land, Infrastructure, Transport and Tourism Ministry, the total number of packages delivered by 14 major delivery companies in March this year grew more than 10% from a year earlier. This trend is unlikely to change for a while.
Nagao said: "The coronavirus pandemic has changed the way of selling things. Various industries will turn to e-commerce."
Drop-off services key
Redeliveries must be reduced to effectively deliver a huge number of packages, as multiple deliveries involve more time and cost. Drop-off services are expected to be the key to resolving the issue.
This involves staffers leaving packages at designated places such as in front of an entrance, or in a bike basket or a garage. Delivery staff can deliver things even when recipients are not at home, but it's been regarded as taboo particularly because of the risk of the packages being stolen.
However, this kind of service was fully launched in March last year by the e-commerce giant Amazon Japan G.K.
In an experimental run, Amazon's contracted delivery company was able to halve the number of redeliveries with the package drop-off service. Amazon Japan President Jeff Hayashida said it would play an important role in resolving problems related to delivery.
Aiming to take advantage of the demand for non-face-to-face methods, which grew amid the pandemic, Sagawa Express Co. and other major delivery companies have followed in Yamato's footsteps regarding deliveries to standalone houses.
The research company Mobile Marketing Data Labo surveyed about 4,700 men and women aged from 18 to 69 in January this year. With multiple answers allowed, about 30% of about 3,800 respondents using e-commerce had used a drop-off service.
However, condominiums with a locked main entrance are a big obstacle. Delivery staff need to call recipients on the intercom and the condos' delivery lockers are sometimes full.
Sagawa Express and the Tokyo-based technology startup Bitkey Inc. conducted an experiment at this kind of condominium in Tokyo in February and March. A Sagawa delivery driver opened the main door using a facial recognition feature of the camera installed at the entrance and left a package in front of the recipient's home to complete the delivery. They are preparing to put the system into practical use.
However, staffers' faces need to be registered in advance, and there are issues involving the costs for introducing the special system and safety measures are among issues.
Yamato is not limiting itself to deliveries, which are the company's original business. The company is creating a system to allow customers to receive e-commerce goods at department stores, drugstores and elsewhere, and plans to eventually increase the number of places where customers can pick up packages to 10,000 from the current 2,000.
"We want to change how packages are received," Saito said.
Add TheJapanNews to your Google News feed.