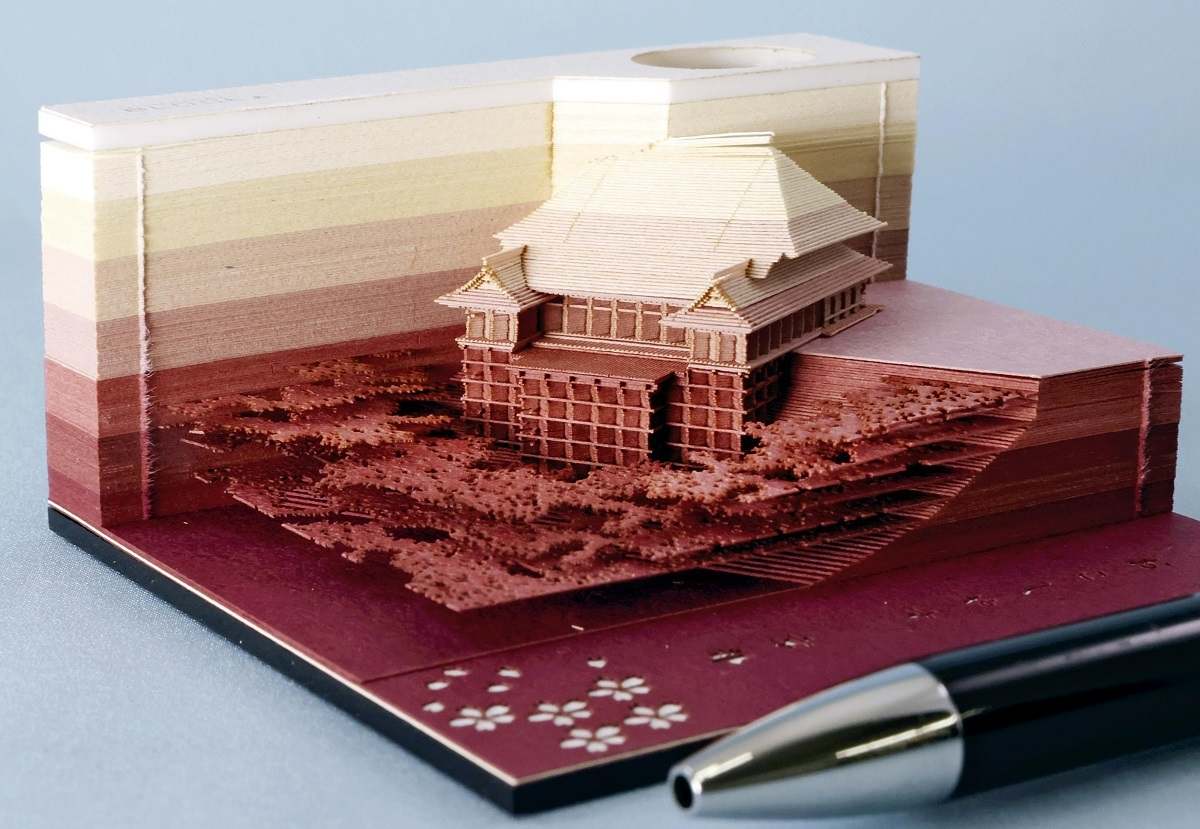 10:30 JST, January 26, 2023
Memo pads are convenient, but relatively short-lived stationery items. Each time a page is torn away, the pad gets thinner and thinner, before eventually no longer being useful.
However, a keen-eyed architectural model-making firm has reimagined these ubiquitous paper pads, adding an element of fun to their functionality.
When a sheet of paper is removed from one of the company's block-like notepads, a predetermined shape within the pad begins to appear. When the whole block has been used, users are left with an intricate, three-dimensional representation of an iconic building, such as Kiyomizudera temple in Kyoto or Osaka Castle.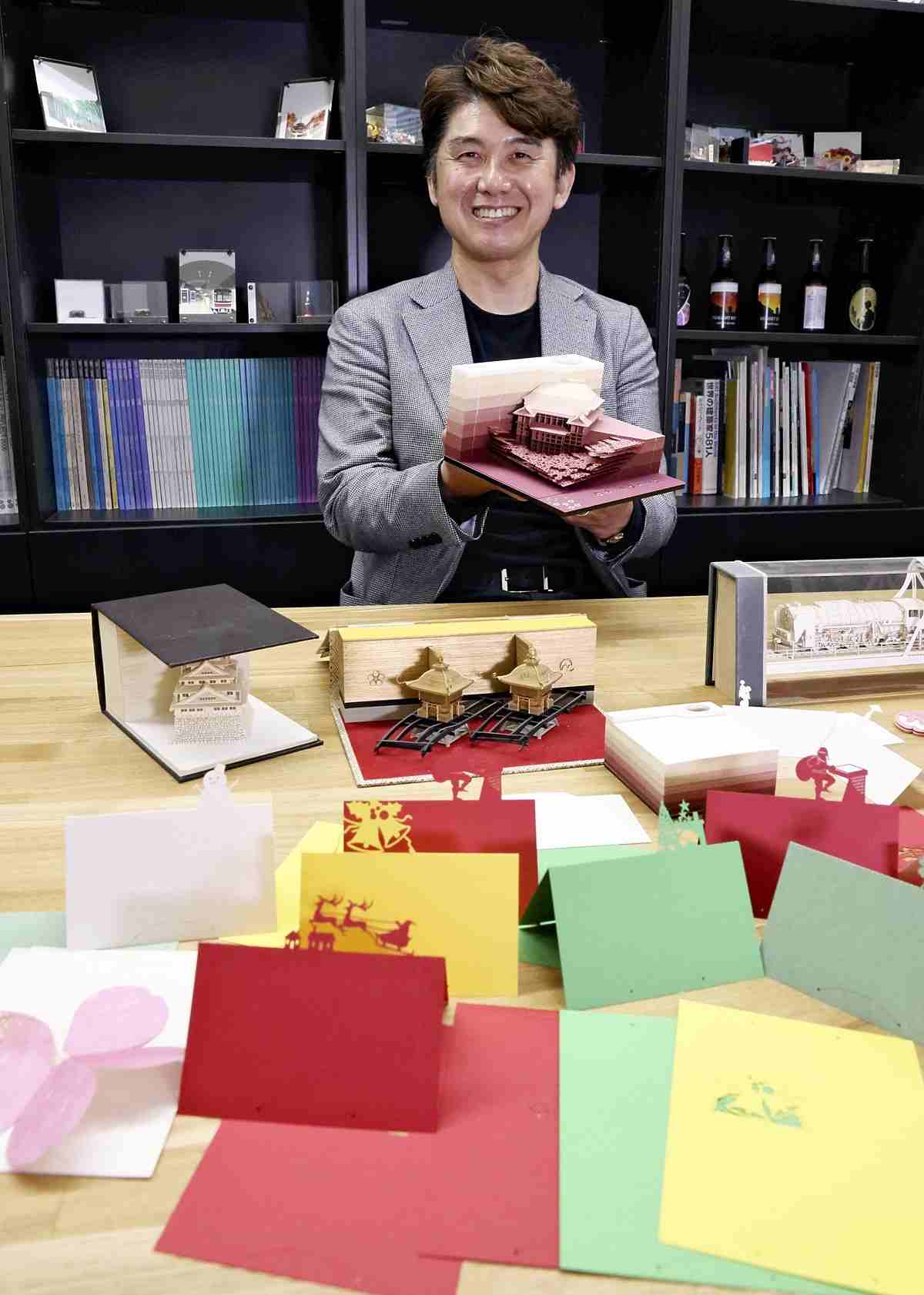 Architectural know-how
Dubbed "Omoshiroi Blocks" (fun blocks), these novel palm-sized memo pads are the brainchild of Hideto Horiguchi, managing director of architectural model company Triad Inc., based in Nishiyodogawa Ward, Osaka. "We leverage our [model-making] know-how to craft each pad, and every item is manufactured by our company," Horiguchi said.
The Kiyomizudera temple memo pad, for example, comprises 150 sheets of paper, each cut differently. When each semi-trimmed sheet is ripped from the block, part of it remains behind, attached to a mat-like board that serves as a supporting structure. When all the paper has been used up, the remaining parts form the architectural construction that can then be used for decorative purposes.
TV success
Triad's business pivots around crafting models for real estate companies and general contractors. The company, which uses blueprints, acrylic sheets and various types of paper to faithfully create its scale models, has fashioned models of houses, condominiums and public facilities, among other buildings.
Triad turned its hand to stationery after winning a "best architectural model" competition on TV about 20 years ago. Following the TV appearance, job offers began to pour in from across the country.
However, architectural models are usually only seen by a limited number of people, prompting the company to strike out in a new direction. "We wanted to take advantage of our technology and equipment to make an original product that would appeal to a wider audience," Horiguchi said.
Following some in-house brainstorming, the firm came up with a castle and a mikoshi portable shrine made of layers of paper that when put together, were as thick as an encyclopedia. The firm used geological modeling technology to create these initial offerings, but they proved very expensive to make. In autumn 2017, the company developed smaller versions that could be used as notepads, giving rise to the Omoshiroi Block brand.
When Triad posted photos and information about its creative notepads on the company's social media account, they began to attract widespread attention thanks to their uniqueness and beauty. The company received emails from Japan and overseas asking to purchase the items — some interested parties even suggested business tie-ups.
On one occasion, a foreign tourist turned up on the company's doorstep, saying, "The notepads were out of stock at the store I visited, so I came here to buy one."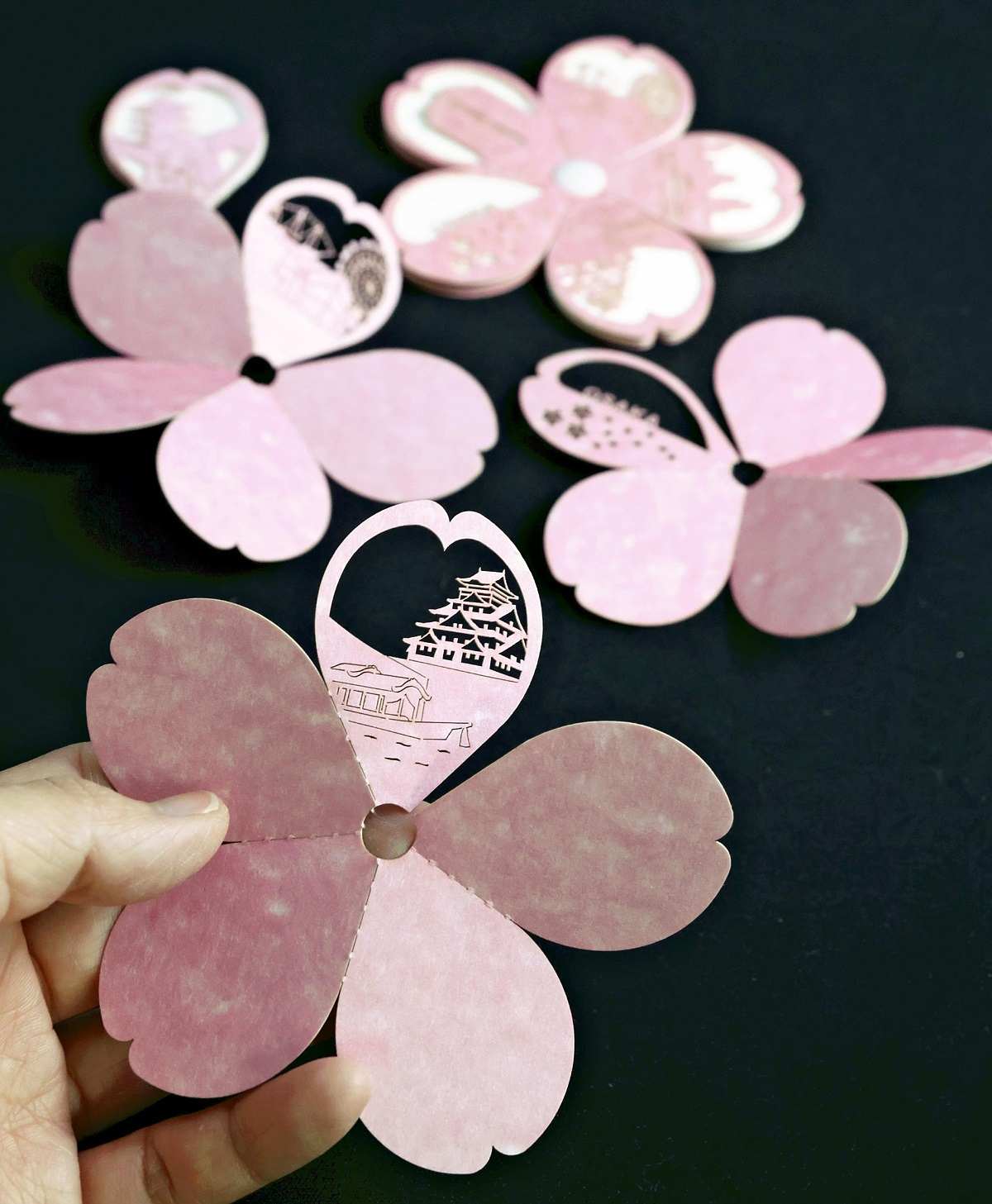 Handmade quality
Triad is very careful about the materials it uses in its products, saying, "We want people to experience the culture and architectural beauty of Japan through paper."
The company selects paper that is pleasant to the touch and features hues traditionally affiliated with Japan.
Each memo pad is almost entirely handmade — albeit with a little help from technology: A laser cutter is used to make incisions and holes in the paper, which is then stacked and secured. The process of correctly placing each sheet of paper on the laser cutter and stacking them in the correct order is done by hand and requires considerable time and effort.
The company produces around 50 products in total, including calendars and a variety of cards, which are sold through its online store and at stores in locations popular with tourists.
The memo pads featuring Kiyomizudera temple and Osaka Castle sell for a retail price of ¥11,000 each.
Horiguchi explained that his company wanted to inject a little fun into everyday life, saying: "The term 'omoshiroi' [fun] is associated with brightening people's expressions and feelings. We hope our products will help spread the word 'omoshiroi' around the world, as happened with 'omotenashi' [hospitality]."
Add TheJapanNews to your Google News feed.