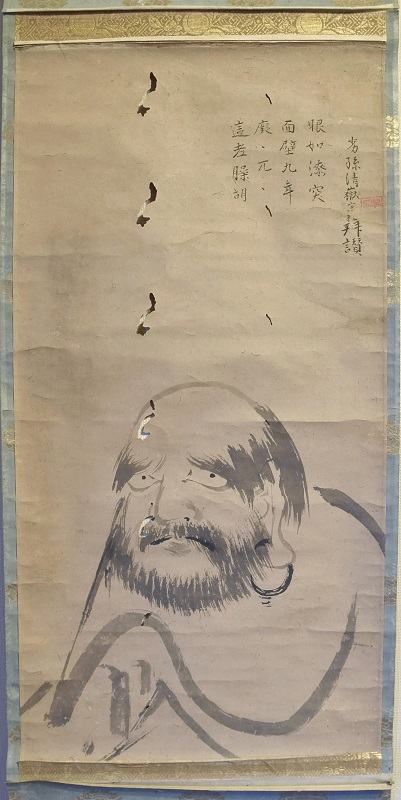 2:00 JST, June 1, 2022
An ink painting of Daruma, or Bodhidharma, believed to be the work of feudal lord Date Masamune (1567-1636) has been found after 90 years.
The painting has appeared for the first time since it was sold at an antiquities fair in the Tohoku region in 1928. Collector Kazukuni Shibuya in Sendai received it from an acquaintance and asked experts to ascertain whether it was real.
Based on the style and a note on the box, the painting is considered highly likely to have been created by Masamune of the Sendai clan.
The painting is 67.5 centimeters high and 34.5 centimeters wide. Daruma is drawn in dynamic strokes using several kinds of ink, and beside him is prose written by Seigaku, a monk whom Masamune trusted greatly. The paulownia box containing the painting has a note saying it was done by "Teizan," the name given to Masamune after his death.
A similar note was found on the back of the painting. The handwriting resembles that of Fumihiko Otsuki, a Japanese language scholar who has strong connections with Sendai, and Shibuya asked several experts to appraise the handwriting.
Shibuya later learned that Otsuki had bought the painting, which had been kept in Seigaku's natal home. After Otsuki's death, it was shown at the antiquities fair under the name of Otsuki's adopted child, and a photograph of the same painting was included in the fair's catalog.
Former Sendai City Museum Director Norikazu Sato, who studies Masamune, said the absence of the artist's signature and seal indicates that the painting was highly likely to have been done by Masamune, because paintings by daimyo feudal lords often do not include such identification.
Naotsugu Hamada, also a former director of the museum and a specialist in paintings, said, "Based on the aging paper and ink, it is safe to assume that it is about 400 years old."
This is the second authenticated painting believed to have been created by Masamune. A work with a plum blossom and sparrow motif was found in an old house in Shiogama, Miyagi Prefecture, in 2015.
Shibuya said Masamune's painting of the shrewd-eyed Daruma possesses "the spirit of a warrior who hovered between life and death."
Shibuya said he wanted to show the painting to the public if there is an opportunity.