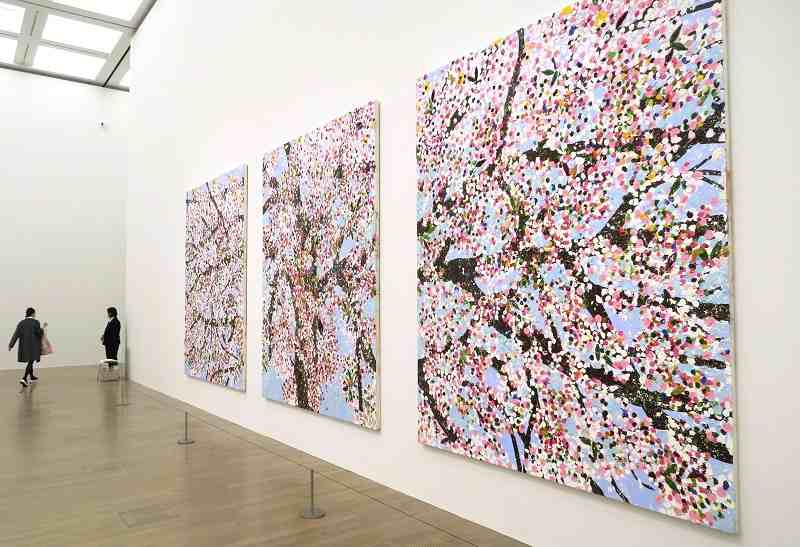 21:30 JST, April 13, 2022
The first major solo exhibition in Japan of a multidisciplinary artist famous for pickling dead animals opened at The National Art Center, in Tokyo last month.
British artist Damien Hirst has created paintings, sculptures and installations, some of which have sold for more than ¥20 billion.
As a member of an informal group of creatives who rose to prominence in the 1990s dubbed the Young British Artists, Hirst attracted worldwide popularity with works including a diamond-encrusted skull and animals preserved in formaldehyde.
Although Hirst often addresses themes such as life, death, religion and science, the tone of his artwork is not always macabre.
The National Art Center exhibition, "Damien Hirst, Cherry Blossoms," features 24 pieces selected by the artist from a sakura-themed series of 107 oil paintings.
The huge canvases on display create an ephemeral atmosphere that makes viewers feel like they are surrounded by real cherry trees in full bloom.
Hirst said the series is influenced by his interpretation of the history of Western painting, featuring repeated depictions of the same subject matter like Monet's "Water Lilies," the pointillism pioneered by Georges Seurat, and spontaneous applications of paint that recalls the action painting of the American artist Jackson Pollock. An awareness of Nihonga, a traditional Japanese painting style, is also evident in the series.
Consistently striving to present art from new perspectives, Hirst appears to challenge the image of cherry blossoms as fragile and delicate in the series, making use of bold imagery and vivid colors to express optimism and vibrancy.
The exhibition runs through May 23.