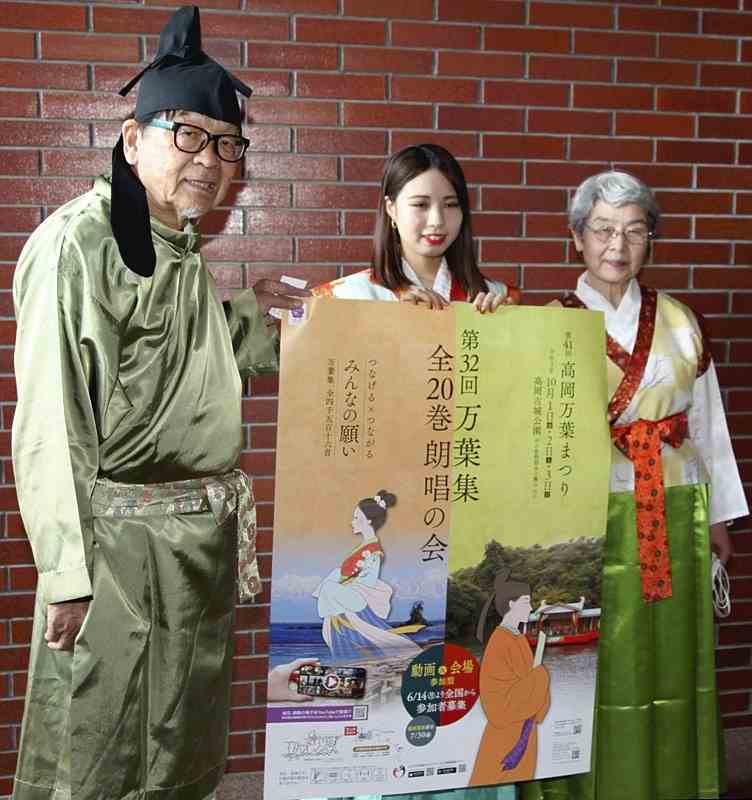 15:24 JST, July 6, 2021
TAKAOKA, Toyama — A festival featuring the recitation of all 4,516 waka poems in Manyoshu, the oldest anthology of Japanese poems, over three days and nights will be held in October in Takaoka, Toyama Prefecture, the executive committee of the event has announced.
The festival's main event, "Recitation of all 20 Volumes of the Manyoshu," was held entirely online last year due to the coronavirus pandemic, opting against holding it on a stage in front of an audience.
This year, however, the executive committee of the 41st Takaoka Manyo Festival will hold the event from Oct. 1 to Oct. 3 on a stage in combination with streaming online.
The festival has been held in honor of Otomo no Yakamochi, who is said to have compiled the anthology and lived in the city as a governor of Etchu Province (now Toyama Prefecture).
Last year, live recitations on a stage in Takaoka Kojo Park, also known as Takaoka Castle Ruins, were canceled due to measures taken to curb the spread of the novel coronavirus. Instead, videos of the poems being recited were sought from the general public, and they were broadcast on cable TV and video-sharing websites. A total of 2,520 people from Japan and abroad participated in the event.
This year, participants will recite the poems on stage from 8 a.m. (from 9:30 a.m. on the opening day) to 7 p.m., and videos will be streamed from 7:30 p.m. to 8 a.m. the following day.
About 1,000 people in total are expected to perform at Takaoka Kojo Park, while 1,500 are expected to participate off-site via recorded videos.
"We'll try our best to make this event even more popular," said Kanji Kawamura, the chair of the executive committee and deputy mayor of Takaoka.
A poster to promote this year's festival was recently unveiled at Takaoka city government office.
On the right side of the poster is a picture of the park stage where the recitations will take place, while on the left side is an image of the Tateyama mountain range seen from Amaharashi Beach.
An image of a smartphone is included on the left side of the poster.
The organizing group for the recitation visited the city government office on June 10 to ask that the public participate in the event.
A total of 1,720 copies of the poster will be distributed to hotels, ryokan inns and tourism facilities in the prefecture, as well as local governments that have a connection to the anthology.
Add TheJapanNews to your Google News feed.