Isai Tokyo / Unique Niboshi Tsukemen Outlet Thrives in Capital's Ramen 'Battleground'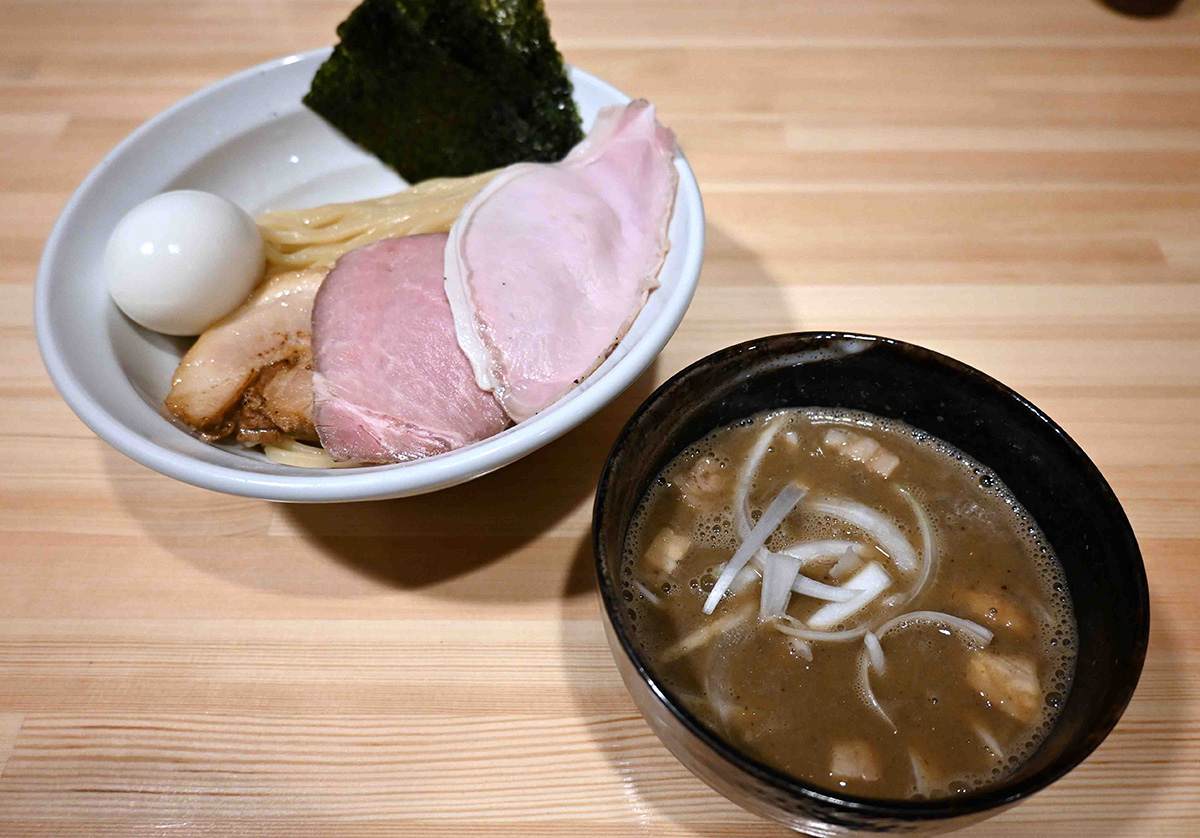 11:03 JST, July 18, 2023
Upon exiting the north exit of JR Nakano Station in Tokyo, a multitude of eateries and a colorful sign hove into view. "A town where the Showa-era meets the present," the signage proclaims.
The Showa Shinmichi area is crammed with small restaurants and bars, while the strains of enka melodies float through the air from karaoke establishments. Indeed, the atmosphere is strongly redolent of the Showa era (1926-89).
The phrase "A town where the Showa-era melds with the present" is seen on an electric pole on Showa Shinmichi street.

Showa Shinmichi Street evokes a nostalgic atmosphere.
A new ramen shop, Isai Tokyo, opened here June 18, boasting niboshi tsukemen (noodles with niboshi fish dipping soup) as its signature offering.
The shop's owner, Tsubasa Inoue, 41, has paid his ramen-world dues. Prior to opening his first outlet in Sapporo, Hokkaido, Inoue served as a senior executive of a famous Tokyo ramen chain. Though he faced a series of unexpected challenges in opening his Tokyo store, he continues to strive daily to achieve his dreams.
It was a blisteringly hot, sweat-inducing day when I arrived for my 2:30 p.m. meeting with Inoue. Tokyo summers seem to be getting hotter each year, likely to due to global warming. On such days, my mind often turns to tsukemen —cold-water cooled noodles.
Located near Waseda Street, Isai features a white lantern and a noren curtain at its entrance. Dressed in traditional chef's attire, Inoue greeted me with a smile.
A white lantern and a noren curtain are seen at the entrance to Isai.

An exterior view of Isai
The shop's interior is small. Viewed from the entranceway, a counter runs the length of the kitchen to the left, with another counter on the right.
My first visit to the shop was in late June, shortly after its opening. At that time, a line had already formed outside and customers were crammed tightly together in the counter seats.
However, when I visited the establishment to meet Inoue on July 4, the restaurant had only four seats along the right-wall counter. "I want my customers to eat in a relaxed atmosphere," Inoue said.
Counter seating for 4 people

The counter seats on the kitchen side were not in use at the time of the interview.
I ordered the signature thick, niboshi tsukemen (¥1,100, including tax) with special toppings (an extra ¥200). My dish suddenly appeared while I was struggling to photograph the small kitchen. As it was a tsukemen dish, the noodles and dipping soup were served separately. The shop specializes in niboshi (dried fish), and a mere glance told me that the soup comprised a rich niboshi. It did not smell fishy, nor did it have a slimy texture. However, it still had a rich taste with a niboshi aroma.
A special bowl of noodles topped with three kinds of chashu pork and an aji-tama (seasoned egg)

A bowl of soup

Dried fish soup with a rich umami flavor

Special medium-thick noodles

Tsubasa Inoue prepares noodles in a bowl.

A bowl is filled with tsukemen soup.

Noodles specially ordered from Murakami Asahi noodle factory in Niiza City, Saitama Prefecture
The medium-thick noodles — specially ordered from a noodle company — have a relatively high moisture content and are characterized by a smooth and glutinous texture.
"I'm particular about the richness of the broth from the dried fish," Inoue said. "I use dried fish such as Japanese anchovies, round herring, horse mackerel and small amberjack from Nagasaki, Chiba, and other parts of Japan, and adjust the flavor myself. The taste varies depending on the season and origin of the ingredients." Despite rising prices for dried fish, Inoue does not skimp their usage, thus ensuring the soup preserves its flavor. He combines the dried stock with pork and chicken broth and uses soy sauce (shoyu) as a source of kaeshi.
I noticed some baby corn in the broth, which struck me as somewhat unusual for a ramen topping. "When I opened my first ramen shop in Sapporo, I used baby corn," Inoue explained. "I used the ingredient at my Tokyo store, too, with the aim of making the dish look different."
The soup also includes sliced onions, white onions, and diced, braised pork. The pork, which is added for its umami flavoring, infuses the soup with flavor, further enhancing its tastiness.
Spicy Niboshi Tsukemen (¥1,150)

After finishing the noodles, soup-wari can be added from a pot on the counter.

Lemon vinegar, black pepper and hachimi spices are available on the table, allowing customers to tweak the flavor of their noodles.
The noodle bowl toppings included three slices of chashu pork, comprising braised belly, low-temperature cooked loin, and shoulder. Other toppings include ajitama (seasoned egg) and nori (dried seaweed). The braised pork — cooked using a hand-held burner — was savory and tasty. A pot of soup-wari sat atop the counter, allowing patrons to add it to their remaining soup: a classic way to finish off a bowl of tsukemen.
As an industry veteran, Inoue's high-quality tsukemen was packed with flavor and delighted the palate from the very first mouthful. I polished it off in no time at all.
String of challenges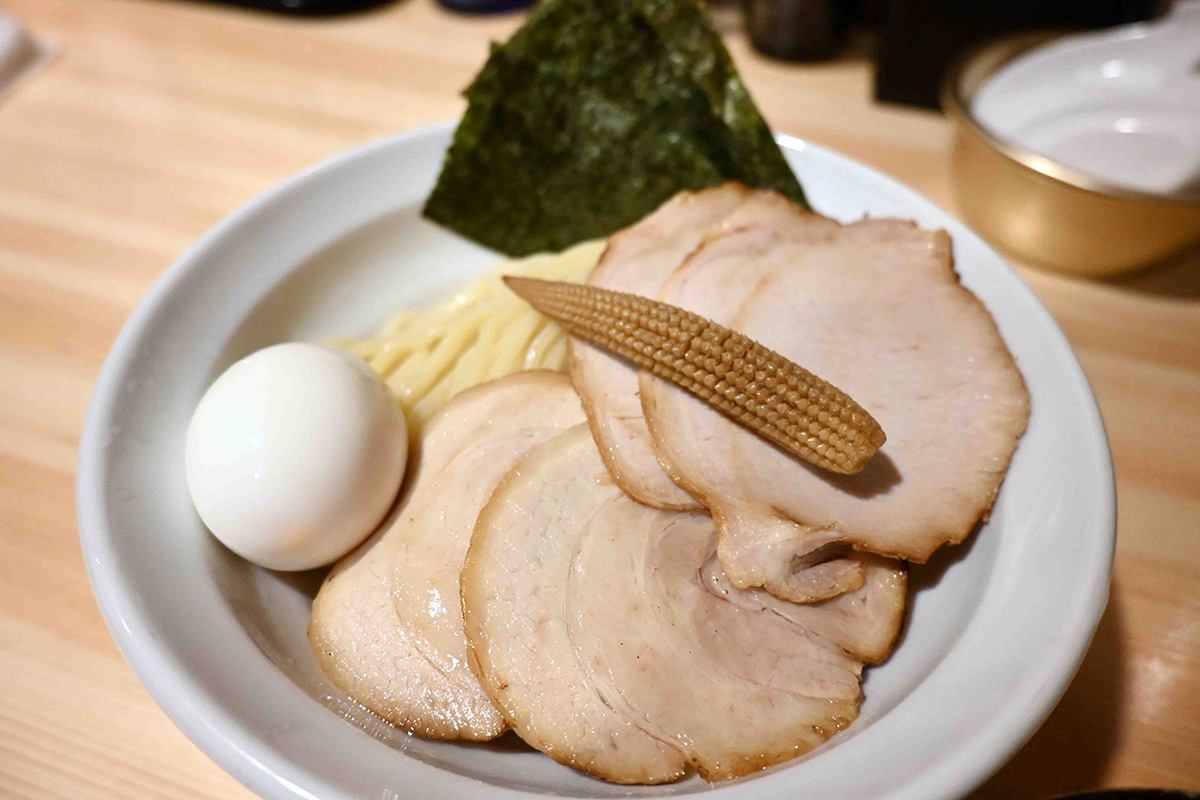 "As this is an interview, I'm keen to convey the facts to people," Inoue said in a quiet tone as he explained his first big challenge in opening his first Tokyo outlet. Initially, he was perturbed by various posts on social networking services regarding the store.
Trouble arose shortly after the Nogata, Nakano Ward outlet opened on June 5. An old acquaintance who owned an izakaya in Nogata, had allowed Inoue to use the premises as a ramen shop during the daytime. However, the venture was forced to close on its very first day when the building owner complained about a "strong smell of niboshi." As a result, Inoue shut the shop within an hour of its opening. He weighed various ways to operate the store, but as there was no way to control the smell, he decided that the only option was to give up on the venture.
"It's true that boiling dried fish gives off a smell, but [the incident] was a real shock," Inoue recalled.
Later, an izakaya owner in Nakano who knew the Nogata-store owner offered Inoue a helping hand, and only two weeks later, the shop reopened in the Nakano location.
A standing style izakaya operates at the Nakano premises on Fridays and Saturdays, so Isai's ramen business is limited from Sundays to Thursdays.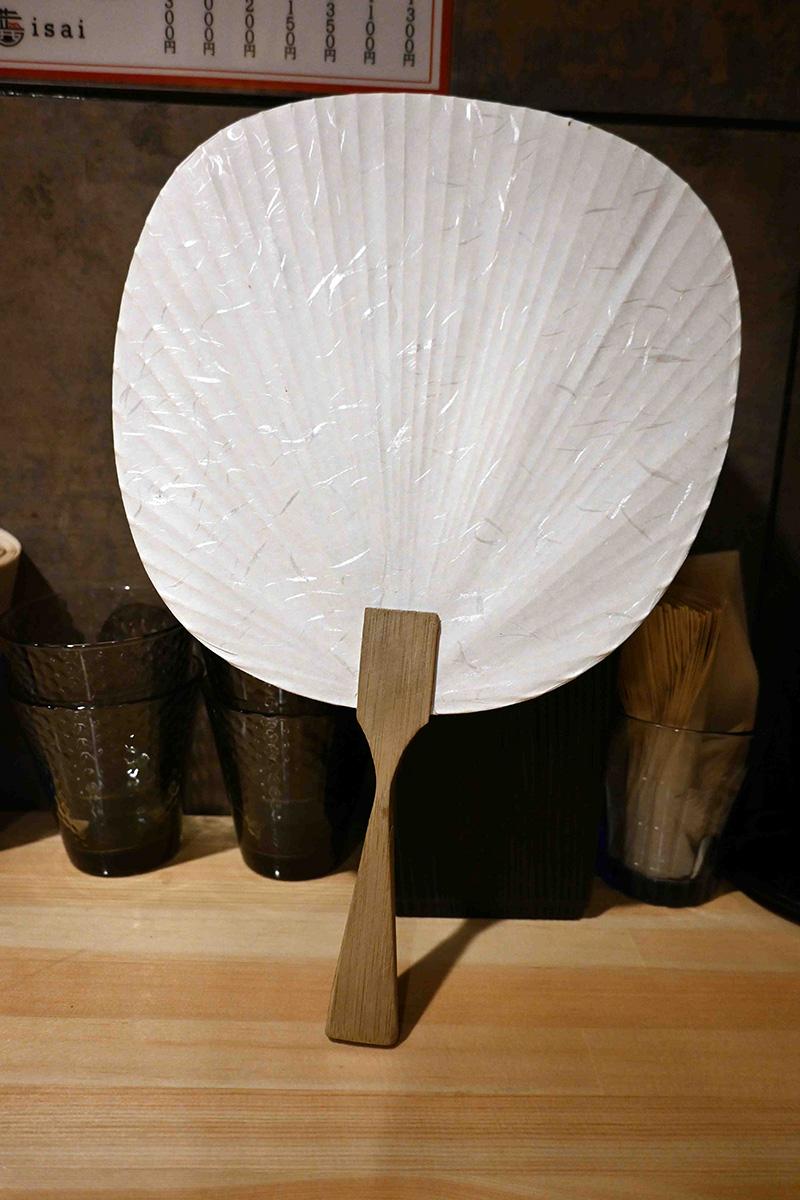 Inoue encountered other challenges, too. Despite having an air-conditioner designed to cool an 18-tatami-mat area, the shop was still hot. Poor ventilation coupled with constant heat from the noodle cooker and the soup-pot heater meant the in-shop temperature was always high. However, Inoue installed a new air conditioner and two fans, which finally overcame the heat.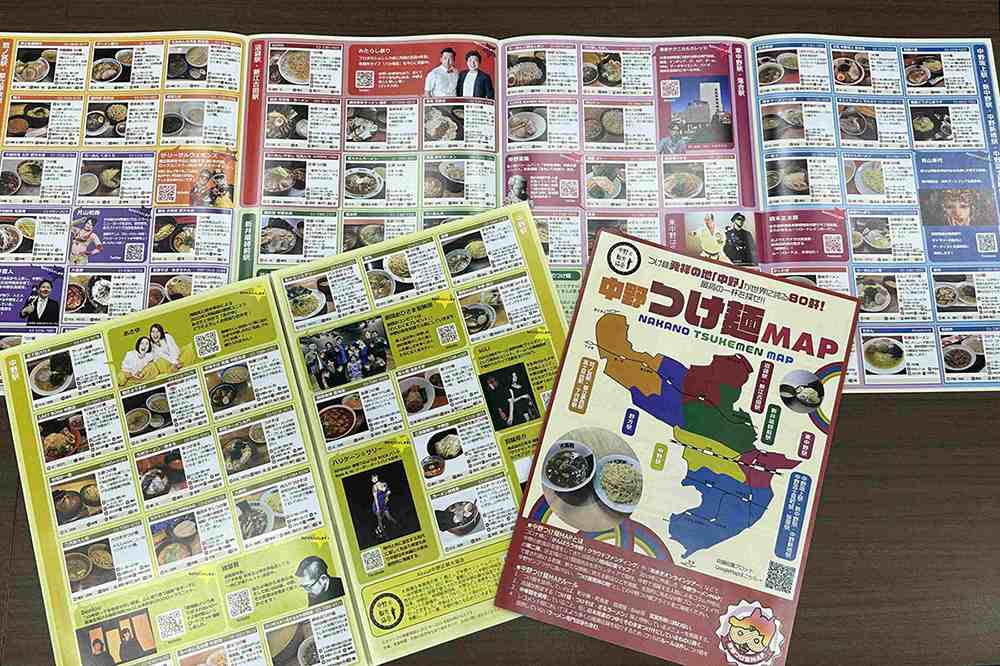 A promotional pamphlet titled "Nakano Tsukemen map" was published around the time that the Nakano outlet opened. The free publication — produced by the Nakano Ward tourism association —introduces around 80 shops that offer tsukemen.
The cover includes the phrase, "Nakano, the birthplace of tsukemen." The upbeat pamphlet covers a wide range of specialty outlets, ramen stores, and bars that offer tsukemen dishes. However, Isai's initial opening proved too late to warrant inclusion in the colorful brochure, which underlines exactly how hotly contested the Nakano area is for tsukemen.
But Inoue remains upbeat. "The only thing I can do is to give it my all and laugh about everything later."
Sapporo start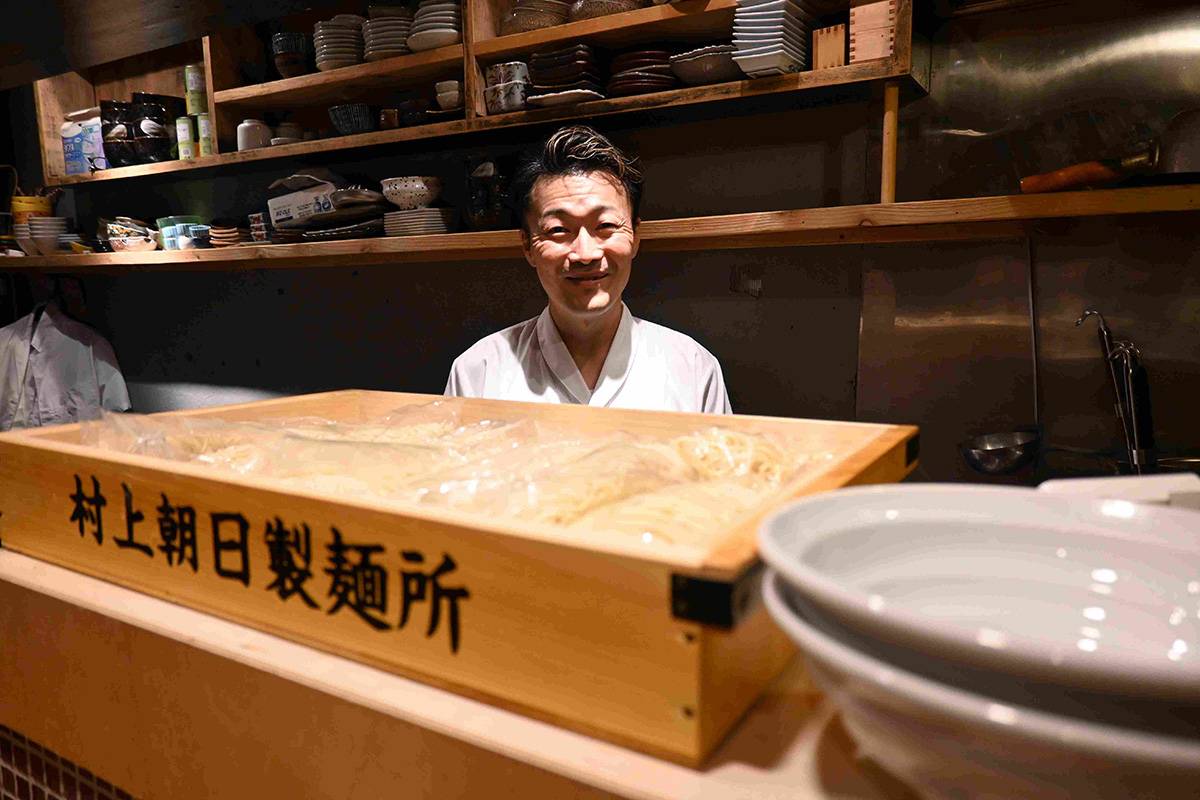 Inoue has been active in the ramen world for nearly 20 years. He began his career working part-time at an outlet of the famous Tsujita ramen chain in Tokyo, working his way up to manager, then general manager, during which time he gained a wealth of experience. Five years ago, he struck out on his own in Sapporo. Inoue explained that the change in location was driven by a desire to compete in a different arena from Tokyo. Furthermore, his parents were from Hokkaido and he still has relatives there, so he was not unfamiliar with the area.
Sapporo Isai thrived and has gained a strong following. Inoue's various limited-edition ramen dishes met with a positive response, and he remains deeply indebted to the people of Sapporo. "They helped me grow up," he said.
But deep in his heart, Inoue also wanted to try his hand in Tokyo. On the third anniversary of the Sapporo shop's opening, he began to make plans for a presence in the capital and achieved his goal as the shop's fifth anniversary approached in June of this year.
Instructions offering tips on the best way to eat tsukemen

Isai's menu

A ticket-vending machine is seen at the shop's entranceway.
To help realize his vision, Inoue moved to Tokyo with his wife and children. The Sapporo shop is now run by two colleagues and Inoue visits the outlet twice a month, on Fridays and Saturdays.
The name of the shop, Isai — homonyms of which can mean "distinctive" or "prominent" in Japanese — reflects Inoue's determination to "be unique."
Despite the many obstacles he has encountered, Inoue keeps going because he has dreams.
"I want to further pursue flavors and create ramen dishes that people from all walks of life can enjoy," he said. "In the future, I want to open branches in the U.S. and Europe."
But Inoue's vision does not end there. "When I become an old man, I'd like to open a small ramen shop with my wife, where people from the community can come to eat ramen," he said.
---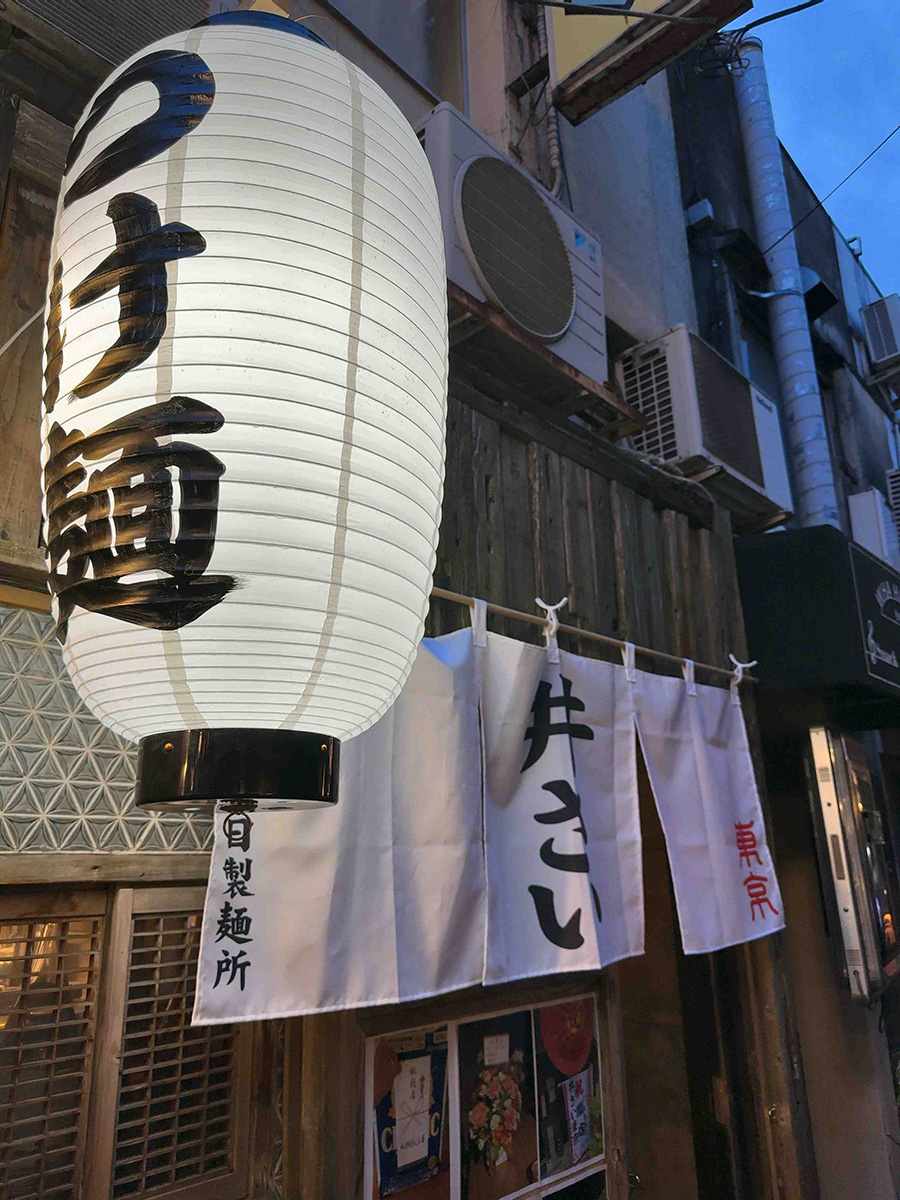 Isai Tokyo
5-50-10 Nakano, Nakano Ward, Tokyo. Lunchtime: 11 a.m. to 2:45 p.m. (last orders). Dinner time: 5:00 p.m. to 8:45 p.m. (last orders). Closed Fridays and Saturdays.
---
Futoshi Mori, Japan News Senior Writer
Food is a passion. It's a serious battle for both the cook and the diner. There are many ramen restaurants in Japan that have a tremendous passion for ramen and I'd like to introduce to you some of these passionate establishments, making the best of my experience of enjoying cuisine from both Japan and around the world.
---
Japanese version
【ラーメンは芸術だ!】激戦区・中野にオープンした「井さい東京」、煮干しのだしにも負けない店主の濃厚な人生
---
Add TheJapanNews to your Google News feed.