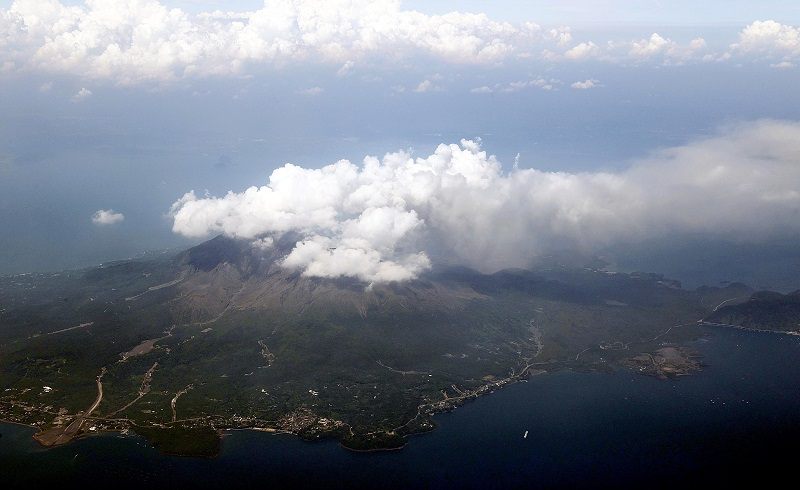 6:00 JST, August 10, 2022
An unpredicted eruption and a judicial decision have exposed shortcomings in the Japan Meteorological Agency's volcanic alert system.
In July, the JMA failed to predict an eruption of the Sakurajima volcano in Kagoshima Prefecture, and nearby residents were forced to evacuate at midnight. Separately, in a July lawsuit relating to the eruption of Mt. Ontake, which straddles the border between Nagano and Gifu prefectures, it was deemed that the JMA's decision not to raise its alert level was illegal.
With the summer mountain climbing season already in full swing, the JMA is calling for climbers to check their equipment and consult volcanic alert information before heading to the mountains.
Sudden swelling
"We were far below the threshold for raising the alert level in advance," said JMA Volcanic Observation Division Director Tsuyoshi Nakatsuji during a July 24 press conference. "It was difficult to predict."
The JMA raised the alert for Sakurajima from Level 3 ("mountain entry restrictions") to the maximum Level 5 ("evacuation"), 45 minutes after the volcano explosively erupted at 8:05 p.m.
Mountain swelling caused by rising magma and other phenomena was confirmed prior to the eruption: Slow swelling had been observed from July 18, though the pace intensified about an hour before the mountain exploded.
"The Sakurajima volcano often swells suddenly, as it did recently," a JMA official said. "But if we were to raise the alert level at that stage, we'd have to ask residents to evacuate multiple times a year, which isn't reasonable." The JMA lowered its alert to Level 3 on the evening of July 27, saying caution would be required for a while.
Mt. Ontake ruling
In a lawsuit over the 2014 eruption of Mt. Ontake, which left 63 people dead or missing, the Nagano District Court Matsumoto branch ruled July 13 that the JMA's decision not to raise the volcanic alert level was illegal. However, the court dismissed a plaintiff's claim for compensation, saying a higher alert level would not necessarily have prevented harm from occurring.
The JMA introduced its five-tiered alert system in 2007. When Mt. Ontake erupted, the alert level was 1 ("normal"). The lawsuit centered around the JMA's decision not to move to Level 2 ("restrictions on access to the area near and around the crater").
The ruling criticized the JMA for not holding sufficient discussions. despite having observed increased volcanic tremors and being aware of the possibility of mountain swelling. "It's a very tough ruling for us," said JMA Director-General Naoyuki Hasegawa.
Observation system
To improve the accuracy of predictions, the JMA says it would be essential to enhance precursor-monitoring and accumulate data from individual volcanoes.
It is possible to observe phenomena including mountain swelling and volcanic tremors using seismometers and the global positioning system (GPS), among other technologies. However, it is difficult to predict exactly when until an eruption will occur, and, in some cases, whether an eruption will take place at all.
Japan has 111 active volcanoes with varying eruption patterns, varying from tens of years to several hundreds of years. There is thus a dearth of data, which makes it difficult to make assumptions.
After the Mt. Ontake disaster, the JMA employed five volcanic researchers and increased by dozens the number of staff in charge of volcanic observation. Toshitsugu Fujii, professor emeritus at the University of Tokyo and an expert in magmatology, said, "The JMA should hire more volcanic experts in order to deal with unknown phenomena."
Add TheJapanNews to your Google News feed.