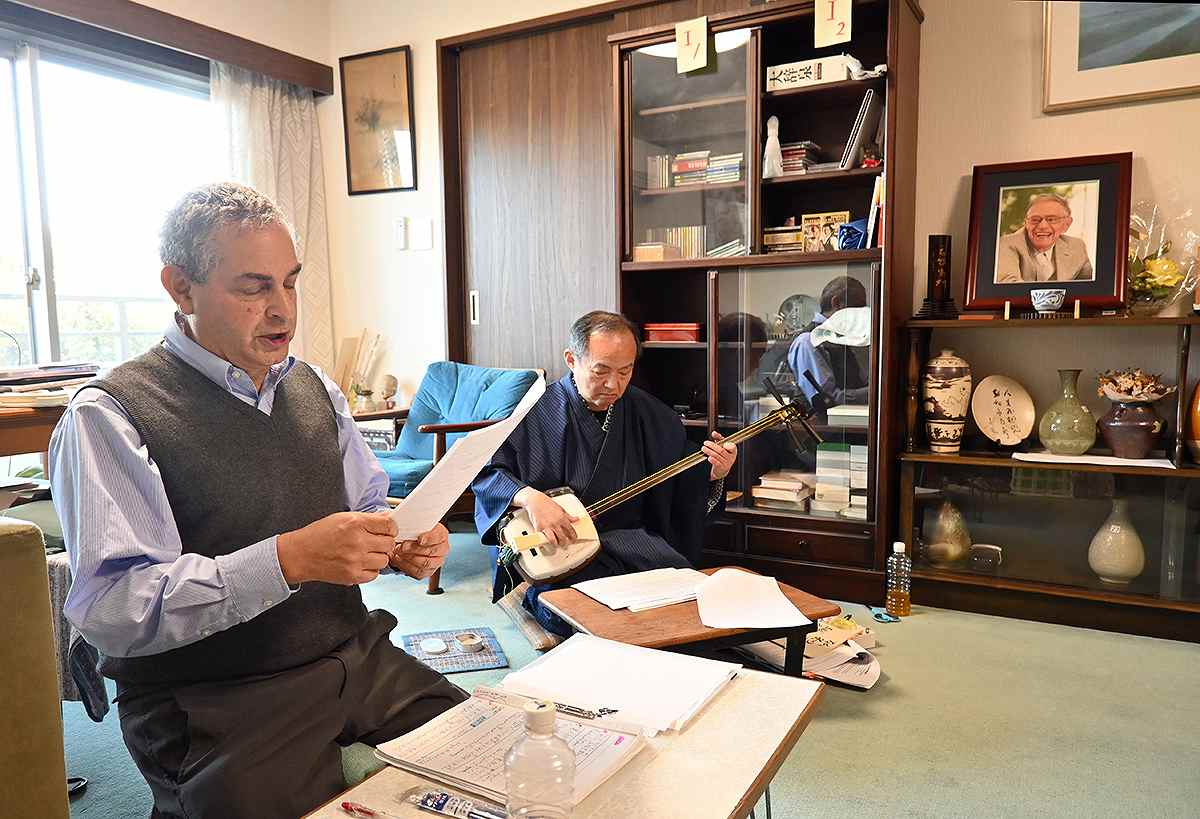 12:32 JST, April 14, 2023
An old joruri puppet play popular among the masses in the early Edo period (1603-1867) has been made into an English-language kabuki and will be performed at Portland State University in the U.S. state of Oregon in May.
The kabuki version of "Kochi-Hoin Godenki" (The story of High Priest Kochi) was created by Laurence Kominz, a professor emeritus at the university, where he has been staging student kabuki and kyogen plays for the last 40 years. He is a disciple of the late Donald Keene, who introduced the pleasures of Japanese literature to readers around the world. Keene's adopted son, Seiki Keene, a ko (old)-joruri shamisen player, will also appear in the performance. Ko-joruri refers to puppet plays composed up to the late 17th century.
In February, I visited Kominz and Seiki at an apartment in Kita Ward, Tokyo, where they were rehearsing energetically. "Her last words are so very sad to hear." Kominz's voice as he read the line from the play resonated to the melancholy refrain of a kokyu, a Chinese bowed instrument, played by Seiki. The room, bathed in soft winter sunlight, was in the apartment that had served as Donald Keene's base in Japan for about half a century, until his death in February 2019. On the altar was a portrait of a smiling Keene, as if he were watching over their rehearsal. The Kyu Furukawa Gardens that Keene so loved can be seen from the balcony.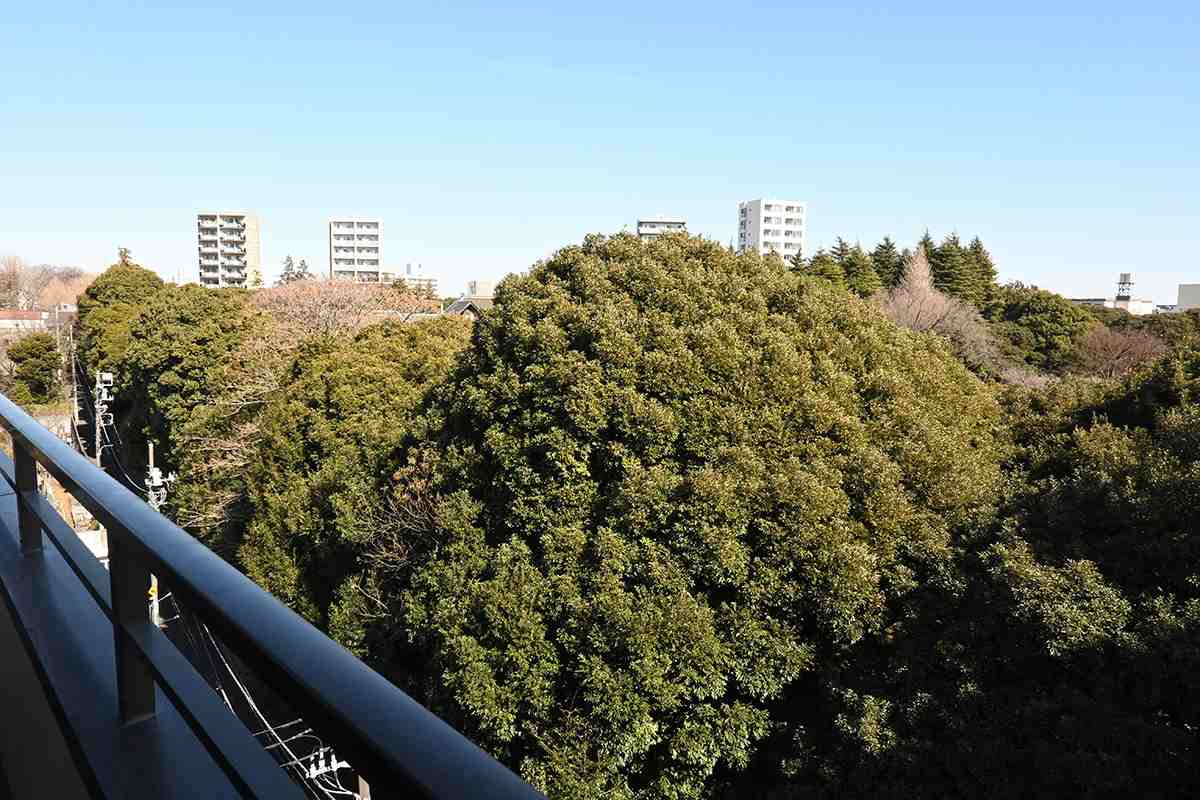 On the day of my interview, Kominz and Seiki were putting their final touches on the play, matching up the notes of the shamisen and kokyu with the English dialogue. Kominz returned to the U.S. the next day and is currently busy training the troupe for the performance. Some 25 students and recent graduates from PSU's Department of World Languages and Literatures make up the cast of the play under Kominz's guidance. No previous theater experience was required, and through daily practice, everyone will be able to perform on stage, with the play lasting about three hours. The PSU Center for Japanese Studies is producing the play.
Kominz's most important collaborator is his wife, Toshimi Tanaka, who designs and makes costumes and leads a team of Japanese women who dress the student performers.
"Since getting married, she's been working with me as if this was her destiny," said the 71-year-old Kominz, who is deeply grateful to his Japanese wife. Without her ingenuity and expertise, kabuki plays would be impossible to stage. Kominz married Toshimi in 1987, three years after meeting her in Portland. When Toshimi first saw the students performing in yukata (light cotton kimono), she said, "Since they've worked so hard to perform on stage, let's dress them in more beautiful costumes," and she began to take charge of the wardrobe. Since then, the couple has been working together to perfect the performances.
However, in the early years, the young couple could not afford to buy expensive Japanese costumes. Instead, they bought clothes little by little at secondhand stores and flea markets in Japan, and Toshimi altered the costumes for the stage by hand. "Our home in the U.S. is now like a costume room," said Kominz with a laugh.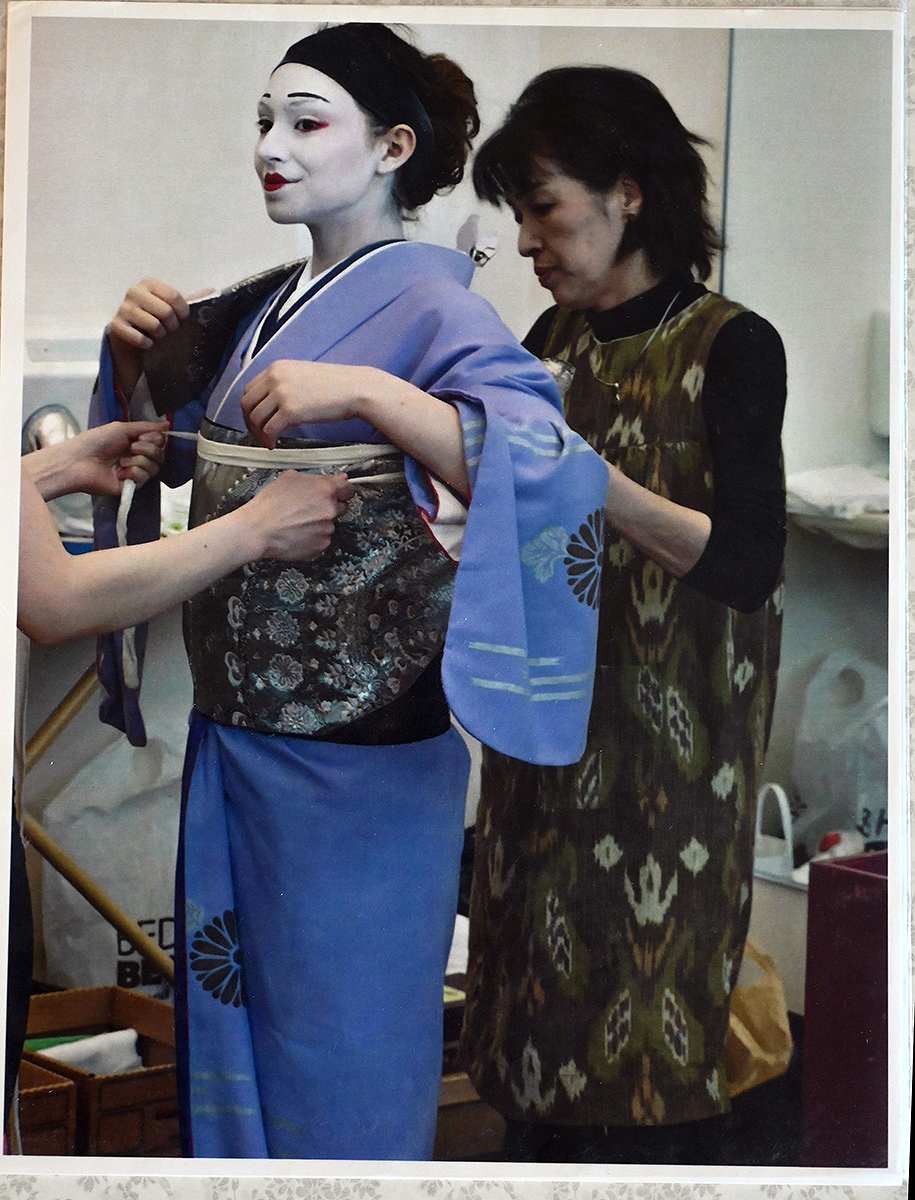 Once the costumes were in place, the next step was wigs and makeup. "A real wig costs several hundred thousand yen. It was out of our budget," said Kominz. So Toshimi studied wigs and learned to make them herself. While I was listening to this story, the 72-year-old Seiki added from beside Kominz, "They are really well-made wigs." The students learn how to put on their homemade wigs and apply makeup themselves before going on stage.
In recognition of such achievements over many years, Kominz received the Order of the Rising Sun, Gold Rays with Neck Ribbon from the Japanese government at last year's Spring Conferment of Decoration.
Found at the British Museum
"Kochi-Hoin Godenki" is a ko-joruri work that has had a unique fate. It was published in 1685 in the early Edo period, but in Japan no copies of it survived. A German doctor took one copy abroad from Dejima in Nagasaki, but its existence was long forgotten. Nearly three centuries later, in 1963, the late Bunzo Torigoe, who was a professor emeritus at Waseda University, was asked by the British Museum to examine a collection of unidentified books. He discovered that one of the books, mislabeled in 1770 as a "Chinese story book," was actually the Japanese play, "Kochi-Hoin Godenki."
Seiki, who had been a shamisen player in bunraku puppet theater under the name Asazo, was informed of this history by Keene in 2007. He then became one of the people involved in the play's revival in 2009.
The story is modeled after the high priest Kochi, who is enshrined as a sokushin-butsu at Saishoji Temple in Nagaoka, Niigata Prefecture. Sokushin-butsu is a monk who has self-mummified after many years, by eating a special diet of foods. In the story, a man joins the Buddhist priesthood after the death of his wife and becomes a sokushin-butsu after much ascetic training. Before he dies, a demon disguised as a beautiful woman tries to trick him, but he is not deceived.
After seeing the revival performance, Kominz thought that it would make a splendid kabuki play. One day, he told Keene this, and Keene replied that he liked the idea. After Keene died in February 2019, Kominz decided to make the idea a reality, and last year, he translated the entire book into English, subsequently working on dialogue and structure for a kabuki version.
As for why he thought it should be made into a kabuki play, Kominz explained, "It contains a lot of character dialogue, and it has less explanatory narration in it than other ko-joruri."
In most ko-joruri works, exposition is narrated at length, and to make them into kabuki, one needs to rewrite the long narrative into conversations between the characters using one's own imagination. However, "Kochi-Hoin Godenki" has enough spoken material that only one additional dialogue was required to complete the script.
Study under Donald Keene
After graduating from Colby College on the U.S. East Coast with a degree in Japanese studies, Kominz decided to become a student of Keene, and enrolled in graduate school at Columbia University, where Keene taught. Keene was a leading scholar of Japanese performing arts and literature in the U.S. He translated and researched many books and authors, including "Kanadehon Chushingura" and playwright Chikamatsu Monzaemon. Kominz studied his major works.
Kominz spent over three years in Japan during his grade school years because of his father's work, and he took a liking to the country. In high school, he went to an American school in Tokyo, but did not learn Japanese. However, he enjoyed living in Japan and vividly remembers going to professional baseball games and festivals in various regions. He also loved skiing and has happy memories of hitting slopes in Zao, Hakuba, and Shiga Kogen as a member of a ski club.
His first exposure to traditional Japanese performing arts was when he studied at Doshisha University in Kyoto for a year while still enrolled at Colby College. He was so impressed by noh, kyogen, bunraku and kabuki that he decided to research these arts. At Columbia University's graduate school, he attended lectures by Keene, whom he admired. But for his doctoral dissertation, Columbia University's splendid libraries were not enough, so he returned to Kyoto and studied at Kyoto University for about five years.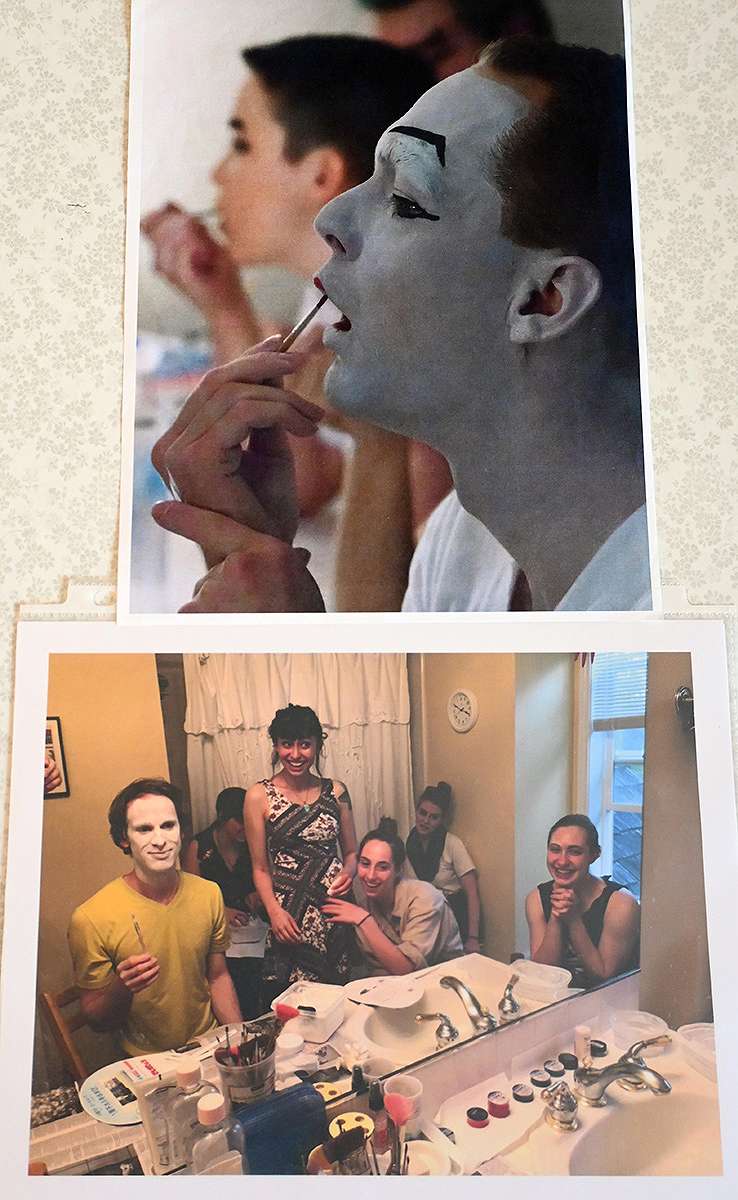 There he learned the practical skills needed for noh, kyogen and gidayu. He would later teach these skills to students at PSU. His students put on an annual performance to the public every spring.
It has been 338 years since the publication of "Kochi-Hoin Godenki." At that time, the United States did not even exist. The author would have had a hard time imagining that in the future his work would be turned into an English-language kabuki play to be performed in North America.
This year's performance is scheduled for May 25-28. Seiki will travel to the U.S. in mid-May to join Kominz and the students. He will play shamisen and kokyu on stage.
At the apartment, I happened to say aloud, "I wonder what Keene is thinking in heaven."
"I am sure he is not surprised," said Kominz, looking at Seiki and smiling. "He must be looking over us thinking, 'Kominz and Asazo are still doing interesting things.'"
Add TheJapanNews to your Google News feed.