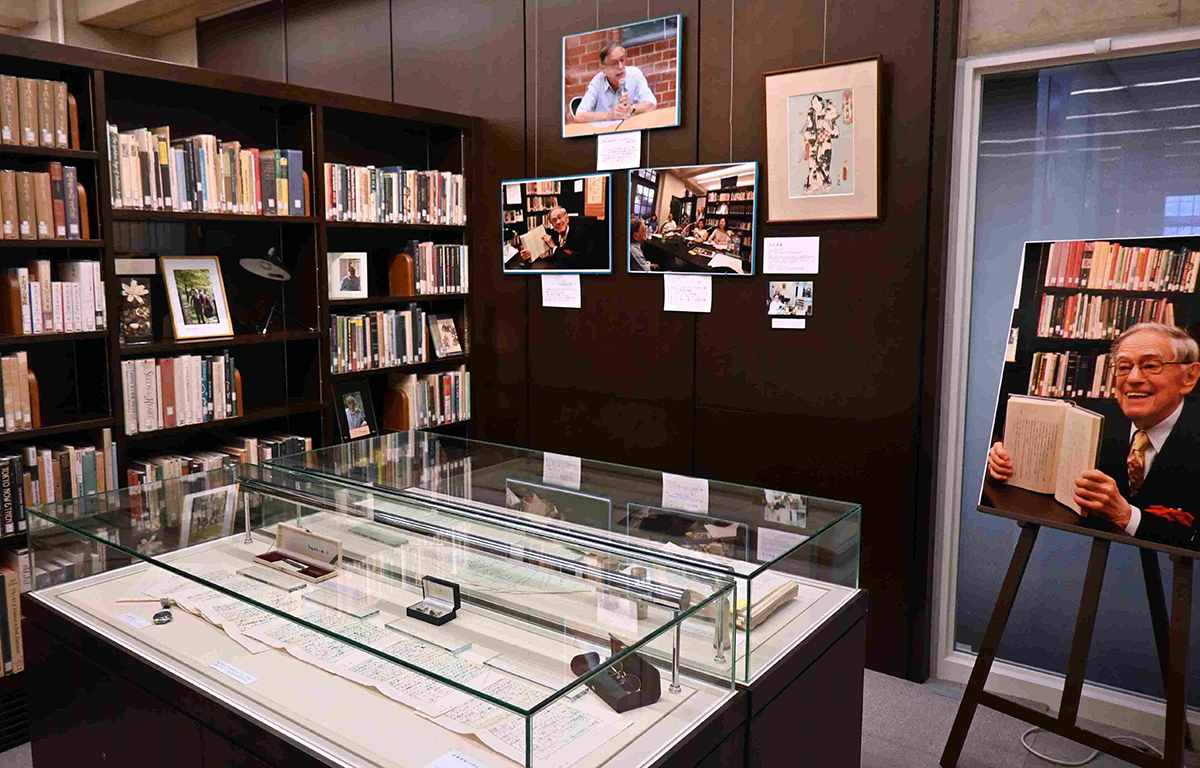 17:41 JST, February 22, 2023
Did you know that Donald Keene, the giant of Japanese literary studies, lived in a quaint area of Tokyo for almost half a century?
His home base while in Japan was an apartment in the Nishigahara district of Kita Ward. Its balcony led out to his beloved view of the Kyu Furukawa Gardens.
Keene passed away in Tokyo on Feb. 24, 2019, at the age of 96. The Brooklyn-born scholar was a professor emeritus at Columbia University in New York and devoted his life to spreading the charms of Japanese literature and culture to the world.
In honor of the fourth anniversary of his death when he would have already been 100, the exhibition series "A Reunion with Donald Keene" is being held simultaneously at three locations in Kita Ward. A fourth location will start its exhibit from March 3.
"I hope visitors will enjoy the reunion with Professor Keene, as if he is here and there, and learn about his achievements again," said a Kita Ward official, describing the aim of the exhibitions.
Fondly remembering my interviews with Keene, I visited two exhibition sites, the Central Library of the Kita City Library and the Tabata Memorial Museum of Writers and Artists, looking forward to seeing Keene again.
Writing notes in books
Photo panels are also displayed in the room.

A wallet that Donald Keene used still has a Suica transit card inside.

A wristwatch that Keene was fond of because it displayed the day of the week in Japanese.
I boarded a Kita Ward community bus, called the K Bus, from JR Oji Station, paying ¥100 for the ride. The third stop was the Central Library, which houses the Donald Keene Collection, a group of books donated by Keene that visitors are free to pick up and read.
According to Hiroko Matsumoto, the 56-year-old section chief of the library, Keene sometimes popped in after riding on the K Bus. On such occasions, Keene would say, "At my apartment, I don't know where my materials are, but here they are well-organized and easy to find."
This reminded me of his personality, which was always in a good humor.
In one corner of the spacious library, there was a small room for the collection. Many donated books are lined up on the bookshelves. Usually, a table and chairs are placed in the center of the room, so visitors can read books surrounded by the bookshelves as if they were in Keene's study.
During the current exhibition period, a showcase is placed in the center of the room, displaying Keene's handwritten manuscripts, his handwriting, his favorite glasses, a watch, a wallet with a JR Suica card still in it, and other items. There are also photo panels. The library's original large chronological table on Keene is also on display outside the room.
Some of the books Keene donated

The Central Library's chronology of Keene

A manuscript in Keene's own handwriting for the end of a series of articles for a magazine.
"I don't want my books to sit like furniture, I want them to be read by everyone," Matsumoto vividly remembers Keene saying.
In July 2011, she visited Keene at his New York apartment, exchanging words for the first time.
"I did a lot of writing in books, but when they become library books, people shouldn't write in them in anymore," Keene had said to Matsumoto, making her laugh.
In the Central Library collection, there are many notes that Keene wrote in books he read for reference. According to Matsumoto, about 30% of the 788 books in the collection have notes written in them, mostly in pencil. These include "Meiji Tenno-ki" (The Emperor Meiji Chronicles) when he wrote "Emperor of Japan: Meiji and His World, 1852-1912" and "Shiki Zenshu" (The Complete Works of Masaoka Shiki) when he wrote "The Winter Sun Shines In: A Life of Masaoka Shiki."
A reference book Keene used shows his handwritten notes and markings.

A reference book Keene used shows his handwritten notes and markings.
When I picked up one of the books and opened it, I was surprised to find many small letters in English written in the margins of the pages. These are very valuable materials and are not for lending, as they must not be accidentally erased. However, visitors can read these books in this room and imagine what Keene was thinking when writing these notes.
Akutagawa connection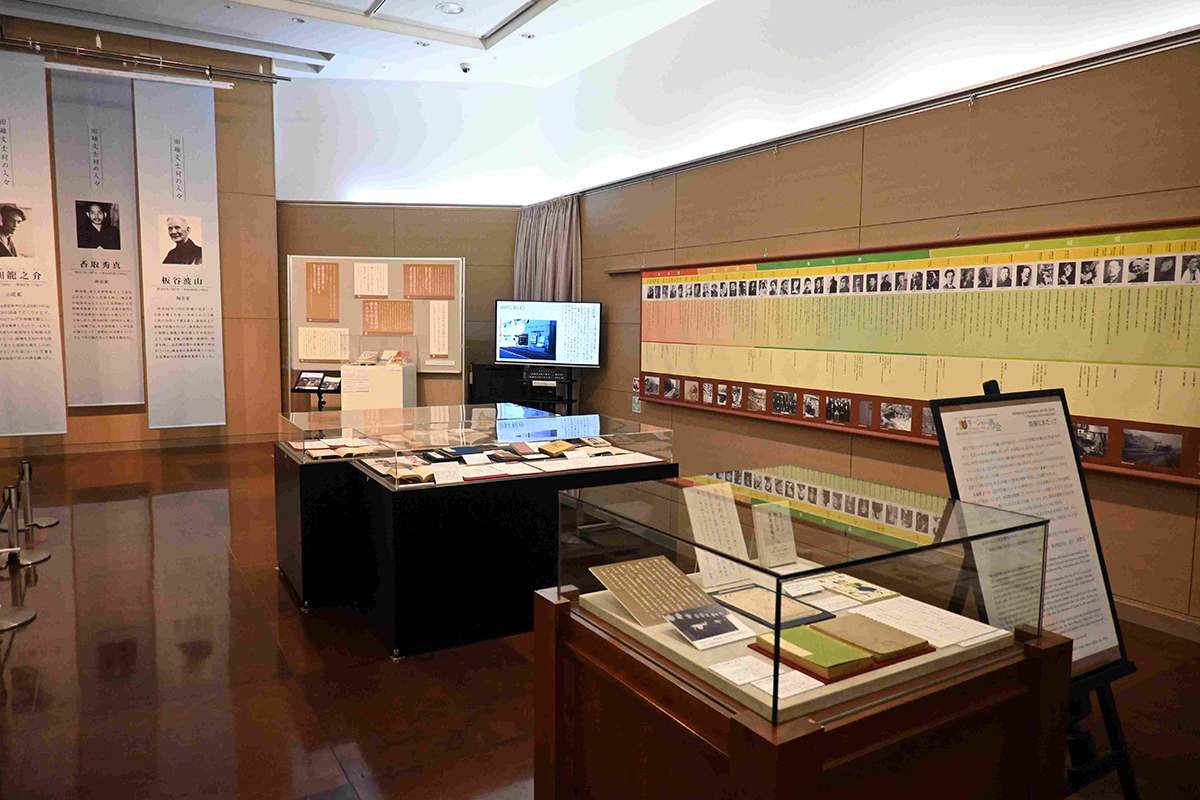 At the Tabata Memorial Museum of Writers and Artists in front of JR Tabata Station, I was reunited with Keene through Ryunosuke Akutagawa (1892-1927). Keene wrote, "Akutagawa was the first author I was impressed by when reading the original text."
After Japan's attack on Pearl Harbor in December 1941, the U.S. suddenly began to focus on research on Japan, and many officers who were fluent in Japanese were quickly trained. Keene was one of them. The U.S. Navy Japanese Language School used a pirated edition of "The Standard Japanese Readers," the original book of which was published in 1931. The actual pirated copy is on display at the Tabata Memorial Museum just after entering the exhibition room.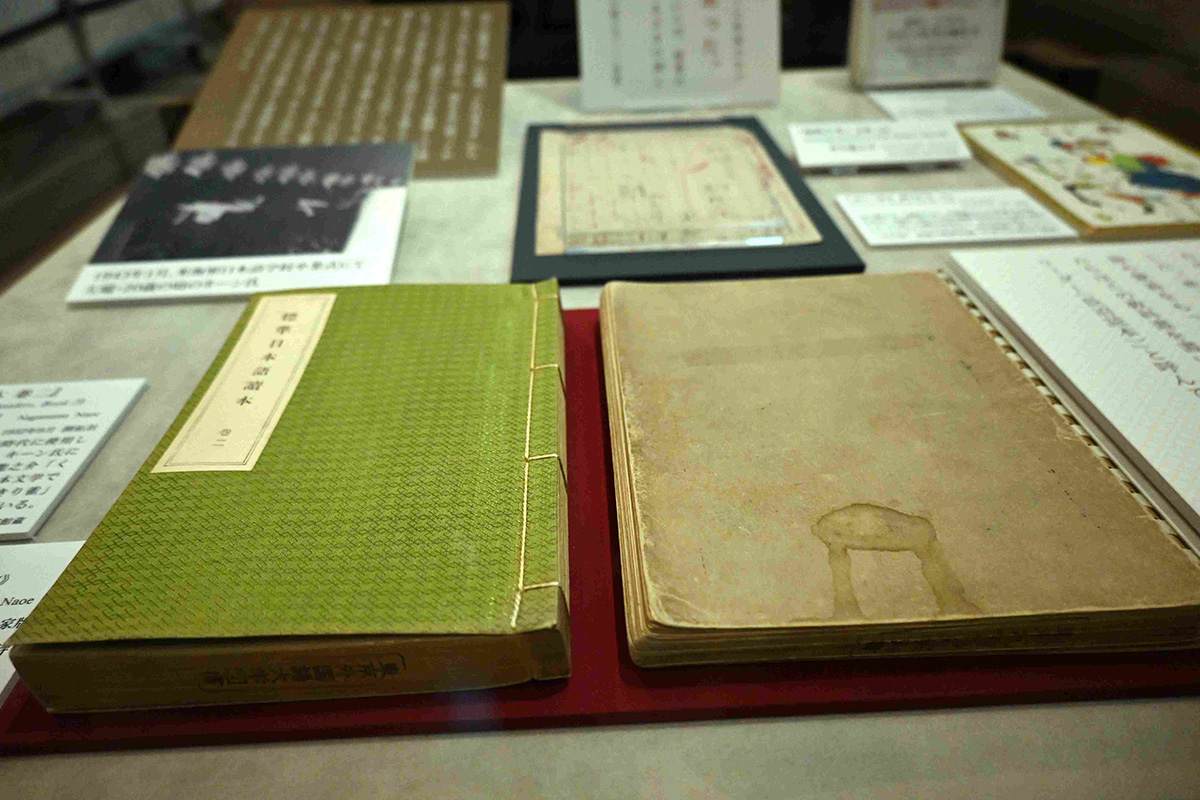 Shiro Ishikawa, the 44-year-old assistant director of the museum, told me about an interesting episode.
Keene did not know how to read Akutagawa's father's surname, whether it was Toshizo Niihara or Toshizo Shinbara. He searched everywhere but could not find it until finally he found "Shinbara" written in kana in the writings of Shohei Ooka. Keene then wrote an essay using "Shinbara." Later, however, Akutagawa's eldest son, Hiroshi, called him and said, "Niihara is correct."
"If it had been written in Japanese, you could have chosen not to assign a kana reading," Ishikawa said. "But that is not the case with Keene, who wrote in English. He always had a hard time finding how names are read."
Keene later wrote: "In Niihara-san's case, I could somehow find out how to read it, but it would be difficult to research in the Tokugawa period."
Flipping open the cover of "Modern Japanese Literature: An Anthology," visitors can find the inscription, "To Mother with love Donald."

"Modern Japanese Literature: An Anthology" edited by Keene

Handwritten review manuscript for Ryunosuke Akutagawa

Another reference book where Keene's notes can be found.
Other exhibits include "Modern Japanese Literature: An Anthology," an English translation of Japanese literature edited by Keene, with a dedication written by hand on the front endpaper: "To Mother with love Donald."
In addition, Kita Ward, the Donald Keene Memorial Foundation, and Toyo University are currently collaborating on a project to organize and research Keene's collection of books, some of which are also on display.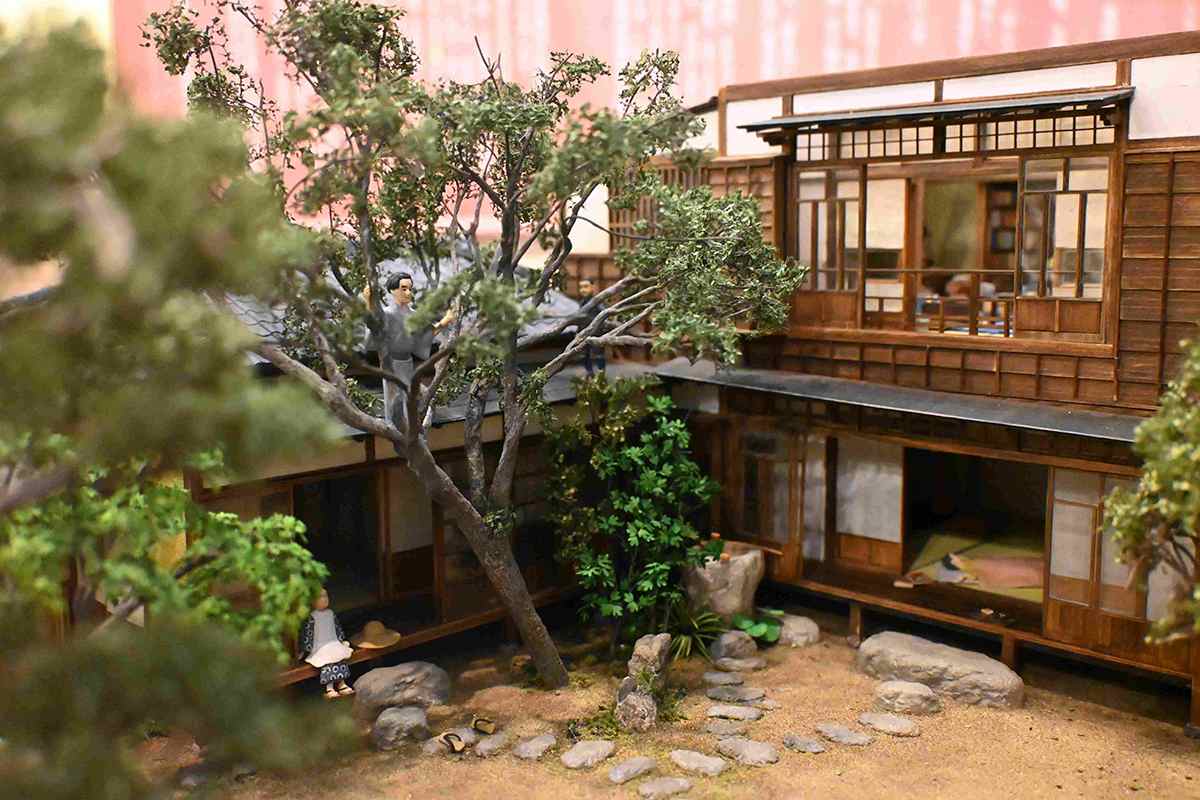 Another highlight of the exhibition room is a huge diorama of Akutagawa's house that was in Tabata. Here, Akutagawa is depicted climbing a tree in the garden.
Reunion at 4 venues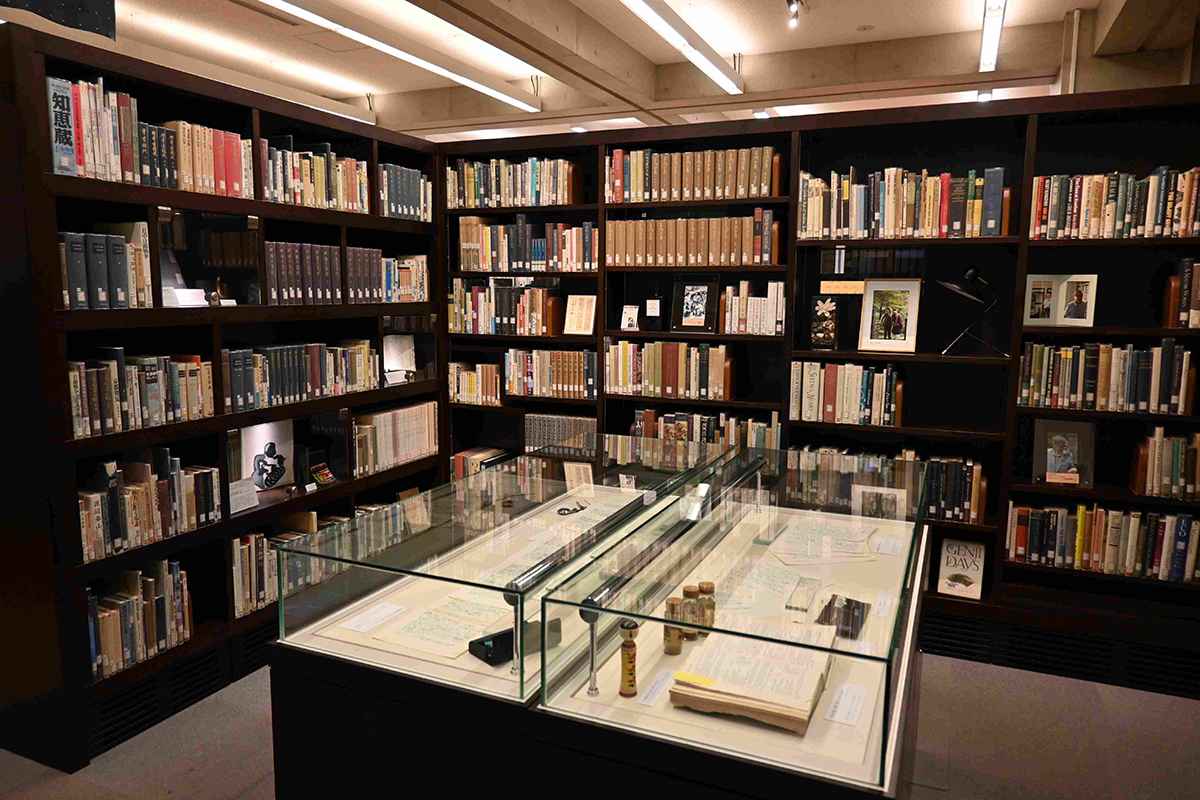 A simultaneous exhibition also started Wednesday at the Kita City Asukayama Museum. The exhibition, titled "Donald Keene: My Beloved Japan," introduces Keene's personality through panels and other exhibits, from his first encounter with Japanese literature and his achievements as a researcher, as well as his daily life in Nishigahara.
From March 3, the Otani Museum in the Kyu Furukawa Gardens will be added to the exhibition series. Here, Keene's daily life in Nishigahara will be featured in photographs. Only this venue is fee-based, with admission to the garden and the museum for a combined ¥550.
Through March 26, there will then be four locations simultaneously open to the public about Keene. Visitors can take the K Bus to access all four locations in one day.
■For more information, please visit the website
https://www.city.kita.tokyo.jp/bunka/keene/kinenjigyo.html
---
Japanese version
東京・北区を愛したドナルド・キーン氏、ユーモアあふれる人柄を伝える展覧会…「黄犬忌」にあわせ
---
Add TheJapanNews to your Google News feed.