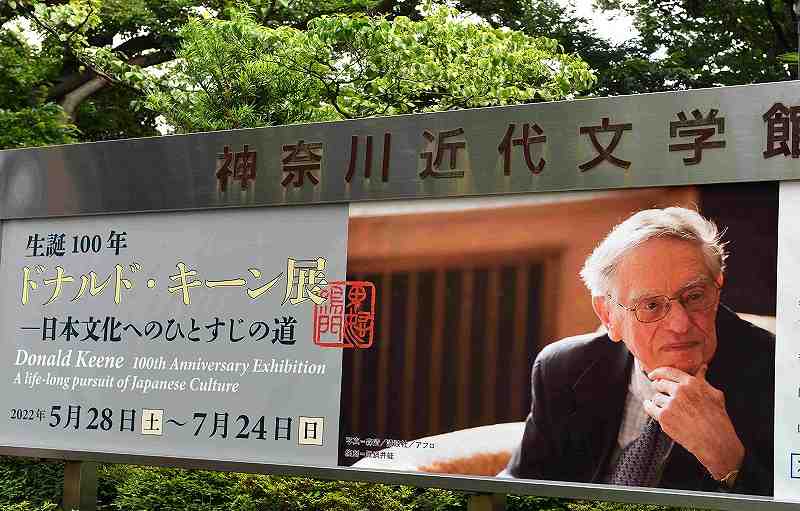 7:00 JST, July 3, 2022
An exhibition commemorating the 100th anniversary of the birth of Donald Keene, who passed away in February 2019 at the age of 96, is being held at the Kanagawa Museum of Modern Literature in Naka Ward, Yokohama.
Keene was a close friend of Yukio Mishima, Yasunari Kawabata, Junichiro Tanizaki and many other distinguished writers of the Showa era, and he devoted his life to conveying the appeal of Japanese literature and culture to the world.
One of the starting points of Keene's career in researching Japanese literature was his translation of Japanese soldiers' diaries as a language officer during the Pacific War. In this 77th summer after the war's end, I want to reflect on war and peace, looking back on Keene's words.
The hydrangeas were in full bloom at Harbor View Park on a hill in Yamate, Yokohama. As I walked through the garden with its view of the Yokohama Bay Bridge, a familiar face appeared. It was a large photograph of Keene posted at the entrance of the Museum of Literature.
I first interviewed Keene in August 2005. I was writing a series of articles for The Yomiuri Shimbun on the 60th anniversary of the end of World War II, and a month before the interview, I traveled to the United States to see the diaries and wills of Japanese soldiers who lost their lives on the islands of Guadalcanal and Saipan at the Annex of The National Archives at College Park, Maryland.
It took me a month to save 150 of these items electronically and deliver them to the bereaved families of soldiers whom my Japanese colleagues had identified through their research, and we wrote a series of articles.
During my research, I learned that Keene had been stationed in Hawaii as a Japanese language officer during the war, translating the diaries of Japanese soldiers collected by the U.S. Navy from Pacific islands. Keene was 83 years old at the time, and split his time between the United States and Japan. Keene welcomed me warmly to the apartment where he lived alone in Kita Ward, Tokyo, and I listened to his story in his living room overlooking the Kyu-Furukawa Gardens.
"Japanese people recorded small events in their diaries. The writing may not have been perfect, but the words were touching," Keene spoke slowly as he recalled those days. The diaries, which were stored in a large wooden box, were collected by the U.S. military from the clothes and belongings of Japanese soldiers who had died in the war, and emitted an unpleasant odor, a mixture of salt water, muddy water and blood. Nevertheless, Keene continued to read the diaries.
"I can't wait to go home."
"I have 11 beans, but there are three of us, so how can we share them?"
"All my friends are dead and I'm finally alone."
"I'm starving."
As he turned the pages, he could feel the hearts of the soldiers. "There were people just like us there," Keene said.
He learned to read difficult Chinese characters as he absorbed himself in the translations, making full use of Japanese-English dictionaries and Chinese-Japanese dictionaries. There were Japanese tanka poems, Chinese poems and even diaries of great literary value. Keene said: "In three years, I found about 100 good diaries. I learned about the depth of the Japanese people, who had kept diaries since the Heian era (a roughly 390 year period from 794)," he said. He told me that this experience inspired him to live as a researcher of Japanese literature after the war.
Treasure chest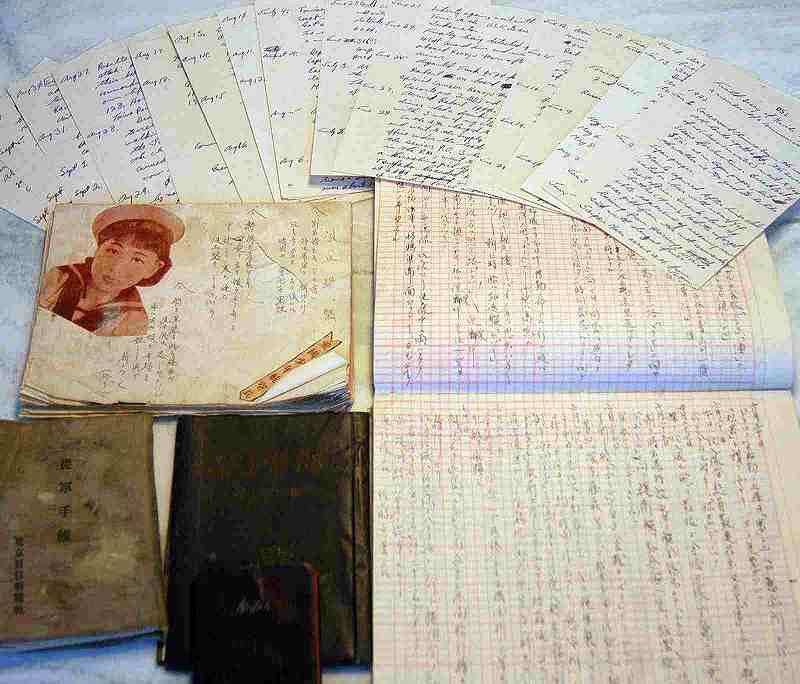 The diaries are kept in the Annex of The National Archives, preserved as part of the U.S. Marine Corps' wartime archives.
According to a former language officer in California whom I interviewed at the time, 50 truckloads of documents and materials, including diaries, that were thought to be no longer needed were burned in Hawaii after the war. According to the National Archives, only the Marine Corps preserved its holdings, and in 1987, they were transferred to the archives. The former language officer said: "The U.S. military prohibited soldiers from keeping diaries, and it was not a custom. I was surprised to see that all Japanese soldiers kept diaries."
Why did the U.S. military collect the diaries of Japanese soldiers? When Imperial Japanese forces attacked Pearl Harbor in December 1941, the U.S. military realized that they knew very little about the Japanese. The diaries were a valuable resource not only about the military and its operations, but also about the thinking and character of the Japanese people. They were a treasure chest of information for the U.S. military.
For this reason, the U.S. opened the Naval Japanese Language School in June 1942, gathering talented young people from all over the U.S., including students from Harvard and Stanford universities and the children of missionaries who had grown up in Japan. The teachers were Japanese Americans.
According to the former language officer, classes consisted of four hours a day of reading, speaking and writing. They also watched Japanese movies and read children's stories. It took the students 12 to 18 months to complete the course and become language officers. At the time, there was prejudice and distrust toward Japanese Americans, and only white people could become language officers.
The number of language officers eventually exceeded 1,000.
Soldiers' diaries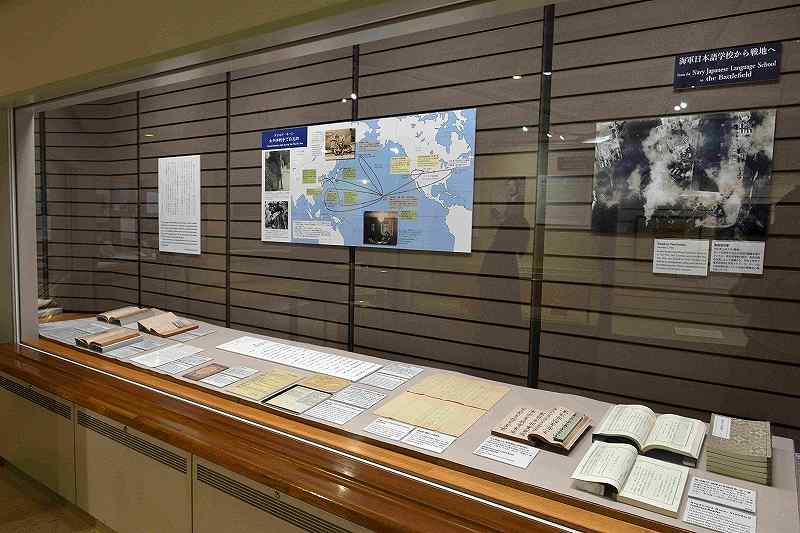 I still remember the moment when I saw the diaries of Japanese soldiers written more than 60 years ago at the National Archives of the United States.
Reading the diaries, written in small letters on tiny pages, I could picture the soldiers with their backs hunched over and their pens moving, thinking of their homeland.
The diaries and wills of the Japanese soldiers were in 44 file boxes that appeared on a handcart when I requested to see them. The boxes contained a total of 446 items, including logbooks, weapons manuals and other materials collected by the U.S. military on Pacific islands. Of these, 148 were diaries and wills.
Some of the diaries were more than 300 pages thick, while others were single scraps of paper. All of them smelled of old paper. Some were tattered with frayed threads, and some had lost their covers and were unidentified. There was also a diary that appeared to have been pierced by a bullet. Pencils and protractors with rounded ends were also found among them.
"I want to go home as soon as possible."
"My wife and children, please stay healthy and wait for the day father returns home."
Many soldiers wrote down their feelings for their families, loved ones and hometowns. There were also tanka poems. I felt a sense of Japanese people with emotions that were far different from those evoked by the term "Japanese soldier." As I read through the diaries, I could see how the soldiers were gradually being driven into a corner. There were more and more statements such as "nibbling on dried bread" and "I want water, I want water."
Careful writing turns into a scrawl, and then one day, it suddenly stops.
Many of the diaries were from soldiers on Guadalcanal Island. On Aug. 7, 1942, U.S. forces landed about 11,000 soldiers and captured an airfield (now Henderson International Airport) that had been built by the Japanese Army. The jungle-covered island was small, about one-third the size of Shikoku island, but it was a vital location as the southernmost point of Japanese territory at the time.
The Japanese military attempted to retake the airfield from the United States. The first group of about 900 Japanese soldiers launched an all-out attack on the evening of Aug. 20, but by noon the next day, they had been almost completely wiped out. According to data from Japan's Defense Ministry, about 31,400 Japanese soldiers landed on Guadalcanal Island, and 66%, or about 20,800, were killed. The Japanese forces withdrew in February 1943.
It is important to note, however, that about 15,000 of the dead were not killed in action but died of starvation and disease.
Meeting again with Keene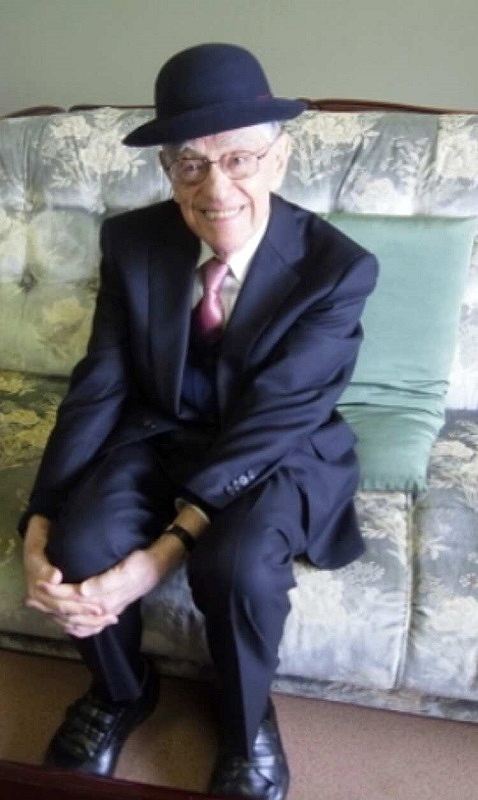 I met Keene again 70 years after the end of the war, on March 9, 2015. To commemorate the opening of the Donald Keene Center Kashiwazaki in Kashiwazaki, Niigata Prefecture, Keene and I held a discussion titled "My Origins as a Scholar of Japanese Literature: The Diaries of Japanese Soldiers" at the city hall.
Keene told the citizens who filled the hall about his experiences as a language officer and subsequent episodes from his research on Japanese literature.
The third time we met was at the British Library in London on June 3, 2017. Keene was visiting London to accompany his adopted son, Seiki Keene, in a performance of ko-koruri puppet theater. I was in London as the Yomiuri Shimbun's European Bureau Chief. Keene was 94 years old — he would pass away two years later. He was in a wheelchair, but his mind remained sharp.
If there was any good that came out of Japan's foolish war, I would say it was the acquisition of an outstanding figure, Donald Keene, who left behind a vast body of writings and made a significant contribution to Japanese literature. He became a Japanese citizen the year after the 2011 Great East Japan Earthquake.
A pacifist, Keene said: "The war was unfortunate. But if we know each other better, we can avoid war." I strongly believe that we must keep these words in mind.
***
Memories of Donald Keene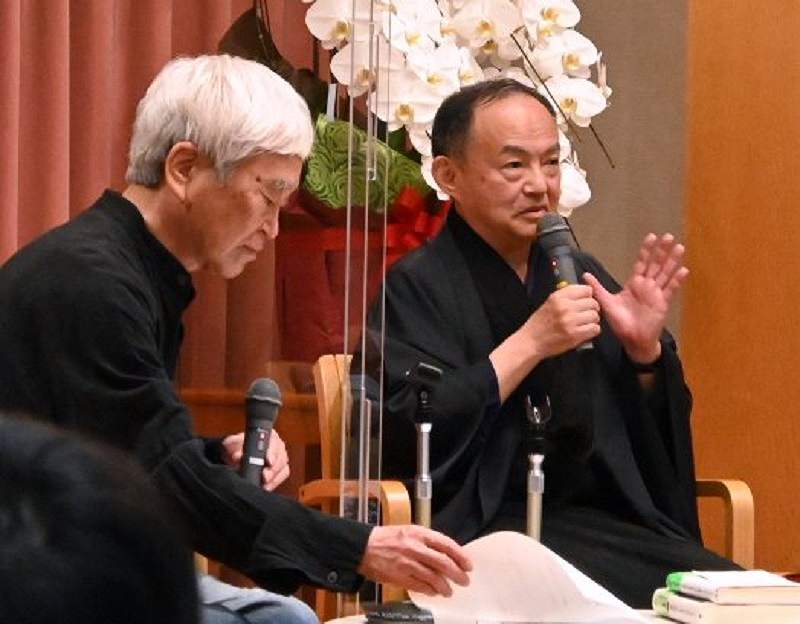 Donald Keene was born on June 18, 1922 in Brooklyn, New York. Exactly 100 years later, on June 18 of this year, a discussion was held in the hall of the Kanagawa Museum of Modern Literature, where a centennial exhibition of Keene's life is on display, between Keene's adopted son, Seiki Keene, and translator Yukio Kakuchi, as they shared their memories of Donald Keene.
Both spoke of Keene's friendly and warm personality and his love of drinking and opera. He drank Japanese sake when he was younger, but in his later years he preferred wine. Keene had drinks with Yukio Mishima, with whom he had a long friendship, but Mishima was a weak drinker, and once when he got drunk, he borrowed Keene's bed, an episode that Seiki heard from his father.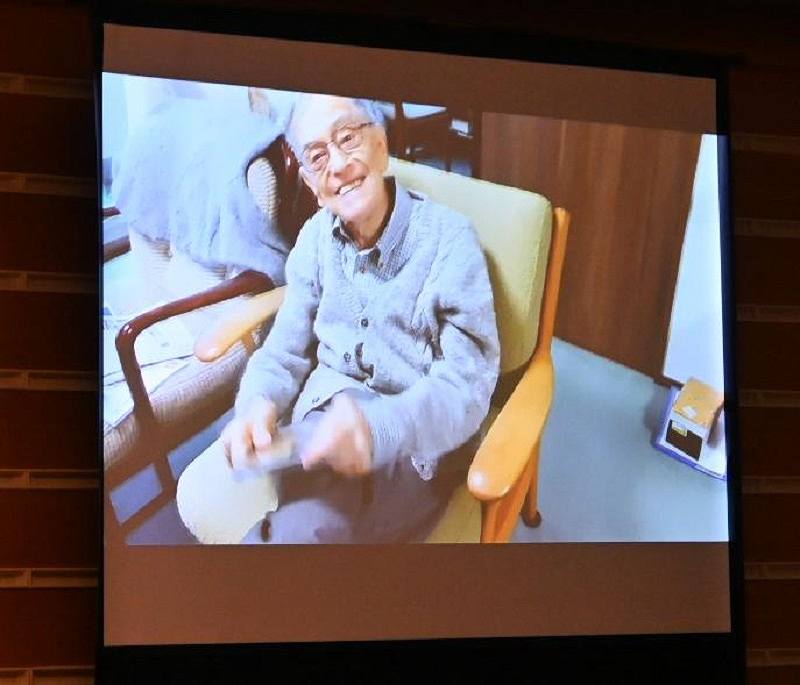 Kakuchi, who had been a longtime friend of Keene, recalled a moment when he was asked by Keene to translate his works into Japanese. Kakuchi refused, saying, "Translating your works is too much for me. I can't do that." Then Keene stared at Kakuchi with wide-open eyes and said, "You can do it." He recalled with a laugh, "A moment later, as if I was under a spell, I was saying 'Yes.'"
According to Seiki, who became Keene's adopted son in 2012, Keene always went into his study after dinner and worked until about 11 p.m., sometimes as late as 1 a.m. Seiki also showed rare footage of everyday life with Keene. The audience watched footage of Keene happily listening to Rossini's opera at his home 10 months before his death, and of him grilling beef fillet steaks, which he never let anyone cook for him.
"A life-long pursuit of Japanese culture"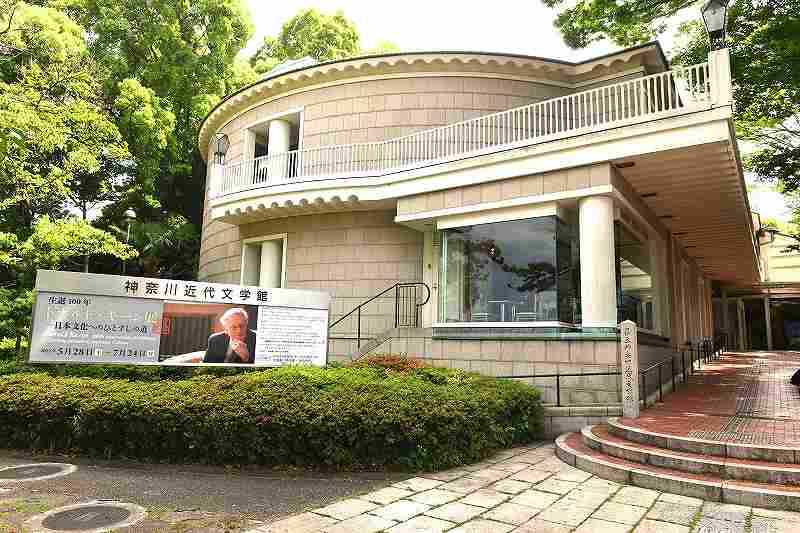 The "Donald Keene 100th Anniversary Exhibition: A life-long pursuit of Japanese culture" is being held at the Kanagawa Museum of Modern Literature in Yokohama to introduce Keene's lifetime achievements and episodes, along with a variety of materials from documents and letters to photos. Following Keene's request before his death, all the exhibition labels are presented in English as well.
Keene's interactions with renowned Japanese writers are documented in numerous letters and photographs, indicating his strong presence in Japanese literary circles. He exchanged many letters with Yukio Mishima, with whom he had a long friendship until Mishima's suicide in 1970, and some of these letters are on display.
There are also introductions to Keene's vast collection of writings, including the "Japanese Literature" series, "The Narrow Road to Oku" and "Travelers of a Hundred Ages," as well as charming private photographs.
Also on display are the diaries of Japanese soldiers that I had saved in digital form while conducting research at the U.S. National Archives Annex in 2005.
Through Keene's life, visitors will gain insights into Japan's modern and contemporary history.
The exhibition runs through July 24. The museum is open 9:30 a.m.-5 p.m. daily, but closed on Mondays except July 18. The Kanagawa Museum of Modern Literature website can be accessed at https://www.kanabun.or.jp
---
Japanese version
元語学将校のドナルド・キーン氏が読んだ日本兵の日記「仲間が死んで一人」「腹減った」
---
Add TheJapanNews to your Google News feed.