Israel Strikes Downtown Gaza City and Mobilizes 300,000 Reservists as War Enters Fourth Day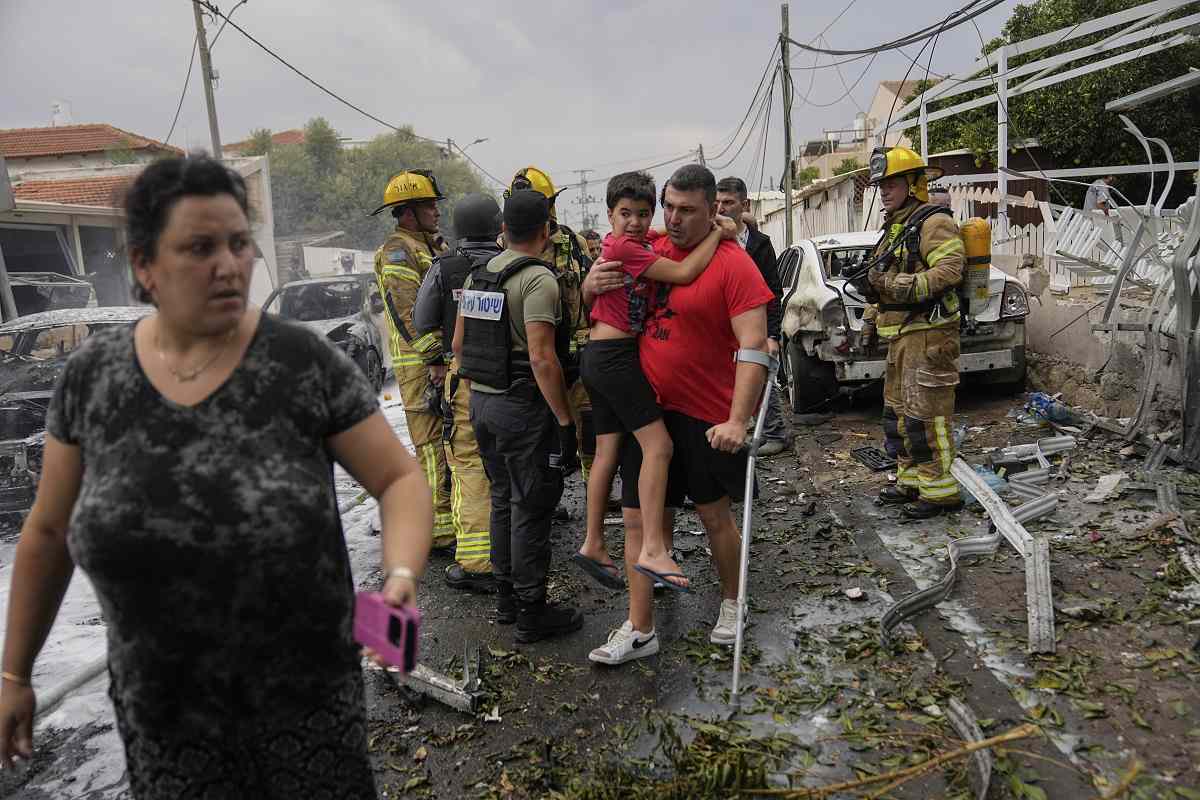 16:54 JST, October 10, 2023
JERUSALEM (AP) — Israeli warplanes pounded downtown Gaza City, home to Hamas' centers of government, with relentless bombardments into early Tuesday, after Israel's prime minister vowed retaliation against the Islamic militant group that would "reverberate for generations."
The 4-day-old war has already claimed at least 1,600 lives, as Israel saw gun battles in the streets of its own towns for the first time in decades and neighborhoods in Gaza were reduced to rubble. Hamas also escalated the conflict, pledging to kill captured Israelis if strikes targeted civilians without warning.
Israel's military said it had found the bodies of roughly 1,500 Hamas militants in Israeli territory as it gained effective control in the south and "restored full control" over the border. It was not immediately clear if those numbers overlapped with deaths previously reported by Palestinian authorities.
Israel said that Hamas and other militant groups in Gaza are holding more than 150 soldiers and civilians snatched from inside Israel after the attack caught its vaunted military and intelligence apparatus completely off guard.
As the Israeli military activated 300,000 reservists in a massive mobilization, a major question was whether it will launch a ground assault into the tiny Mediterranean coastal territory. The last ground assault was in 2014.
The moves, along with Israel's formal declaration of war on Sunday, pointed to Israel increasingly shifting to the offensive against Hamas, threatening greater destruction in the densely populated, impoverished Gaza Strip.
"We have only started striking Hamas," Israeli Prime Minister Benjamin Netanyahu said in a nationally televised address. "What we will do to our enemies in the coming days will reverberate with them for generations."
The Israeli military said it struck hundreds of Hamas targets in Gaza's City Rimal densely populated neighborhood, an upscale district of Gaza City that's home to Hamas ministries, as well as universities, media organizations and the offices of aid organizations.
After hours of nonstop strikes overnight, some Rimal residents left their homes at daybreak to find some buildings torn in half by strikes, while others were reduced to mounds of concrete and rebar. Cars were flattened and trees burned out in moonscapes that had been residential streets.
The devastation in Rimal signaled what could be a new Israeli tactic: warning civilians to leave certain areas and then hitting those areas with airstrikes of unprecedented intensity.
The heavy bombardment began in areas of Gaza bordering Israel over the weekend, and overnight shifted to the center of Gaza City. If these types of bombardments continue, Gaza civilians will have fewer and fewer places to shelter as more neighborhoods become uninhabitable.
The U.N. said Tuesday that more than 187,000 of Gaza's 2.3 million people have left their homes — the most since a 2014 air and ground offensive by Israel uprooted about 400,000.
UNRWA, the U.N. agencies for Palestinian refugees, is sheltering more than 137,000 people in schools across the territory. Families have taken in some 41,000 others.
In a briefing Tuesday, Hecht suggested Palestinians should try to leave through the Rafah border crossing with Egypt. A short while later, the Israeli military said the Rafah crossing was closed, but Hamas officials later said Palestinians who had previously registered to enter Egypt would be able to do so.
Asked if Israel considered Hamas' civil government, such as parliament and ministries, legitimate targets, Hecht said "if there's a gunman firing rockets from there, it turns into a military target."
In response to Israel's aerial attacks, the spokesman of Hamas' armed wing, Abu Obeida, said Monday night that the group will kill one Israeli civilian captive any time Israel targets civilians in their homes in Gaza "without prior warning."
Israeli Foreign Minister Eli Cohen warned Hamas against harming any of the hostages, saying, "This war crime will not be forgiven." Netanyahu appointed a former military commander to manage the hostage and missing persons crisis.
The Israeli military said more than 900 people already have been killed in Israel. In Gaza and the West Bank, 704 people have been killed, according to authorities there; Israel says hundreds of Hamas fighters are among them. Thousands have been wounded on both sides.
The surprise weekend attack by Hamas left a death toll unseen since the 1973 war with Egypt and Syria. That fomented calls to crush Hamas no matter the cost, rather than continuing to try to bottle it up in Gaza. Israel is run by its most hard-right government ever, dominated by ministers who adamantly reject Palestinian statehood.
Hamas, in turn, says it is ready for a long battle to end an Israeli occupation it says is no longer tolerable. Desperation has grown among Palestinians, many of whom see nothing to lose under unending Israeli control and increasing settler depredations in the West Bank, the blockade in Gaza and what they see as the world's apathy.
Israeli airstrikes on Gaza have razed 790 housing units and severely damaged 5,330, the U.N. Office for the Coordination of Humanitarian Affairs said early Tuesday. Damage to three water and sanitation sites have cut off services to 400,000.
Israeli Defense Minister Yoav Gallant ordered a "complete siege" on Gaza, saying authorities would cut electricity and block the entry of food and fuel.
Jan Egeland, secretary general of the Norwegian Refugee Council aid group, warned that Israel's siege would spell "utter disaster" for Gazans.
"There is no doubt that collective punishment is in violation of international law," he told The Associated Press. "If and when it would lead to wounded children dying in hospitals because of lack of energy, electricity and supplies, it could amount to war crimes."
The Israeli siege will leave Gaza almost entirely dependent on its crossing into neighboring Egypt at Rafah, where cargo capacities are lower than other crossings into Israel.
An Egyptian military official, speaking on condition of anonymity because he was not authorized to talk to the press, said more than 2 tons of medical supplies from the Egyptian Red Crescent were sent to Gaza and efforts were underway to organize food and other deliveries.
Hamas has ruled Gaza since driving out forces loyal to the internationally recognized Palestinian Authority in 2007, and its rule has gone unchallenged through the blockade and four previous wars with Israel.
Meanwhile in the West Bank, Palestinians entered a fourth day under severe movement restrictions. Israeli authorities have sealed off crossings to the occupied territory and closed checkpoints, blocking movement between cities and towns. Clashes between rock-throwing Palestinians and Israeli forces in the territory since the start of the incursion have left 15 Palestinians dead, according to the U.N.
Add TheJapanNews to your Google News feed.